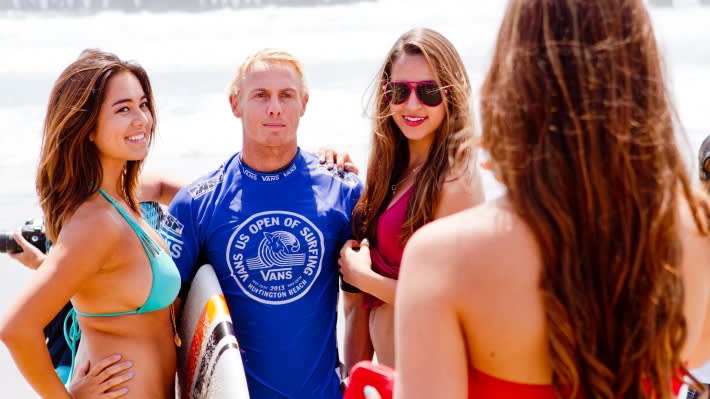 Get stoked! The countdown is on for one of the biggest events in Huntington Beach's 100 Years of Surfing Celebration! From Saturday, July 26 until Sunday, August 3, the Vans U.S. Open of Surfing will be showcasing some of the sport's best talent at the Huntington Beach Pier. HB has been home to the U.S. Open of Surfing for 20 years, and this year, it's going to be better than ever.
Witness professional surfers from around the world compete in a variety of events, with notable contestants including HB local Brett Simpson, Kelly Slater, Alejo Muniz, and many more!
This year, the Vans U.S. Open of Surfing is all about celebrating the rich surf history and culture that has defined Huntington Beach for a century. Along with watching the competitions, spectators can enjoy movie nights, family activities, purchase official Vans U.S. Open of Surfing merchandise, and much more in place of the past live musical performances.
Vans will be offering an exclusive viewing of its newest surf film, Get-N Classic Vol. 3, as well as a Custom Culture DIY Station, where you can print your very own creative designs on Vans merchandise.
Many shops and locations around the Downtown area will feature art from Surfboards on Parade, a collection of surfboards adorned with designs from acclaimed artists. In addition, the Art and Soul of Surfing exhibit at the Huntington Beach Art Center will feature pieces by legendary surf artists in recent history.
The U.S. Open of Surfing includes not only surfing, but BMX and skating too. The Van Doren Invitational Bowl is the Open's first concrete bowl event, bringing together some of the top male and female BMX riders and skaters to shred by the sand. In fact, the bowl itself is inspired by the world-famous Marseille Bowl in France, decorated with designs by local artists. The competition takes place right on the beach, so you can catch all the surf and skate action simultaneously!
Due to the popularity of the Vans U.S. Open of Surfing events, it is important to know how to get around Huntington Beach throughout the week. On the weekends, FREE parking and shuttles to and from Downtown are offered at the following locations. 
Dates
 Route #
Origin / Destination 
 Hours & Frequency
Last Departure from Downtown 
July 26 - 27
Aug 2-3  
Route 1
 Huntington Beach High School (1905 Main St.) to Main St./Orange
 10 a.m. - 10 p.m.
Departs approx. every 30 minutes at :15 and :45 of every hour.
 9:45 p.m.
 July 26 - 27
Aug 2-3
 Route 2
 Edison High School (21400 Magnolia St.) to Main St./Orange
 10 a.m. - 10 p.m.
Departs approx. every 30 minutes on the hour and half-hour
 9:45 p.m.
 Aug 2-3 ONLY
Route  3
 Huntington Beach Civic Center (2000 Main St.) to Main St./Orange
 10 a.m. - 7 p.m.
Departs every 30 minutes on the hour and half-hour
 6:45 p.m.
Please note that coolers, chairs, alcohol, beach umbrellas, surfboards and pets are not permitted onboard the shuttles.
Here are some reminders for your visit:
Playing in the sun is not fun without heat protection (hats, UV protection sunglasses, sunscreen, etc.) and water to keep you hydrated!
As always, alcohol and drugs are strictly prohibited on the beach; this policy will be strictly enforced
The safety of all attendees is of utmost importance. The Huntington Beach Police Department is well-prepared for the event, and can answer any questions you may have on their Facebook page
Visit the Vans U.S. Open of Surfing's official website to see the schedule of events or to see the lineup of competing surfers.
Lastly, while at the event, be sure to share them with us on Twitter and Instagram with #surfcityusa! 
Primary image courtesy of Michael Lallande