More than 17,000 runners from elite athletes to casual joggers will take over Huntington Beach on Super Bowl Sunday – February 3, 2019 – for the 2019 Surf City Marathon & Half Marathon. The unique running event features a new "Cowabunga Challenge" one-mile race on the sand and Sunday's "Sand Bar" at the finish line is one of the largest beach parties of the year in Orange County.
The marathon weekend will feature two days of running with 5K and half-marathon distances. Taking place on the morning of Superbowl Sunday (the first Sunday in February) the oceanfront course takes you through the best of Huntington Beach. From Pacific Coast Highway to Central Park, the mostly flat course is perfect for new marathoners and is even used by some as a qualifier for the Boston Marathon. In addition to the full marathon, the event includes a half marathon and the largest beachside health and wellness expo on the West Coast. Registration for the marathon opens in late spring each year. Marathon registration and Huntington Beach hotels fill up quickly — advance reservations are highly recommended.
Along your marathon, there will be hydration stations that offer water, electrolytes, gels, bars, and fruit. There will also be live surf bands along the route to keep you entertained as you run!
At the finish line, each participant who finishes the race will receive a highly-sought after surf board medal. Celebrate your marathon with your shiny new medal at the free beer garden and finish line festival following the race!
Participants must attend the Active Lifestyle Expo at some point on Friday or Saturday in order to receive their race number, event t-shirt, and tote. When attending, bring your ID and signed waiver. On race day, plan on arriving an hour prior to your start time! Thousands of runners will be arriving at the same time, so give yourself some cushion to park your vehicle and stretch. If you're running the full marathon, start time is 6:30 a.m. The half marathon starts at 7:45 a.m. For the 5K, the start time is 7:00 a.m. The course closes at 1:30 p.m, which is a six-hour limit.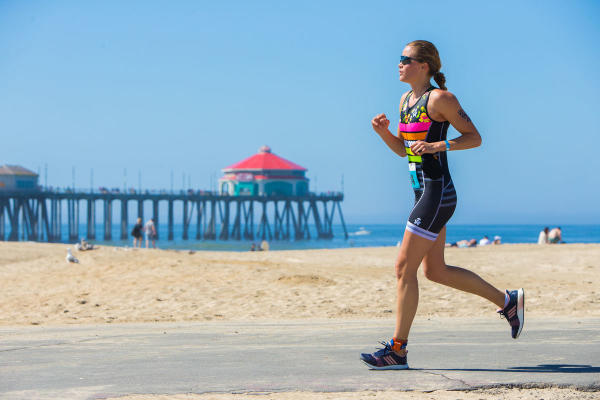 Schedule of Events
Friday, Feb. 1
Active Lifestyle Expo
1:00 p.m. - 7:00 p.m.
Free and open to the public, the expo features the latest in running technologies, fitness apparel and interactive displays. Participants will be able to pick up their race packets at the expo.
Saturday, Feb. 2
Cowabunga Challenge
11:00 a.m.
The inaugural "Cowabunga Challenge" on the beach is a race full of sand, surf and smiles. A family-friendly event featuring kids races.
Active Lifestyle Expo
10:00 a.m. - 4:00 p.m.
More than 100 exhibitors offering the latest running gear, training tips and interactive clinics. Free and open to the public.
Sunday, Feb. 3 - RACE DAY
6:28 a.m. - Wheelchair Start

6:30 a.m. - Marathon Start

7:00 a.m. - 5K Start

7:30 a.m. - Half Marathon Start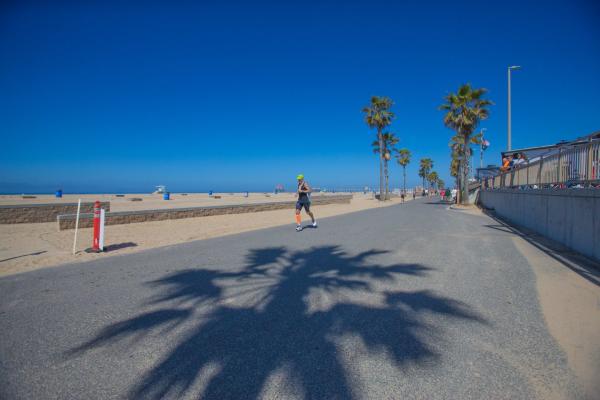 Parking and Shuttle Services
Free shuttle service is available for a majority of the parking lots located on the parking map. Click here for more parking info.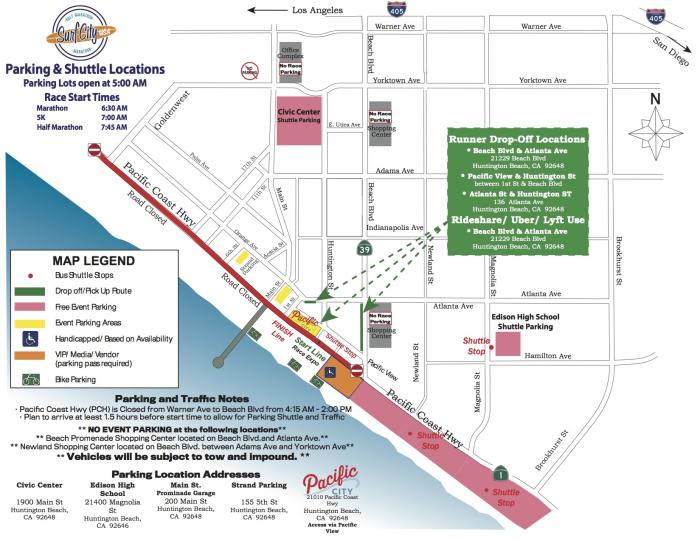 Details on Route
Starting at the intersection of Pacific Coast Highway and Huntington St., runners will travel along miles of ocean views. See the route here.
Supporter Info
Supporting a runner? Here's all your info:
Live results and runner tracking will be available and viewable to supporters through here. 
Everyone is welcome to the Active Lifestyle Expo, spend some time checking out fun vendors!
The free beer garden is open to supporters.
Attend the 'Finish Line Festival' with your runner and celebrate their amazing accomplishment!
Explore more of Surf City USA