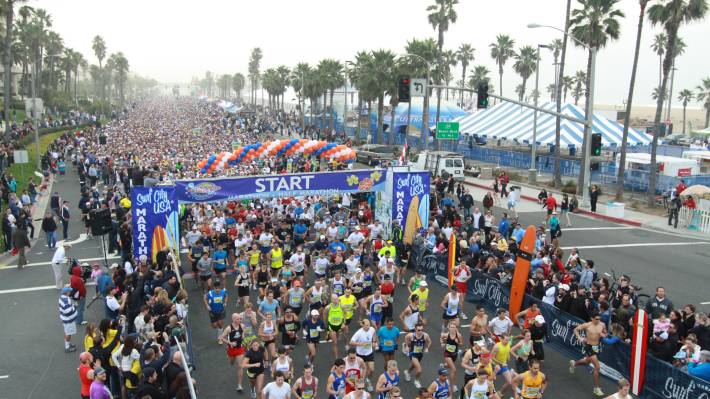 Is there any place better to run a marathon than Surf City USA? Huntington Beach proudly hosts the Surf City Marathon and Half Marathon on Sunday, February 4th 2018. Each year, runners travel from all over to world to attend and run their hearts out along miles of uninterrupted beach views. With perfect weather and live entertainment, Surf City USA Marathon is runner's paradise.
Quick Facts
Official Boston Marathon Qualifier
Average temperature at beginning of race: 48 degrees
Hydration Stations available along route
Live results for family and supporters
Surfboard medals for all finishers
Long Sleeve  
Live entertainment
Free beer garden
Free parking and shuttles
Participant Info
Surf City USA Marathon will be on Sunday February 4th, 2018 or Super Bowl Sunday. Kick off your favorite football holiday with a rigorous but beautiful run along Huntington Beach's coastline. As a official Boston Marathon Qualifier, the Surf City USA marathon is the perfect way to run a marathon with the highest elevation being 100 feet above sea level. In February, the average low in Huntington Beach is 49 degrees with a high of 64 degrees.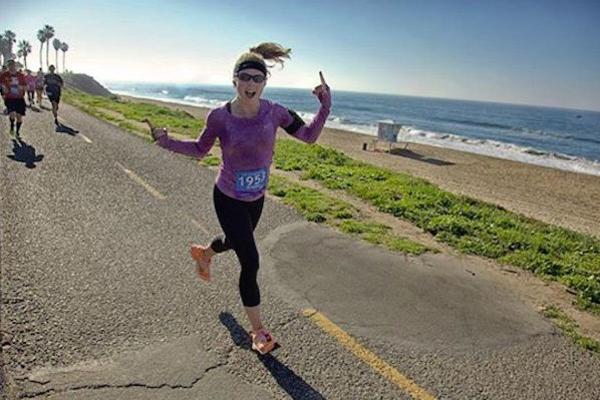 Participants must attend the Active Lifestyle Expo at some point on Friday or Saturday in order to receive important items like their race number, event t-shirt, and tote. When attending, bring your ID and signed waiver. On race day, plan on arriving an hour prior to your start time! Thousands of runners will be arriving at the same time, so give yourself some cushion to park your vehicle and stretch. If you're running the full marathon, start time is 6:30am. For the half marathon, the start time is 7:45am. The course closes at 1:30pm, which is a six-hour limit.
Along your marathon, there will be hydration stations that offer water, electrolytes, gels, bars, and fruit. There will also be live surf bands along the route to keep you entertained as you run!
At the finish line, each participant who finishes the race will receive a highly-sought after surf board medal. Celebrate your marathon with your shiny new medal at the free beer garden and finish line festival following the race!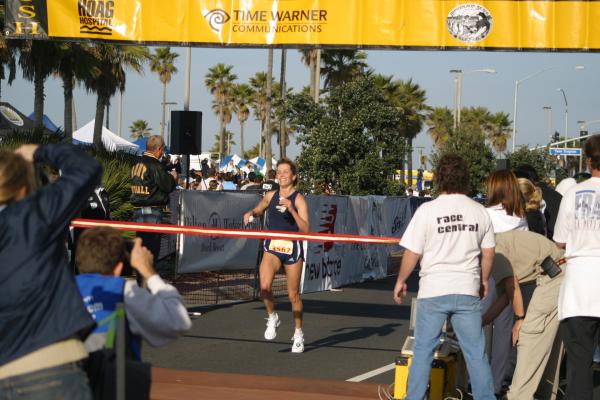 Supporter Info
Supporting a runner? Here's all your info:
Live results and runner tracking will be available and viewable to supporters through here. 
Everyone is welcome to the Active Lifestyle Expo, spend some time checking out fun vendors!
The free beer garden is open to supporters.
Attend the 'Finish Line Festival' with your runner and celebrate their amazing accomplishment!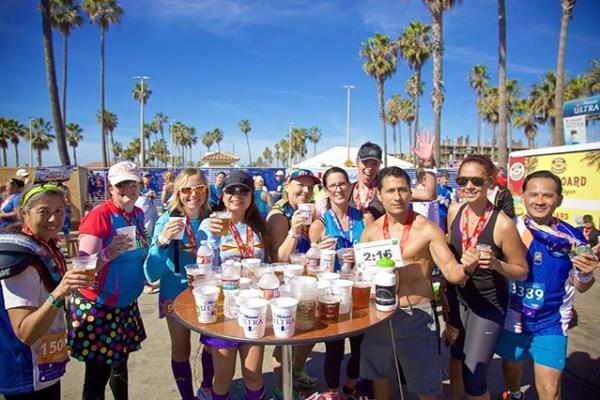 Parking and Shuttle Services
Free shuttle service is available for a majority of the parking lots located on the parking map. There is also a free shuttle service for those attending the Active Lifestyle Expo running from Friday at 2:30pm to 7:30pm and Saturday 8:30am to 5:30pm. On the day of the marathon, shuttle services will start at 5:00am until 1:30pm.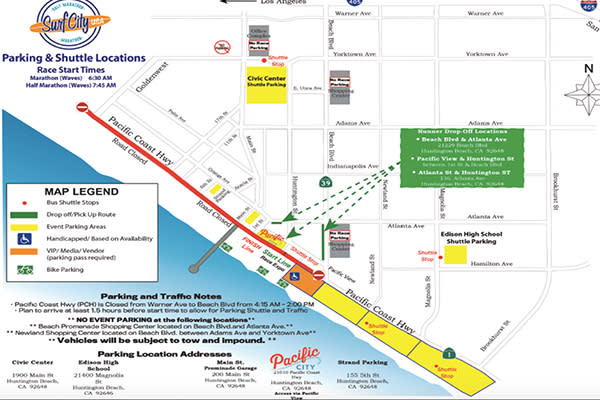 Details on Route
Starting at the intersection of Pacific Coast Highway and Huntington St., runners will travel along miles of ocean views. Sights such as the iconic Huntington Beach Pier and Bolsa Chica Wetlands are along the route. For a map of the running route, see the diagram below!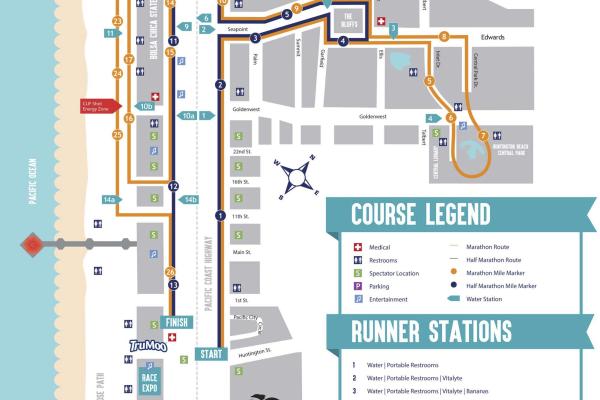 Active Lifestyle Expo
On Friday and Saturday prior to the race, the Active Lifestyle Expo will be featuring local vendors, free food sampling, and shopping. This interactive expo is free and open to the public, the whole family is welcome! Note, all runners must attend the Active Lifestyle Expo to receive their race number, event t-shirt, tote, and other important items to compete.