For 2018 up-to-date airshow information, please click here. 
They're fast, they're loud, and they're about to give you the show of a lifetime—The Breitling Airshow is back in Huntington Beach and all eyes will turn to the sky for the legendary aerobatic showcase. Witness the thrilling, chilling and exhilarating jet maneuvers of the U.S. Navy Blue Angels and the Royal Canadian Air Force's Canadian Snowbirds plus other impressive aerial presentations at the only beachfront airshow on the West Coast. You won't want to miss this event (and if you're anywhere near Huntington City Beach, I'm sure you'll notice the roaring engines soaring above). Huntington Beach is honored to have the Breitling group return with new headliners and fan favorites demonstrating aerobatic feats over the Surf City coast!
Here's the low-down on the high-action event:
When:
Friday, September 29- Sunday, October 1 (Friday is practice day, Sat/Sun are show days)
Show Times:
12-4pm
Where:
Huntington City Beach, near the intersection of PCH & Beach Blvd. (Aircraft fly over the water)
Parking:
Since we can't all travel by fighter jet or military-level aerobatic aircraft, please plan ahead as there may be traffic surrounding the event. Public parking options will all be on a first come, first serve basis. It's recommended to use alternative transportation methods, such as: biking; carpooling; Uber/Lyft services; public transportation; or the Surf City USA Free Shuttle Service (City Loop), running from 8:30 a.m. to 10 p.m.

How to view the show: 
The airshow is free to the public with upgraded premium hospitality seating and VIP options available at an additional cost. A portion of the net proceeds from the airshow will go to support the Aerospace Education Foundation of Huntington Beach, a nonprofit that encourages education and careers in the aerospace and aviation fields. However, you can opt to pay for reserved seating through the following options.
1. Prince Charters, LLC Airshow tickets on a 42ft Sailing Yacht: Friday ($195/person); Saturday/ Sunday ($250/person) **limited to 6 passengers per day**
Featuring: A view at sea! The yacht will be anchored as you enjoy the show on deck, in the large cockpit with a Bimini for shade, or the large salon area. Your ticket also includes a box lunch, soft drinks, and snack. Two restrooms on board!
2. Aviator Beach Club: Friday ($139 per person); Saturday/Sunday ($199 per person)
Featuring: Views close to show center, exclusive beach bungalow tent with tables and chairs, private beach area, concert quality sound and narration, lunch, beer/wine, coconut water and close proximity to premium portable restrooms. Tickets are expected to sell out before the show, so don't delay, purchase your tickets today!
3. Fly into the Blue at Pasea Hotel & Spa's Viewing Party: Sunday (starting at $25 per person)
Featuring: Enjoy a front row view to the Huntington Beach Airshow from the oceanfront lawn at the Pasea Hotel & Spa. Look to the sky, as the US Navy Blue Angels and Canadian Snowbirds perform spectacular stunts, all while sipping hand-crafted cocktails and indulging in SoCal cuisine inspired small bites.
If you are beachin' it for the airshow (or even choosing to join the Aviator Beach Club), you may want to bring your own seating for optimal comfort. The Breitling Huntington Beach Airshow website also has some suggestions on how to prepare: HB Airshow FAQ's
This year's headliners will be The US Navy Blue Angels and the Canadian Snowbirds!
Here's everything you need to know about the star performers: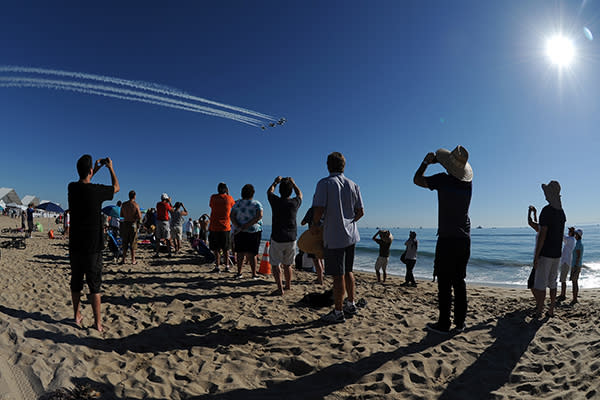 US Navy Blue Angels
They have flown for more than 450 million spectators worldwide and spend time visiting hospitals, schools, and community functions in each airshow city

A total of 17 officers voluntarily serve with the Blue Angels. Each year, the team selects 3 tactical jet pilots, 2 support officers, and 1 Marine Corps C-130 pilot to relieve departing members.

C-130T Hercules aircraft aka "Fat Albert" requires the pilot to be aircraft commander qualified with at least 1200 flight hours under his/her belt.
The name was picked by the original team when they were planning a show in New York in 1946. One of them came across the name of the city's famous Blue Angel nightclub in the New Yorker Magazine.
Fastest speed flown during the show is 700mph and slowest speed is 120mph; both flown by solo pilots
Canadian Snowbirds
The show team flies 11 CT-114 Tutors- 9 for aerobatic performances, 2 solo aircraft, and 2 as spares. 24 members make up the show team that travels during show season

Snowbirds were the first aerobatic team in the world to use music in their show, and music is often used with live commentary from the performing pilots

The top speed of the aircraft, with smoke tanks attached, is 470mph. During the show, the Snowbirds will fly between 115mph-370mph.
The solos aim to be only 33 feet apart when they cross
This year, through a partnership with iHeart Radio and KFI AM 640, the Breitling Huntington Beach Airshow will be broadcasting live on show days. Airshow attendees and enthusiasts can download the iHeart Radio app on their mobile devices and tune in to the live broadcast on the custom Breitling Huntington Beach Airshow station. The downloadable station will provide a live play by play from the onsite announcer, Ric Peterson, offering detailed information and insight to the history, planes, pilots, show maneuvers and more. 
Visit http://www.hbairshow.com/ to learn more about the different performing groups, reserved seating options, and all things aerobatic with aviation!
Also- don't forget to capture and share your favorite memories, moments, and stunts on Twitter, Facebook, and Instagram!