Because what says summer like ribs, pigs, and watermelons? Not to mention live music, craft beer, and cars. It's all part of the professional barbecue competition and summer festival, back in its fourth year at Huntington State Beach from Friday, August 7, to Sunday, August 9. The three-day Kansas City BBQ Society sanctioned oinkfest will see 50 of the top nationally ranked barbecue teams compete for the taste crown, along with watermelon eating, rib eating, and cow milking contests.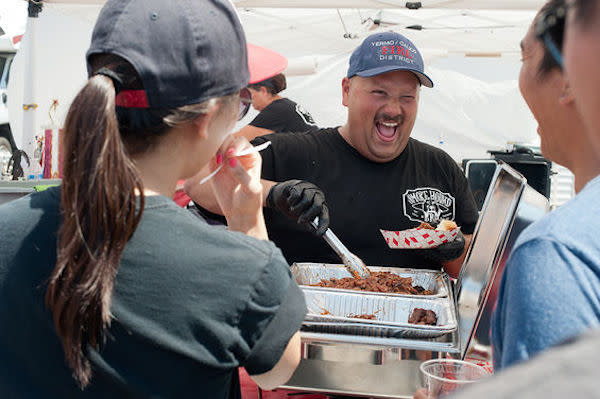 Barbecue teams face judges on Saturday, all vying for $10,000 in prize money. Roasting rivals will fire their pits against 2014 reigning champions Porterhouse BBQ and Pig Skin BBQ. Kids ages 5-15 can also test their 'cue chops by entering the youngin' "que" on Saturday. Aside from a $25 entry fee to grill a provided hamburger or steak, kids must come armed with all the fixin's. More information is available here.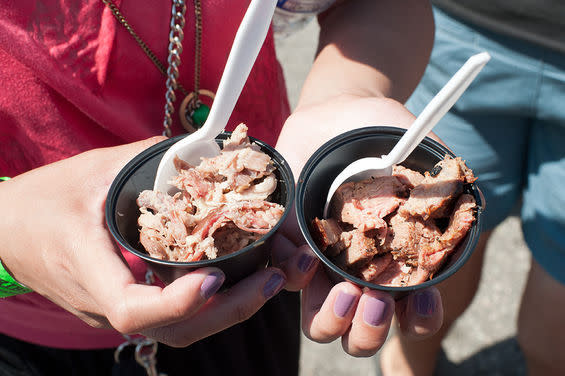 For those who prefer to competitively indulge, four rib eating contests will reward whoever devours the most of or fully conquers a rack of ribs in 10 minutes. Prefer something a little lighter? Four watermelon eating contests await, with participants racing to gobble up a sweet, sizable slice first. Perhaps you'd rather eat at your own pace but are aching to compete? Not to worry. Prepare your paws for a cow milking contest; yes, there are four planned. Contest prizes include t-shirts, gift cards, and barbecue-related items. To sign up for any or all of the above, head to the event stage 30 minutes before challenge start time.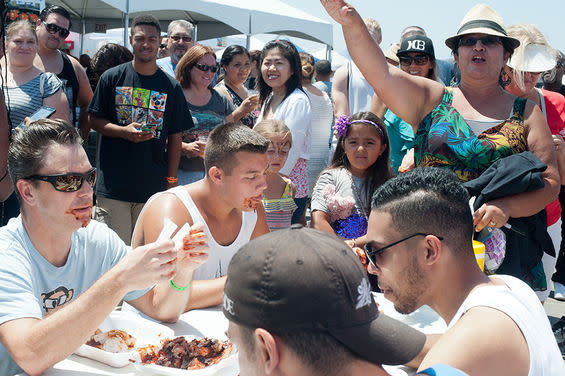 Festival-goers can buy a three-day adult pass for $10 and three-day kids pass for $5 (ages 8-12). Kids ages 7 and under enter for free. Packages are also available, including a $55 two adults package, $75 family package, and $95 group package.
Wash it all down with craft brews, courtesy of BJs, all weekend long. On Saturday from 1-5 p.m, sample craft beer from local breweries, including Huntington Beach's own Brewbakers. A $25 wristband at the gate gets you 10 samples.
All proceeds benefit American Family Housing, a Southern California nonprofit that helps end the cycle of homelessness by providing a continuum of housing and other services to support homeless and low-income families and adults. In 2014, AFH housed more than 1,300 women, men, and children across three Southern California counties with little or no government subsidies.
Here's the complete event schedule:
Days & Times
Friday: 5-10 p.m.
Saturday: 10 a.m.-8 p.m.
Sunday: 10 a.m.-5 p.m.
Location
Huntington State Beach Parking Lot 9
Corner of Pacific Coast Highway and Beach Boulevard
Friday, August 7
5:30-7:30 p.m.: Live music by 1503 Blues
7:30-8 p.m.: Watermelon Eating Contest and Cow Milking Contest
8-10 p.m.: Live music by Side 2
Saturday, August 8
10 a.m.-12 p.m.: Watermelon Eating Contest, Cow Milking Contest, and Rib Eating Contest
12-2 p.m.: Live music by Maureen & the Mercury 5 
1-5 p.m.: Craft Beer Tasting
2:15 p.m.: Kid's Que
2:30-4:30 p.m.: Live music by The American Vagrants
4:30-5 p.m.: Rib Eating Contest
5:30-6:30 p.m.: BBQ Awards Ceremony
6:30-8 p.m.: DJ, Watermelon Eating Contest, and Cow Milking Contest
Sunday, August 9
10 a.m.-5 p.m.: Car Show
11-11:30 a.m.: Watermelon Eating Contest and Rib Eating Contest
12-3 p.m.: Live music by Lil' Mo and the Dynaflos
3-3:30 p.m.: Rib Eating Contest and Cow Milking Contest
3:30-5 p.m.: Live music by Rockaholics