Everything at the newly opened Pacific City is bright, shiny and exciting—from stylish boutiques to public outdoor lounge spaces. It's also on its way to becoming a local foodie paradise, with a handful of innovative restaurant concepts and more on the horizon (including food hall Lot 579, a highly anticipated June opening).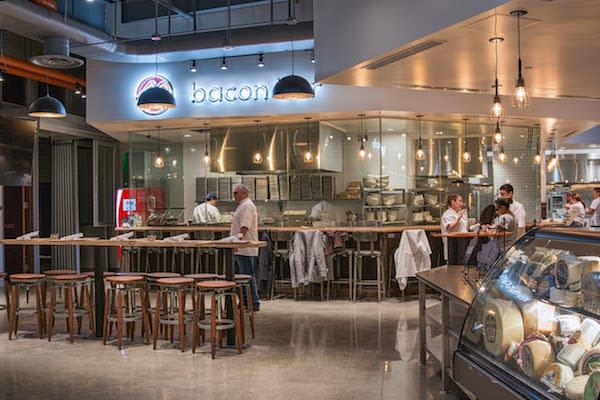 One of the seaside center's rising stars opened in December 2015 and is growing a following among bacon and cheese aficionados. Saint Marc, tucked away on the second level of the plaza, is a cafe, bakery and cheese affinage all rolled into one charming corner venue.
You can grab your food to go, but if you have the time, dine in. You'll be led to a table in the open dining room or out on the patio around the bar, then greeted by an affable "culinary ambassador." He'll take a seat at your table, eager to walk you through the iPad ordering system that allows you to summon food and drink at your leisure. Everything is made chef-to-table, so the wait for your next savory bite is never too long.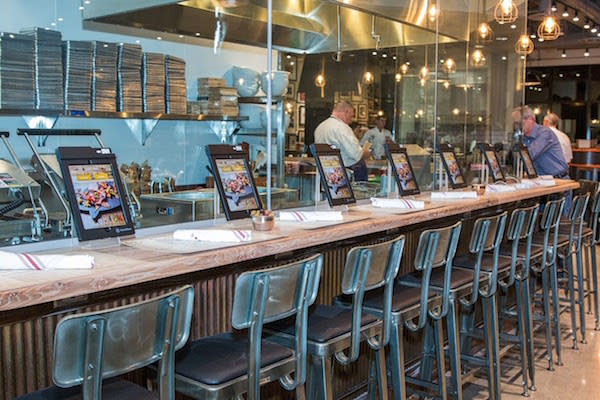 It's best to proceed with reckless abandon, letting your taste buds take control. Craving charcuterie? You can select from more than 100 different types of cheese or the 11 varieties of bacon from the bacon bar, ranging from $1.50 to $3 per slice.
Bacon is a focal point here, and it's done well. If you're not up for a strip of the apple pie variety or a tender belly maple slice, the bacon-wrapped dates are a more than satisfying alternative. Served warm on a wooden plank, five dates are stuffed with cream cheese before being wrapped and then glazed with maple syrup. Other bacon-forward options range from bites like wrapped jalapenos and artichokes to B.L.T. sandwiches with a twist.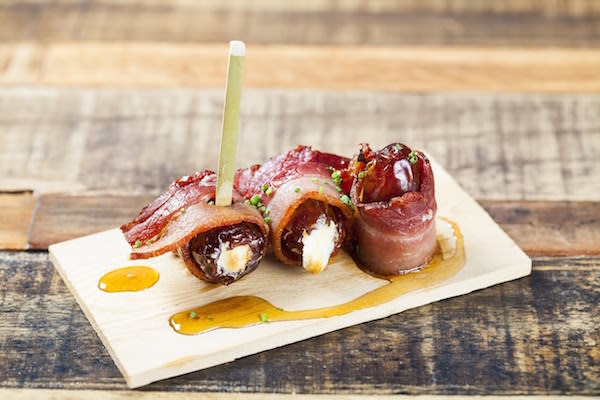 The handheld food theme continues with some of the heartier plates: a bacon cheeseburger, shrimp po'boy, muffuletta and three types of grilled cheese sandwiches, among other options. With the grilled cheese, you can add a cup of soup for just $3. Split pea, bacon baked tomato and Kobe chili are on the menu, as is a decadent crock of french onion with caramelized onions and baked cheese heaped on a crusty slice of sourdough.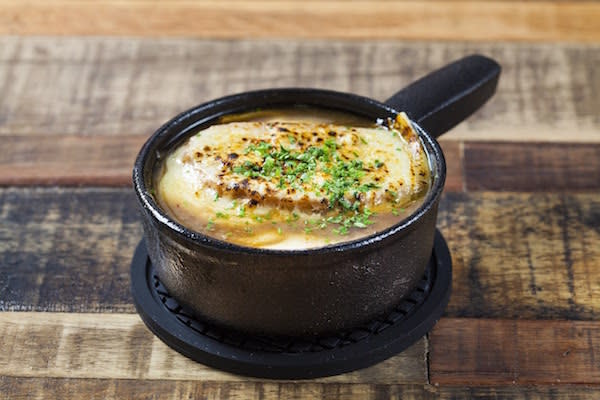 It also wouldn't be a 21st century dining experience without craft libations. Thirty-two wines are available on draught, "classically twisted" cocktails are served in red Solo cups and canned beer is brought in from craft breweries across the country.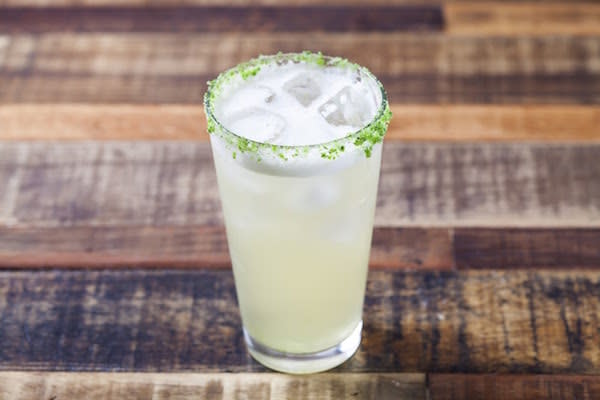 Through it all, your culinary ambassador is literally at your beck and call. Tap a button on the screen to ask for extra napkins, silverware or a takeout box.
Saint Marc's has the dining experience on lock: a hip ambience, artisanal fare and the next iteration of customer service, allowing diners to enjoy their meals without interruption.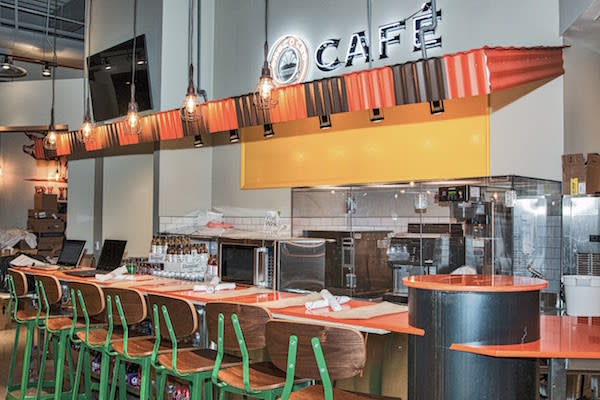 Address: 21010 Pacific Coast Hwy., Huntington Beach, CA 92648
Phone: 714-374-1101
Website: saintmarcusa.com
Hours: Sunday to Wednesday, 8 a.m. to close; Thursday to Saturday, 8 a.m. to midnight