Halloween scares aren't just for the little goblins. Ghouls of all ages are invited to shake their bones—at haunted houses and celebrations. Here are our favorite All Hallow's Eve happenings for adults in Huntington Beach.
In its first year ever, Huntington Beach's historic Newland House and Barn will be transformed into a chilling four-night Halloween experience, appropriately dubbed Huntington Haunt. Spearheaded by the same innovative team who brought the community Surfboards on Parade, the event is also the brainchild of Haunt Operations Manager Paul Frechette, who has assembled a team with collectively over 250 years of experience in the haunt industry. The interactive candlelit haunted house/theatre/"moving play" invites visitors to "be our guest, and even a part of the story, at the joining of two of Huntington Beach's most notoriously feuding families, the Hauntington's and the Oldland's, who request your presence at the doomed wedding of their bride and groom, where twists, turns and of course…bone chilling terror await you!" Outside the 40-minute twisted tale sits a Haunted Carnival featuring artisans, a Victorian psychic, henna painting, costume contests, live entertainment, food, and a craft beer and wine garden. Costumes are encouraged, but masks are a no-go.
The Haunt benefits the Rotary Club of Huntington Beach and aids in their mission to install the first ever Universally Accessible Playground in Huntington Beach, along with other worthy causes.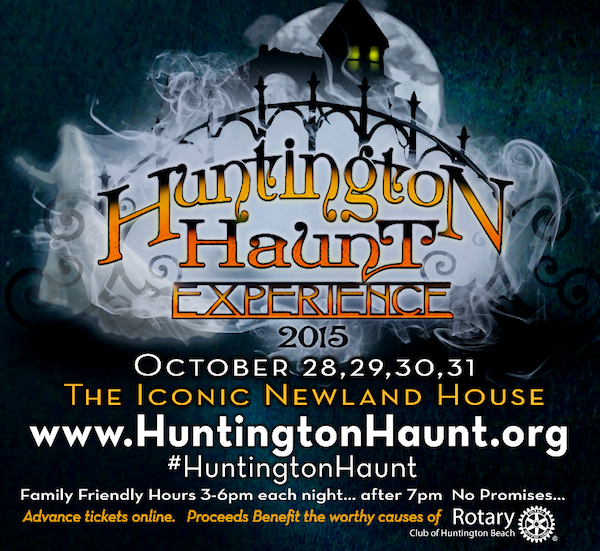 Wednesday, October 28, and Thursday, October, 29, 7-10 p.m. 
Friday, October 30, and Saturday, October 31, 7 p.m.-midnight
Tickets: $25 (13+). Purchase online.
19820 Beach Boulevard, Huntington Beach, CA 92648
714-337-9176
Yelloween Masquerade at SeaLegs Wine Bar
Celebrating All Hallow's Eve "until the8goblins go to bed," SeaLegs Wine Bar's Yelloween Masquerade invites you to "indulge in the lavish world of excess" and immerse yourself "in a world of dreams and sounds." The night features sounds by DJ Mike Soltani, a masquerade-themed costume contest with a $500 cash prize, Veuve Clicquot-inspired decor, and $60 bottles of Veuve Clicquot. Saturday, October 31, at 8 p.m. No cover.

21022 Beach Boulevard, #105, Huntington Beach, CA 92648
714-536-5700
Perqs on Main Street is getting into the spirit with a Halloween costume contest, complete with cash prizes at midnight, as well as live music from Those Guys. Saturday, October 31, 9 p.m.-2 a.m. Catch their cowboys and Indians-themed "Redneck Rodeo" the Friday night before Halloween too.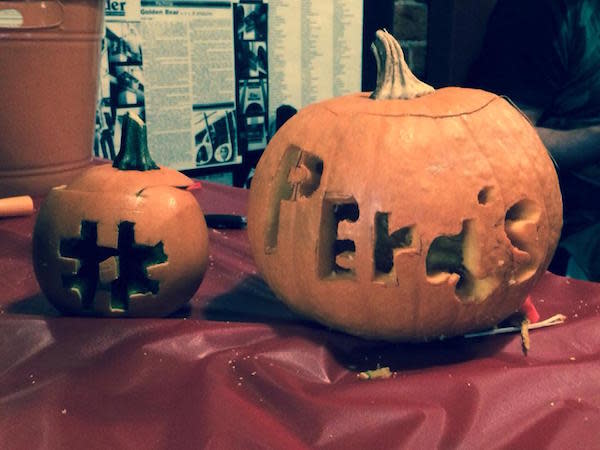 117 Main Street, Huntington Beach, CA 92648
714-960-9996
Halloween Party At 4 Sons Brewing
Hosting a family-friendly Halloween party, 4 Sons Brewing is decking our their tasting room in wicked fashion this year. The night features a costume contest, Halloween movies, drink specials for costumed ghouls ages 21+, candy for the little goblins, and special Halloween-themed beer releases starting at 6 p.m. Saturday, October 31, noon-10 p.m.
18421 Gothard Street, Huntington Beach, CA 92648
714-584-7501
Haunted Party at Johnny's Saloon
Johnny's Saloon invites you to leave your body and soul at the door, and enter its famed dive bar for a night of costume contests, drink specials, and fun times. Saturday, October 24, 9 p.m.-2 a.m.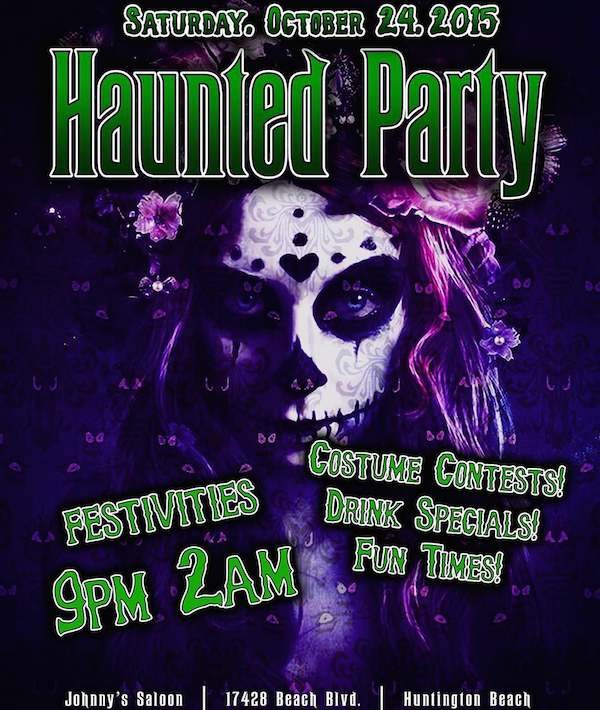 17428 Beach Boulevard, Huntington Beach, CA 92647
714-848-0676
Adult Halloween Oktoberfest Party 
In addition to the ongoing 39th Annual Oktoberfest at Old World, the charming Euro village is also putting on an All Hallow's Eve costume party for adults (21+) only. Plan for a costume contest, DJ, and the usual boots of beer that come with the German festival. Saturday, October 31, 6:30 p.m.-1:30 a.m. $15.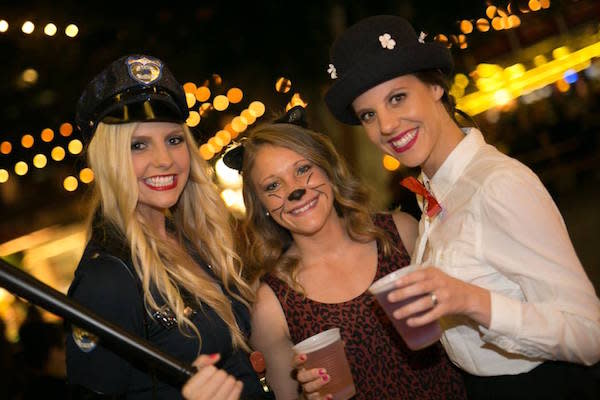 Old World Festival Banquet Hall, 7561 Center Avenue, Huntington Beach, CA 92647
714-895-8020