As Orange County's only waterfront food hall, Lot 579 reigns supreme when it comes to ocean views and beachy-cool eats. It's Pacific City's crown culinary jewel, drawing some of the region's top concept eateries. Step inside the gourmet market with our guide for curbing cravings and satisfying your sweet tooth.
BOTTOM'S UP
Raise a glass in celebration, because Lot 579 brings together an eclectic sampling of specialty beverages.
Choose a fresh-brewed pick-me-up from a list of daily varietals or a famous flat white espresso drink at one of Orange County's most beloved coffee shops, Portola Coffee. Intricate latte art is the cherry on top of this cup of velvety foam.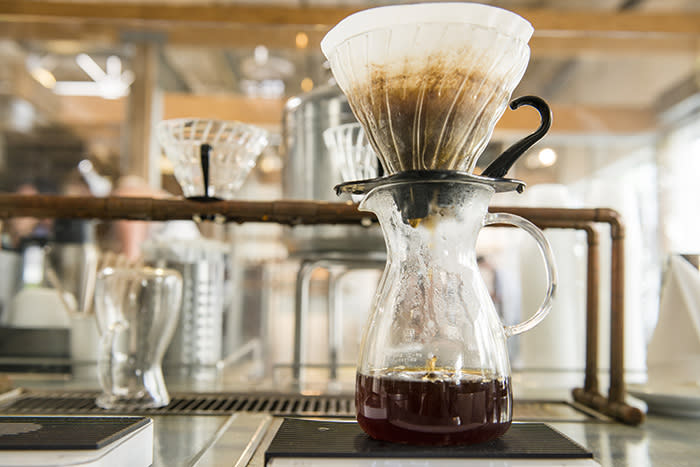 A mid-afternoon stop to grab a flight at The Dudes' Brewing Co. is a must. The tiny tasting room has 24 creatively flavored craft brews on tap, including easy-drinking ales like the Blood Orange amber and Berry Belgian. Bonus tip: Bring your own food to enjoy at the communal picnic tables.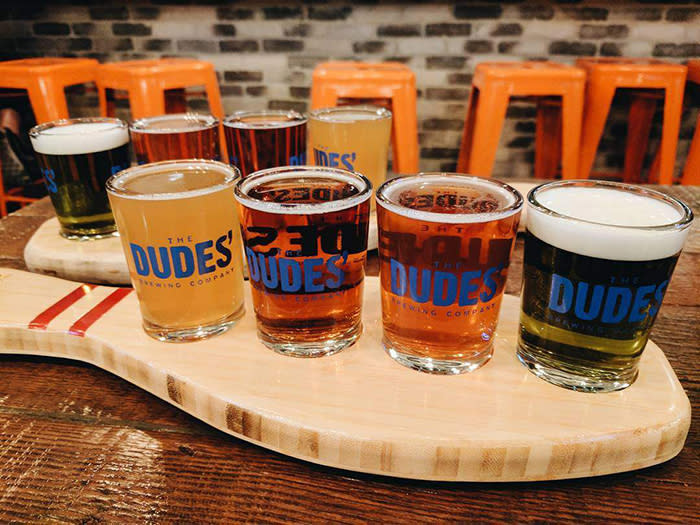 Petals & Pop beckons passersby with the fragrance of fresh blooms, but hidden inside the nontraditional flower shop is a chic champagne bar. Order a glass of champs in an elegant vintage coupe or share a bottle of effervescent bubbly, like the whimsical Blanc de Bleu sparkling wine that boasts the subtlest hint of blueberries on the palate.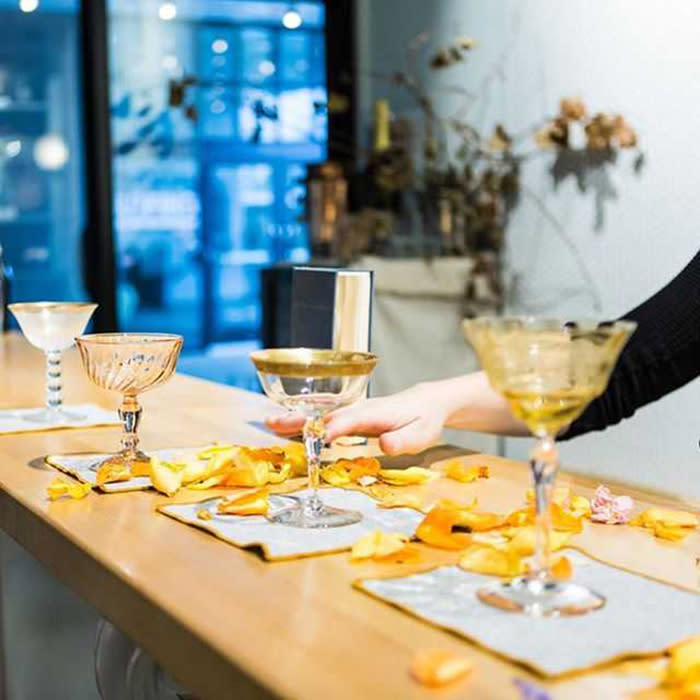 EAT WITH YOUR HANDS
Don't be afraid to get your hands dirty with this array of small bites and savory snacks.
Two words: spaghetti sandwich. Burnt Crumbs is famous for its Instagram-worthy mashup that crams an entire meal between two slices of crispy, buttery sourdough garlic bread. If you've already had the tried-and-true sandwich from the eatery's food truck, check out one of the newest options. The Western Burger is piled high with slabs of bacon, cheddar and fried onion strings, then drenched in a to-die-for barbecue sauce. Lighter appetites can order the barbecue chicken toast, a Pacific City exclusive with mozzarella cheese, bacon and Parmesan topped with a sprinkle of onions and cilantro.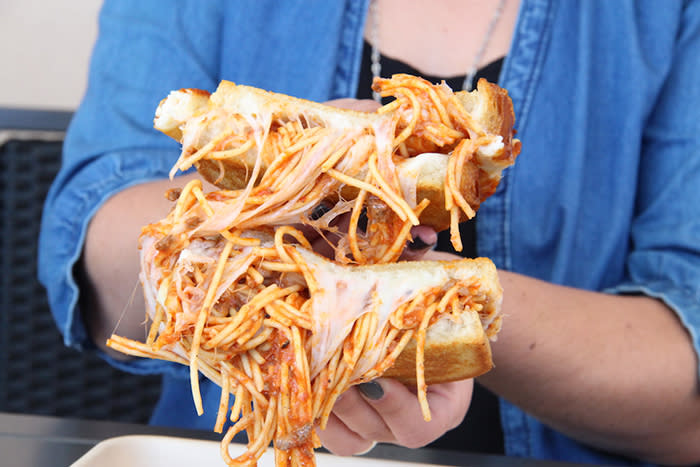 Being a carnivore has never tasted this good. Mahogany Smoked Meats offers a premium sampling of tender jerky, from peppered elk and buffalo to habanero turkey. Don't balk at the steep price tags—a little bit goes a long way when choosing a quantity by the pound from the glass display cases.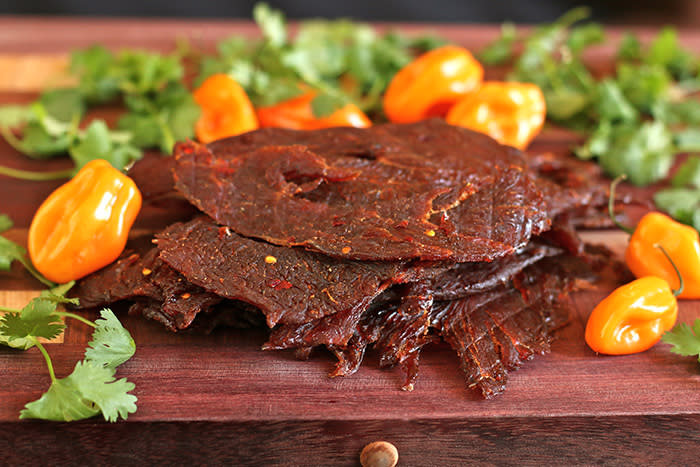 Throw your forks away—enjoy the meat pies at Pie-Not the authentic Aussie way by popping the puff pastry shell right out of the tin to eat on the go. That'll Do Pig, with bacon, ground beef and cheese, is perfect for a late breakfast, but try the Drunken Cow's thick chunks of red wine-braised sirloin and garlic to curb mid-day munchies.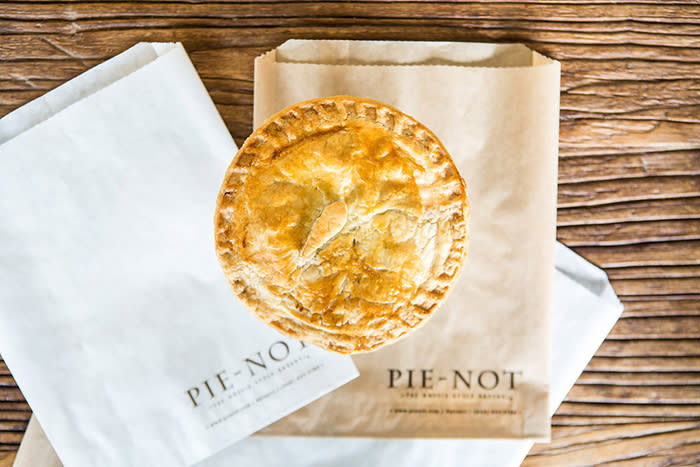 THE MAIN COURSE
Dig in—you won't leave hungry with hearty helpings at these spots featuring cuisine that's meant to be slowly savored.
Great beer and thick burgers are truly The American Dream. Cozy up to the bar for killer sunset views just behind the sixty craft beer taps offering pours from breweries such as Modern Times, Stone and Noble Ale Works. Pair it with the thick cheese, onion strings and brisket patty in the barbecue stout bacon burger, one of eight gourmet options available.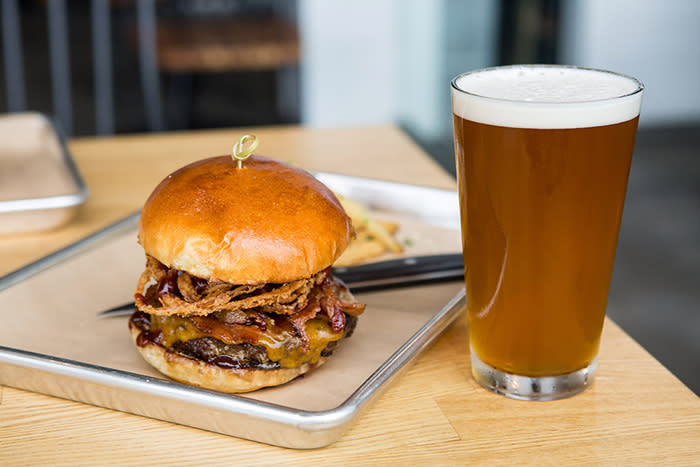 Seafood cravings can be curbed at Bear Flag Fish Co., which has a prime location at Lot 579 with a patio overlooking the beach. The sit-down crowd can enjoy a glass of beer or wine while savoring an overflowing cup of creamy clam chowder and entrees like a third- or half-pound of fresh fish with brown rice and sauteed veggies.
Wood-burning pizza fresh from the hearth and generous plates of pasta are staples at Il Barone Sicilian Street Food, a newest concept from the next generation in the Barone family of restaurateurs. The creamy tortellini is a standout, with diced chunks of ham, a thick cream sauce and scattering of peas that come together to form one comforting bite after another.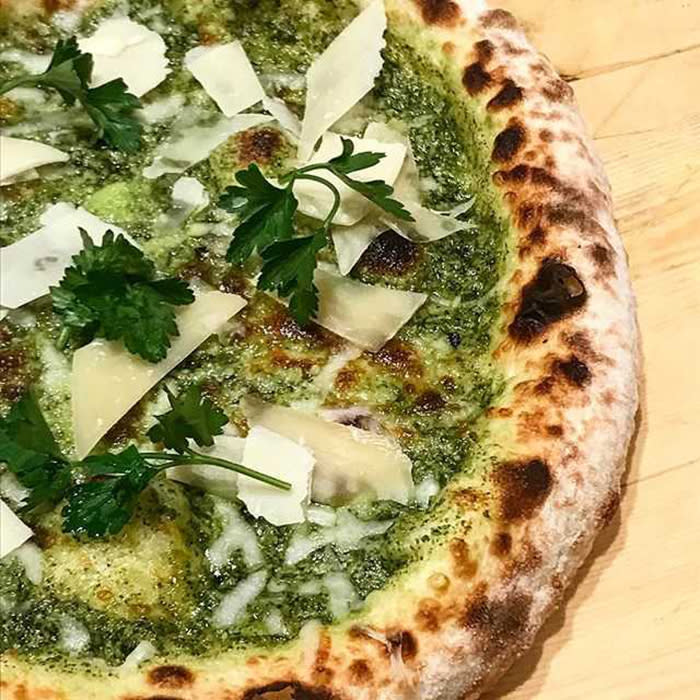 JUST DESSERTS
Save the best for last with Lot 579's sweet array of satisfying treats.
After a visit to Popbar, the only way you'll want to eat gelato is on a stick. Pick your favorite flavor from a minimalist display of colorful sorbets and gelatos, then upgrade to unlimited dippings or toppings like white chocolate and almonds. A popular combo is the decadent Ferrero Rocher hazelnut/chocolate pop, dipped in heavenly milk chocolate, rolled in hazelnuts and crushed waffle cone, and artfully drizzled with white chocolate.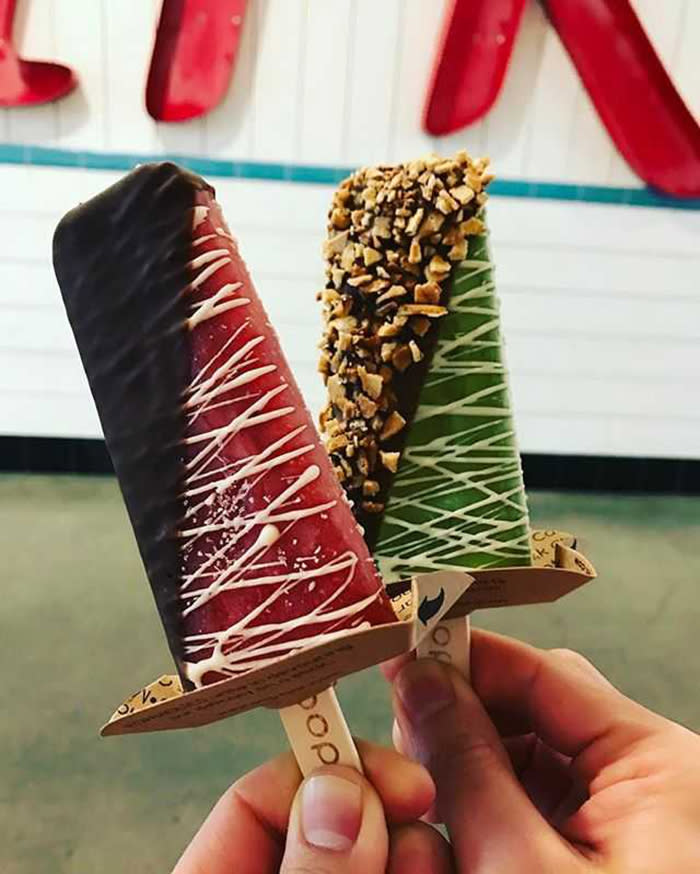 Jumbo ice cream cupcakes, minis and even "pup" cakes for dogs are on the menu at Frosted Cupcakery, an adorable bakery catering to people's sweet sensibilities. For a treat that looks too good to eat, grab a strawberry cream cheese cupcake that tempt tastebuds with a cheery red gummy atop a fluffy pile of pink frosting.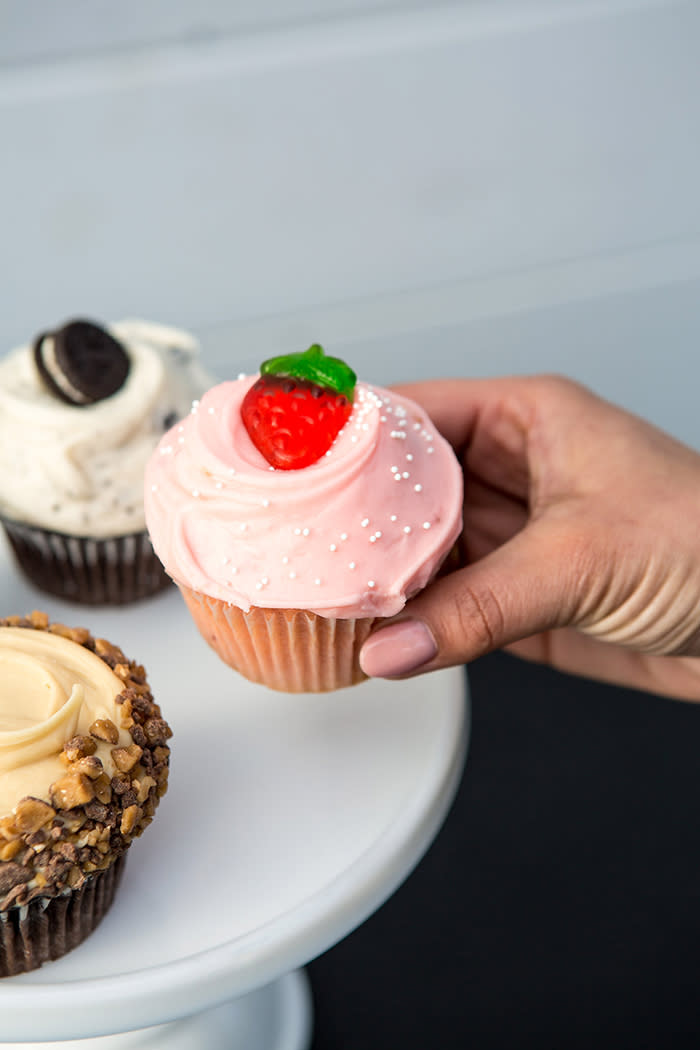 Sample your way down the counter at Hans' Homemade Ice Cream before choosing the perfect flavor to enjoy in a cone, sundae or stuffed between two chocolate chip cookies. Flavors of the rich, dense ice cream rotate daily and are never boring with options like Bordeaux cherry, wild mountain blackberry, powdered doughnut and frozen hot chocolate.