Surf City USA basks in the glory of incredible beaches, restaurants, surf shops, boutiques, hotels and bars galore. As I drove from one to the next, I spotted one "dive bar" after another as I meandered my way around town. Needless to say this is not an exhaustive list of "dive bars" in Huntington Beach. However, this is a list garnered by interviewing seasoned locals, and visiting each spot to explore and understand more about what places them at the "top of mind" to so many.
Mother's Tavern –Sunset Beach's Biker Bar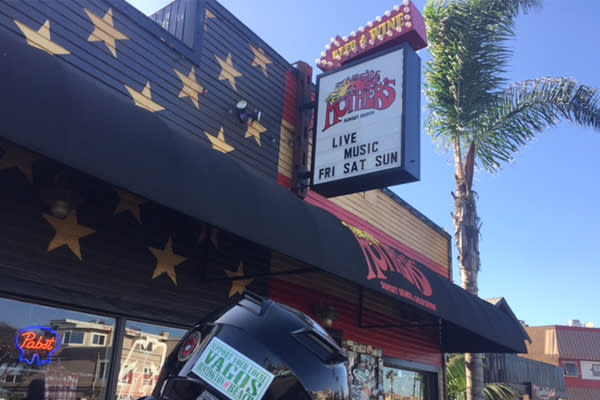 This red craftsman-style bungalow is covered on the inside with dollar bills stapled on every surface. It is filled with high-top tables, a long bar to one side and a spot for the band in the corner. There are three big screen TV's and a very friendly biker crowd with their prized possessions just steps outside and adorning the front pathway. There is music Friday 7-10pm, and Saturday and Sunday from 3-6pm, and some Saturday evenings as well. The schedule of the bands is scribbled on a piece of paper and tacked to the right of the front door. Locals tell me that excellent pizza and pasta can be ordered and delivered from next door at Sunset Pizza & Pasta. My favorite spot here is the cottage in the back that resembles a cozy, western-style living room with a couch, tables and chairs and a big screen TV. It is used for overflow and is quite a find.
16701 Pacific Coast Highway- Open M-Tues 2pm to 10pm and Wed-Sun 11am to 12am.
Perqs Bar- Main Street's Surf Bar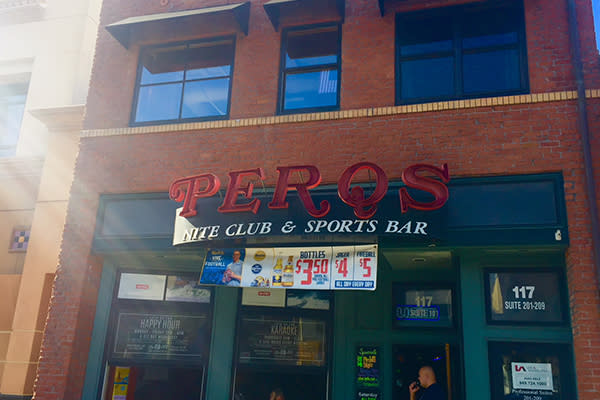 The sign out front pronounces they are "the only bar" on Main Street. To which I had to shake my head. Say what? In clarifying with the kind but brawny bouncer, he reinforced that they are the only one that is exclusively a bar---no restaurant on-site---just beer, wine and cocktails. Noted! It is housed in a charming historic 1913 building with a brick facade up on the second floor and just steps from Pacific Coast Highway. My favorite feature is the open window seating that looks right out onto Main Street. It is a perch like no other. As I stepped inside, I saw surfboards hanging from the rafters and surfers everywhere. (Heck, I felt like I was back in Mexico after boogie-boarding and walking into Hussong's in Ensenada, Mexico. That spot was a surfers favorite hideout and dates back to 1892.) But back to Perqs---- the space is ginormous with very high ceilings. They have 9 big screen TV's, I see 9 beers on tap and lots going on----Thursday is Karaoke night 9pm-close, and live music is featured Tues. 8-10pm and Fri/Sat from 9pm to 1am. They also have a Happy Hour M-F from 3-6pm. 117 Main Street, HB- Open 11am to 2am daily.
Redz Bar- The "Cheers Bar" of HB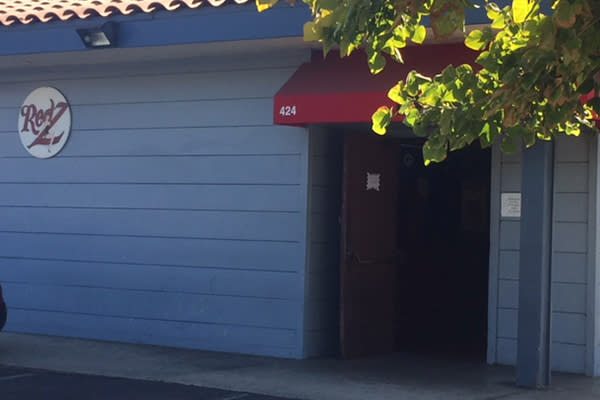 When you think of a "locals bar" this is the place. It is snuggled up in the corner of a neighborhood of townhomes and houses just three blocks inland from busy Pacific Coast Highway. The bartender is very friendly and you can just tell that everyone has a grand time here. There are three pool tables, high tops and a long bar along the far wall. They have 14 beers on tap and a busy Juke Box playing one tune after another. Guests can put cash in the Juke Box or, as the bartender explained to me, many download TouchTunes app and right from their phone can make their music selections right from their mobile phone. They can also over-ride music selected by those who are paying cash. What will they think of next? 
424 17th Street- Open Sunday 10am during football season to 1:45am and M-Sat 8am-3am.
Driftwood – Craft Beer Haven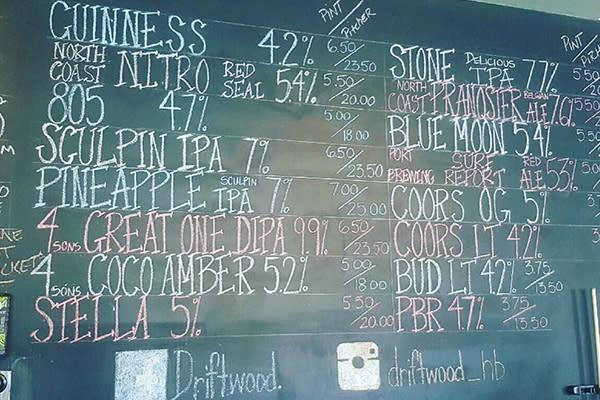 This is another bar that is tucked into a small strip mall and located near homes and condos. There are two pool tables, a Juke Box, 5 big screen TV's and rustic reclaimed wooden beams overhead with a few surfboards to remind us just where we are. They take their craft beer selection seriously and have a great chalk-board menu on the wall. They have 16 beers on tap, which rotate regularly. On the list I see Sculpin IPA, Stone, Lagunitas IPA and my favorite, Stella Artois among many others. They also have daily specials. For example: Sunday is Champagne bottle for $10, Monday is Happy Hour all day, Tuesday is special on canned beers, Wednesday is 25% off bottles of wine, Thursday is special beer pricing and M-F Happy Hour from 3-6pm. 204 Adams Avenue, HB- Open Sun-Thurs11am to 12am and Fri/Sat until 1am.
The Pen – Old School Dive Bar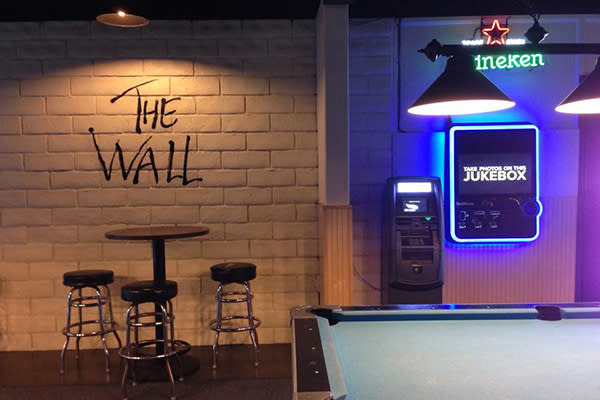 Photo credits: The Pen 
Tucked into a small strip mall just off of busy Beach Boulevard, this sports bar features a bank of nine pool tables and there are thirteen big screen TV's carefully placed all around the large space for easy sports viewing. The various windows have been boarded over with wood paneling to ensure a dark ambience. The billiard hanging light fixtures shine above each table. There is a full bar, 12 beers on tap, and a Juke Box to set the mood when the sports schedule is on the light side. 19901 Beach Blvd, HB- M-F 11am to 2am and Sat/Sun 10am to 2am.
Tumbleweeds- Western Inspired Sports Bar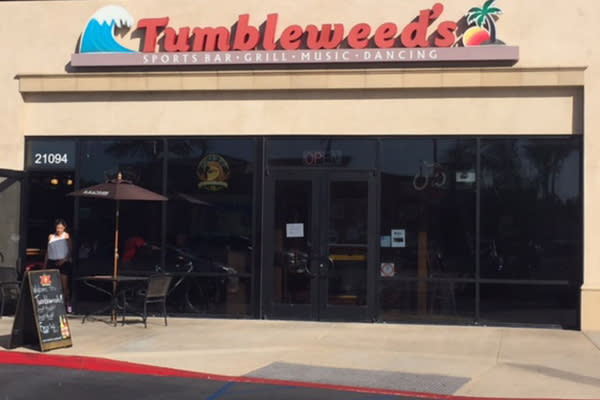 This is located in a large modern strip-mall along Beach Boulevard. It is between Big Lots and Walmart and in the same mall flanked by Sea Legs and Sea Salt which are both lovely upscale wine bars and restaurants. This establishment has a long bar with high top tables with fabric-covered banquets. There are four big screens along the bar, and then ten smaller TV's above the bar for tracking numerous sports games at the same time. They have 11 beers on tap and a large menu of food items. There is a separate Pool Room with three pool tables and four big screen TV's so no own would dare miss the sports action. There is an elevated stage in the corner---with Karaoke Sun-Tues, Blues Jam on Wed. and live bands Thurs-Sat (in the afternoons or evenings). They have a great calendar on their web site with all the details on bands, times and special events too.
Happy Hour is M-F from 11am to 7pm.
21094 Beach Blvd. HB- M-G 11am to 2am and Sat/Sun 9am to 2 am
Shooter's Sports Bar- Where Pool Is King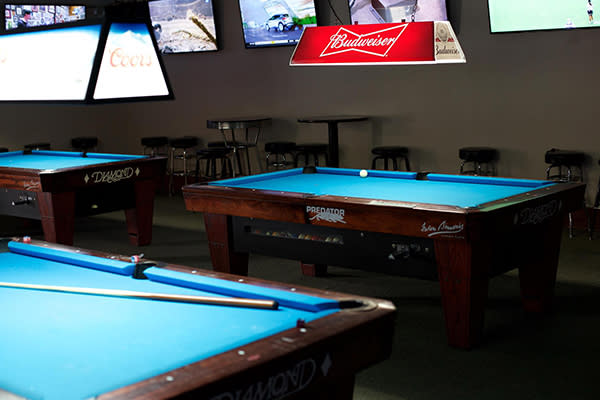 Photo by: Shooter's Sports Bar
Located at the Town & Country Mall near Main Street, this bar is home to various Pool Leagues five nights out of seven--- including a local league called Pocket Money. They are also associated with two well-recognized organizations, including: the APA (American Poolplayers Association) and the NAPA(North American Poolshooters Association). Anchored by four Diamond brand pool tables, this is a serious pool hall. Last December the business was purchased by Bob, Wally and John. I had the pleasure of meeting Bob and Wally who were there and sharing improvements they have made in the bar. They have installed all new bar stools, have 13 beers on tap and eight big screen TV's and a Juke Box using the TouchTunes app. They have a live band that plays Saturday evenings from 9pm to 1am. As Wally explained, they do not have their web site up just yet, however patrons can find them on Facebook under ShootersHB. 18582 Beach Blvd, HB- Open daily from 10am to 2am.
Johnny's Saloon & Pizzeria- Locals Dive Bar With A Big Heart For Our Veterans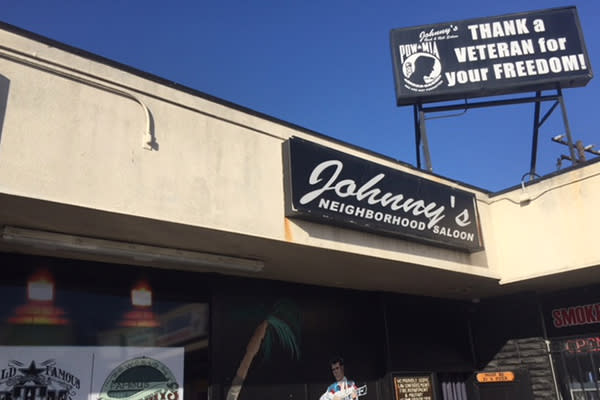 I could be wrong, but I think these two features qualify this in the "dive bar" category. First, the entry is a zig-zag through not one, but two thick drapery curtains. Second is there are bras hanging above the bar from one end to the other. There is a full bar and one beer on tap with lots of craft beers in the bottle. A nice menu is available for review. The bar is very proud of their inventory of over 200 whiskeys. They are well known for their incredible Pizzas that guests order and are delivered from a secret pizza kitchen nearby. (Uber Eats and Amazon Flex are used for their deliveries.) Johnny's has a long bar, high top tables, a large red semi-circle booth and one pool table. A local patron Misty explained to me about the shuffle board set up along the back wall and many other games they bring outside in the evening. They have corn hole, a Giant Jenga game and the list goes on and on. A very special program is Johnny's Veteran Outreach Program. On Thursday evenings they close the bar and only open it for Veteran's and their families. The community helps in feeding the families and also many contribute gift cards and presents to them. What an incredible service they are providing. If you would like to contribute please contact Johnny. I know he would love to hear from you & accept your donations on behalf of these local Veteran's. (714) 848-0676 17428 Beach Blvd. HB- Open Daily 1pm to 2am.
So there you have it. A list of eight "dive bars" that are worth a visit. There are many others, and at Visit Huntington Beach, we all enjoy showcasing events and businesses that are right here in the neighborhood to enjoy.