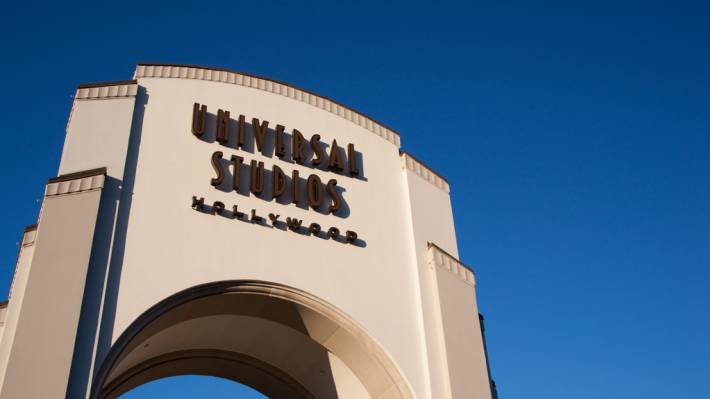 Universal Studios Hollywood, The Entertainment Capital of L.A., includes a full-day, movie-based theme park and Studio Tour. Just 45 miles away from Huntington Beach, the theme park features world-class rides and attractions. This includes the award-winning, critically acclaimed mega-attraction, Transformers™: The Ride-3D, as well as King Kong 360 3-D featured on the famed behind-the-scenes Studio Tour, Revenge of the Mummy —The Ride indoor roller coaster, The Simpsons Ride and Jurassic Park® —The Ride.  And now open, the much anticipated 3D Ultra-HD movie motion-simulator adventure, Despicable Me Minion Mayhem.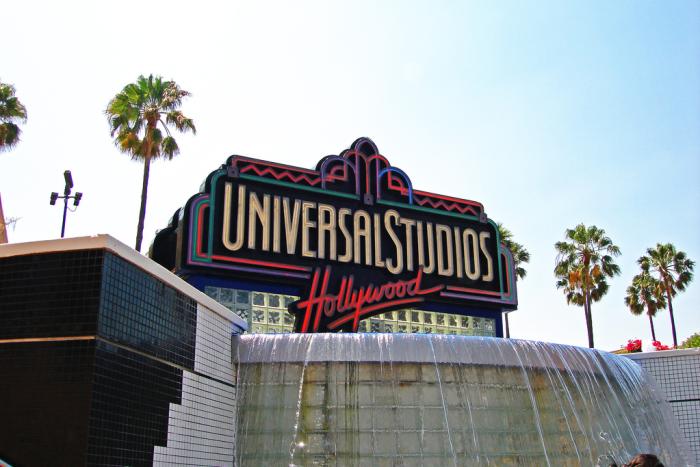 ATTRACTIONS
DESPICABLE ME MINION MAYHEM
Experience Despicable Me Minion Mayhem and join Gru, his daughters and the Minions on a heartwarming and hilarious 3-D ride. The adventure starts in Gru's home, where you're recruited for his latest scheme – one where you'll become an actual Minion. After making it through "Minion training," things don't go as planned! Within moments, you're launched into an unforgettable trip through his super-villain laboratory. The laughs keep coming after the ride with an interactive, Minion-inspired dance party.
 
JURASSIC PARK® - THE RIDE
Come face-to-face with "living" dinosaurs, a 50-foot T-Rex, and a treacherous drop straight down an 84-foot death-defying raft plunge. When built, the ride's 84-foot plunge was the largest theme park water descent ever constructed with 1.5 million gallons of water are used throughout the ride. Jurassic World opens in theaters June 12.
 
TRANSFORMERS™: THE RIDE 3D
This immersive, next generation thrill ride blurs the line between fiction and reality. Fusing HD 3D media and flight simulation technology, this epic ride creates an experience unlike anything this planet has ever seen. Based on the popular movie franchise, this mind-blowing Transformers adventure puts you in the middle of the ultimate war zone. Fight alongside Optimus and try to survive as you protect the AllSpark from Decepticons over four stories tall.
 
THE SIMPSONS RIDE
Enter through a carnival-like midway in Krustyland alongside Homer, Marge, Bart, Lisa and Maggie. Awarded the Thea Award for Outstanding Achievement, Attraction –Themed Entertainment Association, it features hilarious animation during the ride, as well as, the pre-show and queue areas. Once in the world of Springfield, an immersive land surrounding "The Simpsons Ride," engage in the show's iconic locations like the local Kwik-E-Mart, Krusty Burger, Lard Lad, Moe's Tavern, and the first Duff Beer Gardens.
 
STUDIO TOUR
2015 marks the 50th anniversary of the Studio Tour! Step aboard the brand-new fleet of tram vehicles and get a behind-the-scenes look at real film and TV sets located on the Universal Studios Backlot while your expert tour guide shares the Studio Tour's epic 50-year history. You'll even get the inside scoop on projects currently filming on the Backlot! Also, experience the new Nighttime Studio Tour as it runs select evenings with spectacular theatrical lighting and special effects used in nighttime filmmaking on the Backlot.
Visit 13 city blocks on four acres of historic studio lot in the largest set construction project in studio history, built with creative consultation from Steven Spielberg himself. The Studio Tour also includes: King Kong 360 3D created by Peter Jackson, the eerie plane crash from War of the Worlds, Wisteria Lane from ABC's hit series Desperate Housewives, the legendary Bates Motel from Psycho, an encounter with Jaws, and much more!


For a full list of attractions, click here.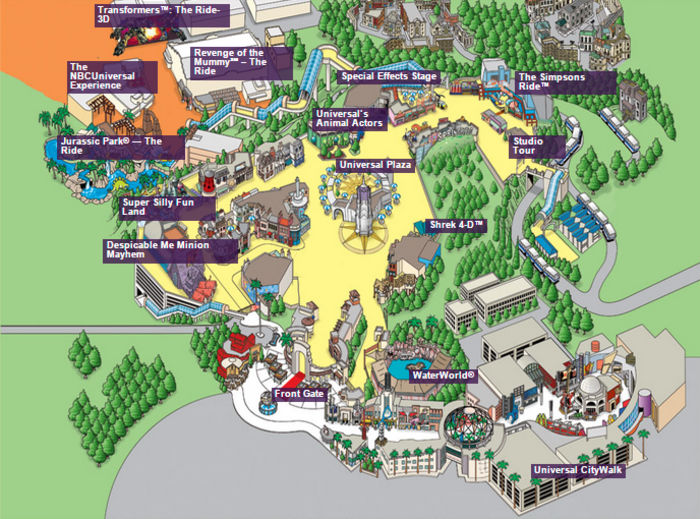 TICKETS
Buy 1 Day Get 2015 Free - $95
Receive exclusive Pass Member benefits and special offers, including $12 off general admission tickets for up to 6 guests. Passes will expire on December 31, 2015 and black-out dates apply on return visits.
Regular Season Pass - $119
Pass is valid until March 18, 2016. Enjoy 10% off food and merchandise inside the park, along with Pass Member benefits and special offers. Black-out dates apply on return visits.  
No Blackout Dates - $159 (Online only)
Enjoy unlimited visits to the park including every summer weekend and during the holidays! Pass is valid until March 18, 2016. Enjoy 10% off food and merchandise inside the park, along with Pass Member benefits and special offers.
NOTE: Children 2 years or younger enter free. Discounts can be applied when purchasing tickets online. Vacation packages available here.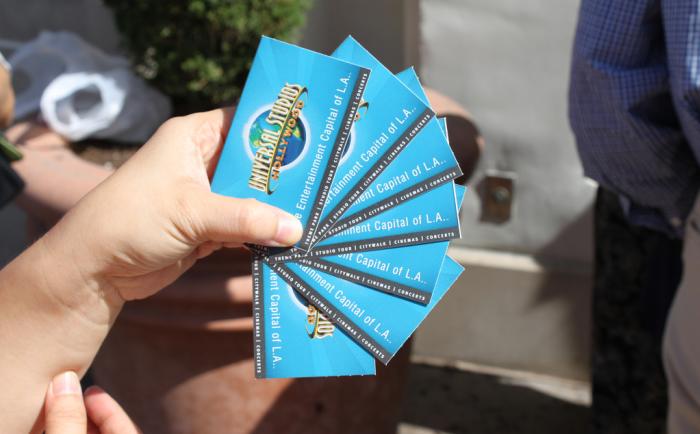 UNIVERSAL CITYWALK
Universal CityWalk is Southern California's dynamic entertainment, dining and shopping destination that reflects the area's rich cultural diversity. The iconic open-air leisure and nightlife complex provides "Always Unexpected" entertainment options and has served as a prototype for similar destinations. Universal CityWalk includes the dynamic high-tech concert venue, "5 Towers," provides L.A.'s best movie-going experience at the AMC Universal CityWalk cinemas and offers such unique venues as the Infusion Lounge, iFly indoor skydiving and mechanical bull-riding at Saddle Ranch Chop House. 

For a full list of dining, shopping, and entertainment, click here.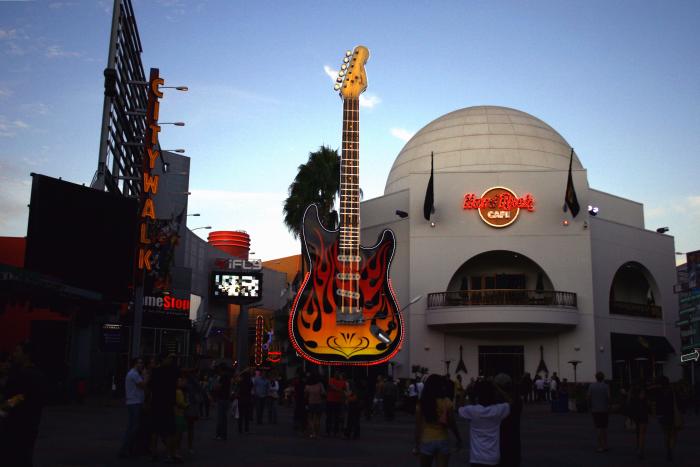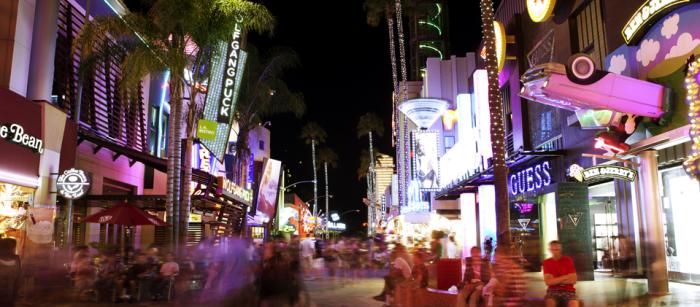 UPCOMING ATTRACTIONS
FAST & FURIOUS SUPERCHARGED - JUNE 25
Celebrate the 50th Anniversary of the world-famous Studio Tour and hold on tight for the all-new grand finale, Fast & Furious – Supercharged opening June 25! Ride along with the all-star cast from the hit movies on an exhilarating high-speed chase that exceeds 120 miles per hour and catapults you into the high-stakes underworld of fast cars and international crime cartels. You'll be engulfed in a world of cutting-edge, hyper-realistic special effects, including 3D-HD imagery projected onto the world's most expansive 360-degree screens! The ride will be situated within a newly constructed 50,000 square foot building on the legendary backlot and will reunite stars from the Fast & Furious series in a groundbreaking mega-attraction, conceived as a new installment to the dynamic film series that can only be experienced at The Entertainment Capital of L.A.

Click here for a sneak peek video.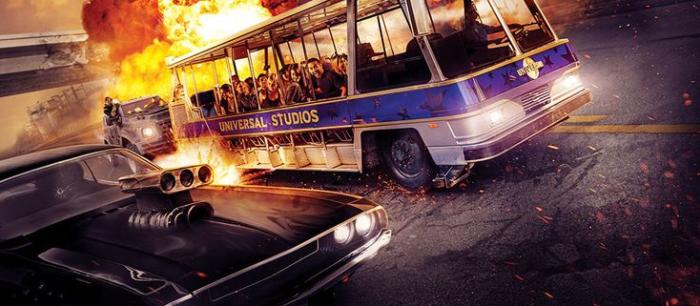 WIZARDING WORLD OF HARRY POTTER - 2016
Inspired by the magical world created by J.K. Rowling and brought to life in the Warner Bros. films, "The Wizarding World of Harry Potter" at Universal Studios Hollywood will be a fully immersive land designed for the entire family that brings the Harry Potter fiction and films to life with impeccable detail and authenticity. Similar to the dynamic Universal Orlando Resort themed land that opened in 2010, the Hollywood experience will be faithful to the visual landscape of the fiction and films, including Hogwarts castle that will serve as the iconic focal point of the impressively themed environment. The new land is expected to feature shops and restaurants made famous by the movie series as well as two attractions, the Harry Potter and the Forbidden Journey dark ride and the Flight of the Hippogriff roller coaster. "The Wizarding World of Harry Potter" is a collaboration between J.K. Rowling, Warner Bros. Entertainment and Universal Parks and Resorts.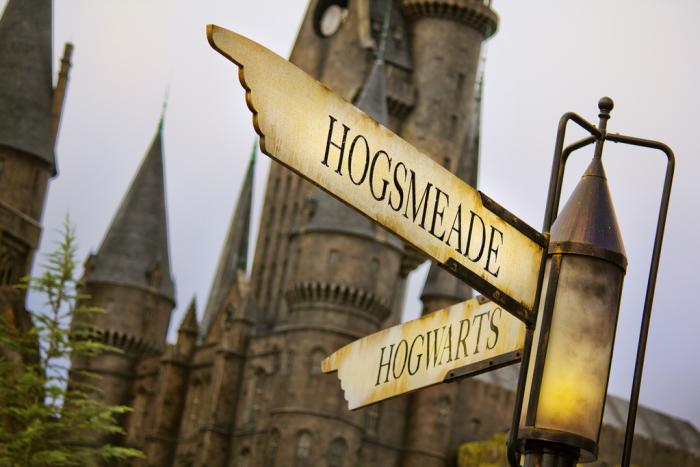 For more information, please visit Universal Studios Hollywood's website, Facebook, Twitter, Instagram, and YouTube channel.

Headline photo courtesy of Jurriaan Persyn via Flickr.