Navigating the gridlocked streets of LA can be tricky for even the most seasoned traveler. But if the bright lights, glitz and glamour of Hollywood prove too hard to resist, Huntington Beach offers easy access just 45 miles south. It's the best of both worlds: Stay and play in laid-back Surf City, then get a taste of Hollywood life through a guided tour that leaves right from your hotel.
One option for making the short trek north is to sign up for a private or group excursion departing from Huntington Beach. To make a day's exploration easy, Thomas Domizi of Surf City Adventure Tours has flexible Hollywood tour options that begin with local pick-up from Surf City accommodations like The Waterfront Beach Resort and Hyatt Regency Huntington Beach. Thomas is a treasure trove of insider tips and will happily point out hidden gems as he guides people through the city, but here are a few iconic sights he suggests first-time visitors shouldn't miss.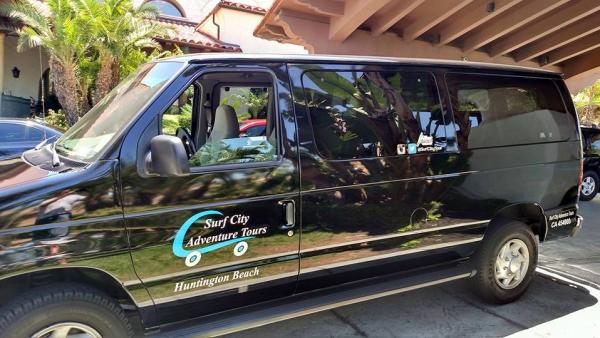 The Hollywood Sign
The route Thomas takes up to the LA-area is via Mulholland Drive, just east of the Santa Monica Mountains—it's a scenic, winding path that twists through the Hollywood Hills. The mysterious stretch of road, which numerous celebrities from Madonna to John Lennon once called home, sets the scene for a star-studded visit to Hollywood. Near the end of Mulholland Drive, a stop at the Hollywood Bowl Overlook provides views of its eponymous amphitheater, as well as the Hollywood sign to the east on clear days. For a different perspective of the iconic emblem, the multilevel entertainment center Hollywood & Highland down the road has several observation decks where visitors can grab snapshots with the sign in the background.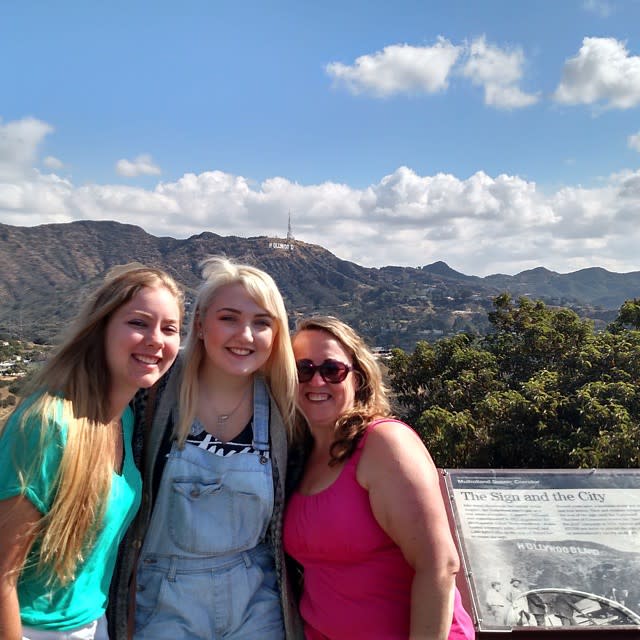 Dolby Theatre (formerly the Kodak Theatre)
The Hollywood & Highland center is also famously home to the Dolby Theatre, the host site for the annual Academy Awards ceremony in the winter. The venue offers 30-minute ticketed tours seven days a week, allowing visitors to view an Oscar up close, go behind the scenes and even walk onstage.
TCL Chinese Theatre (formerly Grauman's Chinese Theatre)
Similarly, Hollywood & Highland houses the TCL Chinese Theatre, an opulent landmark identified by its red coral columns and golden doors flanked by stone "heaven dogs" (guardian lions). It's a popular location for Hollywood's red carpet movie premieres and features the handprints and footprints of iconic celebrities in its courtyard. The theater's rich cinematic history provides plenty of fodder for the 20-minute walking tours offered every day of the week.
Hollywood Walk of Fame
In front of the center along Hollywood Boulevard is the legendary Walk of Fame, where movie and TV stars, recording artists, radio talent and live performers are honored with permanent tributes embedded in the well-traveled pavement. Inductees to look out for in the "class of 2016" include major names in show business such as Bradley Cooper, Steve Carell, Quentin Tarantino, Adam Levine, Bruno Mars and more. (If you're more interested in the waves than the big screen, Huntington Beach has its own Surfing Walk of Fame along Main Street.)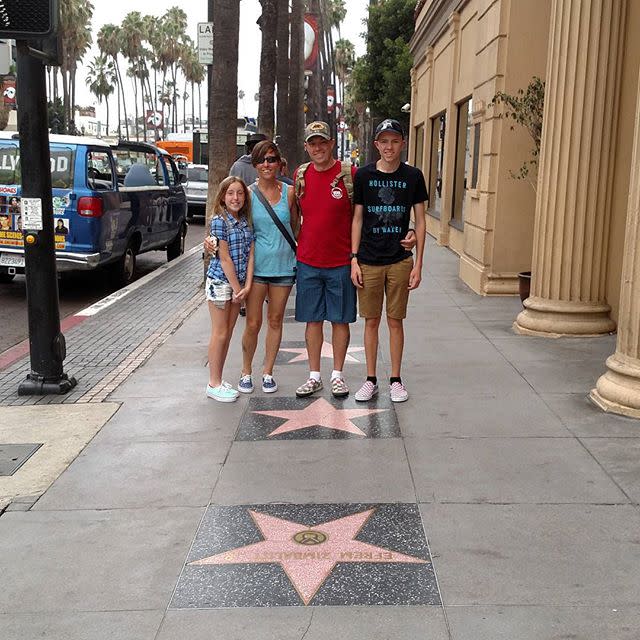 Madame Tussaud's
Finally, no trip to Hollywood is complete without stopping by Madame Tussaud's, the museum boasting more than 125 celebrity likenesses made of wax. Located next to TCL Chinese Theatre along the Hollywood Walk of Fame, the attraction is divided into themed rooms so everyone can follow their interests and grab snapshots with personal favorites. Sports and action heroes are represented, as well as Western icons, pop idols, directors, A-listers, fictional crime bosses and legends from the golden age of film. Added in 2014 was the 4-D Marvel multisensory experience, in which visitors can view a 12-minute film and meet superheroes like Captain America, Thor and Iron Man.
Nights in Surf City
There are plenty of other ways to explore Hollywood off the beaten path once you've seen all the major sights—Thomas, for example, will customize his adventures and usually include a tour of a major movie studio like Warner Bros.—but make sure you get back to Huntington Beach before it gets too late. After a whirlwind tour of Hollywood's red carpet culture, there's no better way to close the day than to be dropped off at your hotel's doorstep in time to freshen up for a sunset dinner by the sand.
So what do the customers have to say about Surf City Adventure Tours?
"We recommend Surf City Adventure Tours its an awesome day out with an amazing guide Tom who makes the day very special with stories and information about a fabulous city that is full of glitz & glamour." - Jeremy C.
"I would highly recommend Tom and his company if you are the type that likes to NOT have to stick to someone else's schedule. Tom explains all of the sights in detail and let's you customize what you want to see, versus many of the other tour companies that have a preset route they have to follow. I wouldn't hesitate to recommend Tom for those of you looking to do the tourist thing!!" - Jacob F.
Book your personalized tour with Tom Domizi here or call 714.960.6790.