The streets of Catalina Island are peaceful this time of year. Year-round residents in golf carts roll through the town of Avalon alongside tourists who are exploring all the relaxed island has to offer. With a small-town charm and restaurants, shops and outdoor adventures aplenty, Catalina beckons Orange County visitors to hop aboard a passenger ferry for an unforgettable day trip.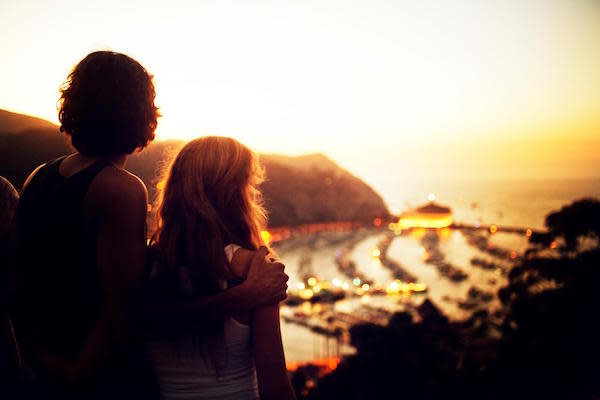 Getting There
From Huntington Beach, the easiest way to take a quick day trip is via the Catalina Flyer. The 600-passenger double-deck ferry departs once a day from the Balboa Peninsula—just 15 minutes from downtown HB. Along the way, enjoy a historical narrative while traversing the channels of Newport Harbor. Catch the 9 a.m. boat to arrive on Catalina by 10:15. Be back on the boat by 4:30 p.m. to return to Huntington by dinnertime. Advance reservations are recommended. (Round-trip fare is $75 for adults, $53 for children; catalinainfo.com)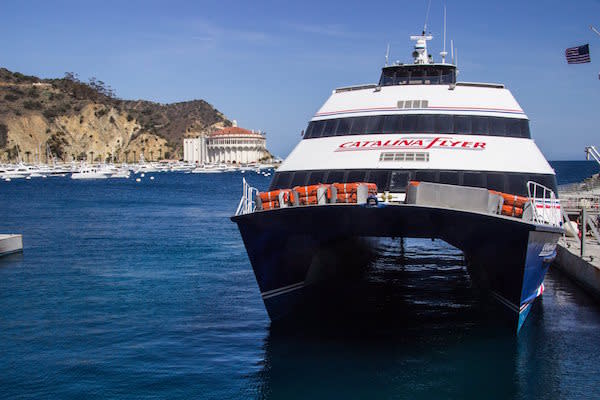 Getting Around
The ferry drops you at the southeast end of Santa Catalina Island, where you can take a short 10-minute stroll into the main part of Avalon. Follow Crescent Avenue along the water to browse myriad shops or grab a bite at one of the charming waterfront restaurants. In this part of town, you'll find two main departure points for exciting adventures around the island: Green Pleasure Pier for ocean explorations and Tour Plaza for land expeditions.
Water Wonders
On-the-water attractions are seemingly limitless on this island locale. But, if you're seeking a fun and affordable adventure for the whole family, the Glass Bottom Boat Voyage offers four 40-minute tours daily for maximum flexibility. Passengers are seated on long communal benches alongside a railing; over the railing, glass panels and Catalina's clear waters allow for the perfect view of colorful fish and plants as you travel through Lover's Cove Marine Preserve. (Tour times at 11:30 a.m., 12:30 p.m., 1:30 p.m. and 2:30 p.m.; tickets are $19 for adults, $16 for children and seniors; 800-626-1496)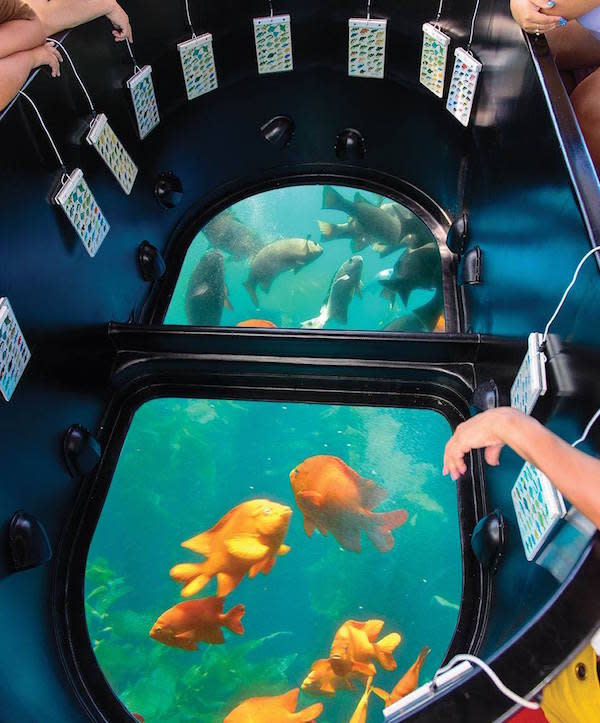 For a more active excursion, feel the wind on your face during the Ocean Runner dolphin tour. Up to 12 participants will cruise out into the Catalina Channel on the same boat Navy SEALs use in hopes of spotting dolphins and sea lions playing in the water. (Tickets are $51 for adults, $48 for children and seniors; 800-626-1496)
Land Adventures
If you have a bit more time and prefer to see the island from above, the Zip Line Eco Tour is a must-do. Five zip lines have day-trippers soaring across nearly a mile of the island up to 300 feet above ground. Each line has something unique to offer, from steep drops to lengths of 1,000-plus feet to views of the mountains or ocean. The tour lasts two hours and starts/finishes at Descanso Beach Club. Advance reservations are recommended. ($125 per person; 800-626-1496)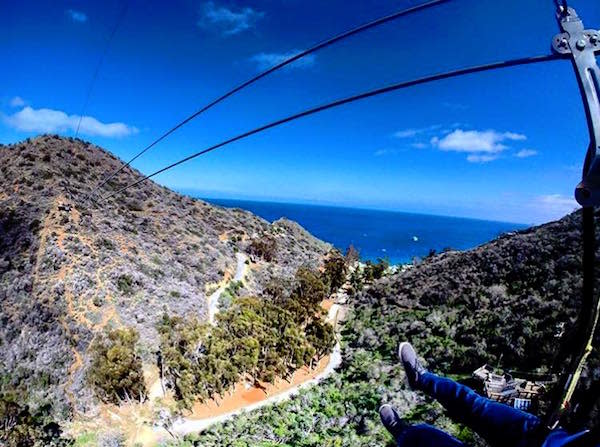 Island Attractions
Between adventures, carve out time to wander Avalon and visit Catalina's not-to-be-missed destinations. Descanso Beach Club, a secluded public-access beach at the northern point of town, went through a renovation a couple years ago to add amenities such as private presidential cabanas and chaise lounges. When you're hungry or need a drink, the on-site restaurant has two bars, tables with ocean views or beach-side service. (310-510-7410)
On your way back to the ferry, the Catalina Casino is a must-visit on any first-time itinerary. Opened more than 80 years ago, it's still a working theater, ballroom and concert hall where special events are also held throughout the year. Green rooms once used by Hollywood legends like Cary Grant and famous musicians have graced the majestic stage framed by art deco murals. For those who want an in-depth exploration of this historical site, take a 70-minute behind-the scenes tour at 12:30 and 3 p.m. ($27), or a 40-minute walking tour at 11:45 a.m. or 2 p.m. ($13). Just be sure to make it back to the Cabrillo Mole ferry landing to catch your ride back to Huntington!