Huntington Beach offers plenty of fun on the water - surfing, kayaking, paddleboarding, you name it - but if you want to go a little deeper and experience what's under the water, a day trip to the Aquarium of the Pacific in Long Beach is just the thing.
Set right on the harborfront adjacent to the restaurants, shopping and activities of Shoreline Village and The Pike, the Aquarium offers visitors a fun and educational tour of the Pacific Ocean, from Antarctica to Alaska.
Visitors enter into a main hall dominated by a life-size replica of a 90-foot blue whale suspended from the ceiling. A huge, 2-story tank occupies one end of the main hall, featuring giant sea bass, groupers and other massive fish, sometimes joined by a scuba diver who tidies up and chats with visitors via a wireless microphone.
A group of baby penguins born recently at the Aquarium are charming visitors in the June Keys Penguin Habitat.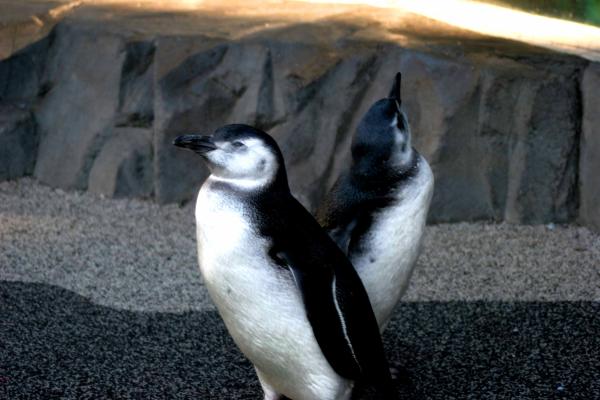 On the second floor, there are galleries recreating several Pacific ecosystems, including the North Pacific, Tropical Pacific and Southern California/Baja.
Other highlights dot the grounds outside the main building, including the ever-popular Shark Lagoon (reach into the touch pool if you dare!), the sea lion show, and the Lorikeet Forest.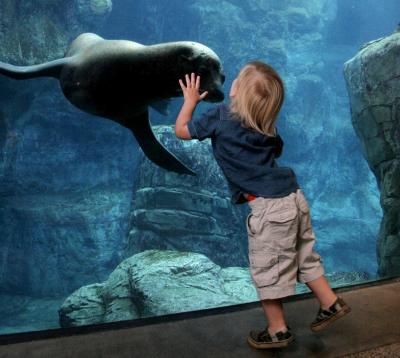 Two gift shops, an indoor restaurant, an outdoor café, and a theater round out the public facilities.
In addition to the colorful and fascinating exhibits, the aquarium also maintains a busy schedule of special events, from guest lectures to the coming weekend's Baja Splash Festival featuring live entertainment, food, crafts and educational programs to celebrate Mexican Independence Day. There are also guided tours of the Aquarium exhibits that go behind the scenes, and educational programs and activities for youngsters.
Want to see whales or explore the workings of the largest harbor in the world? You can take one of the boat trips offered by the Aquarium, putting you back on top of the water after exploring and learning about the underwater world in the Aquarium itself.
The Aquarium of the Pacific is open 9 a.m. to 6 p.m. every day of the year, except during the Grand Prix of Long Beach (April 17-19, 2015). General admission is $28.95 for adults; $14.95 for children 3-11; and $25.95 for seniors. Films, tours and cruises are extra; a complete price list can be found here. The Aquarium is located at 100 Aquarium Way, Long Beach, CA 90802; phone 562-590-3100.
 Headline photo by Instagram user @rickyshoots.