It's that time of year again: holly wreaths and mistletoe, shopping and wrapping, carols and parties, and a nice evening cruise.
Wait ... cruise? Since when is that a holiday tradition?
Well, in Huntington Beach, our Southern California coastal location provides us with some unique holiday opportunities. Spiraling Christmas lights brighten the trunks of palm trees, for instance.
Or the 52nd Annual Cruise of Lights in Huntington Harbour.
Even now, residents around the Harbour are adorning their homes with lights and holiday displays, together transforming Huntington Harbour into a Christmas wonderland.
"The decorations bring 'ooohs and aaahs' from thousands of passengers taking the Cruise of Lights," says Karen Ridout, chair of the Huntington Harbour Philharmonic Committee, which sponsors the event as a fundraiser.
Set for Dec. 17-23 this year, the Cruise is "a 45 minute narrated boat tour to see decorations on roofs, balconies, windows, decks, docks, and boats," Ridout says.
Indeed, there's nothing quite like floating quietly in the night, surrounded by the spectacularly decorated homes and boats, the eye-pleasing display doubled by its reflection in the calm waters of Huntington Harbour. It's a sublime and thoroughly Christmas-y experience--a fantastic local tradition.
The Philharmonic Committee offers tours leaving at 5:30, 6:30, 7:30 and 8:30 p.m. each night of the six-night run. Shuttles to the cruises leave from the Huntington Harbour Mall parking lot, 16889 Algonquin St. in Huntington Beach. Tickets are $17 for adults, $10 for kids 2-12, and free for tots younger than 2. Tickets are available through the Cruise of Lights website.
Proceeds from the Cruise go to support the Youth Music Programs of the Philharmonic Society of Orange County, which provide "age-appropriate musical experiences to supplement and enhance public and private school curriculum." In addition, 10 percent of the HHPC's total annual fundraising goes directly to programs in local schools.
If the cruises are booked up, another option for viewers is the rent a Duffy boat from Huntington Harbour Boat Rentals.
The fundraising Cruise of Lights will be preceded on Dec. 13 and 14 by the Huntington Harbour Boat Parade, in which scores of decorated boats resplendently circumnavigate the Harbour. The Parade will begin at about 5:15 p.m. each night at the northern tip of Coral Cay and finishing up about 7:50 p.m. back at the Cay.
This year's Parade theme is "Music in Paradise," so there promises to be some delights for the ear as well as the eye.
It all adds up to a delightful Christmas tradition in Huntington Beach!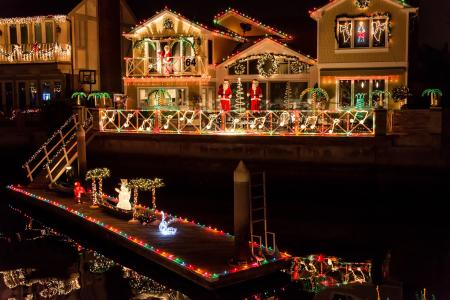 What are your favorite memories from the Cruise of Lights? Share your photos with us on Facebook! 
Primary image courtesy of Larry Duncan, 2012.