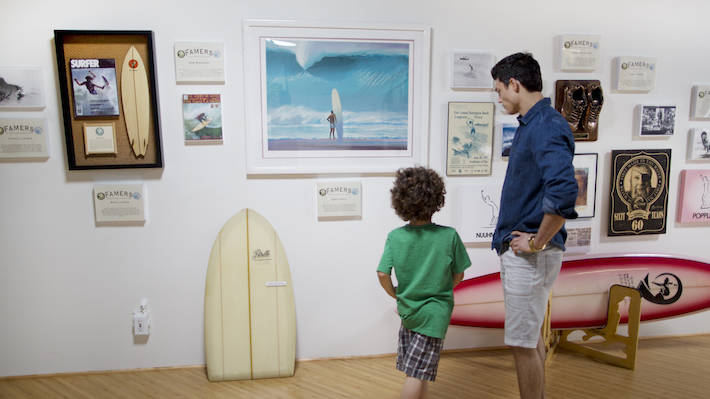 When your fun in the sun is tempered by a rainy El Nino winter and colder temperatures, consider putting on a jacket and taking a walk on the beach to appreciate this unusual experience. However, if you prefer to stay toasty, there are plenty of indoor activities you can participate in right here in Huntington Beach.
HIGH ENERGY FITNESS & FUN
BounceU
You don't need a special occasion to get your bounce on at BounceU. Kids (ages 2 & up) and adults can jump on massive inflatables (including a cosmic "glow-in-the-dark" open bounce) or play interactive games and activities. Just bring your socks. BounceU will supply the music and everything else.
5445 Oceanus Drive, #115

Get Air
Get warmed up by playing at Get Air Trampoline Park which features wall-to-wall trampolines, dodge ball, foam pits, basketball dunking nets and a toddler jump area.
5142 Argosy Avenue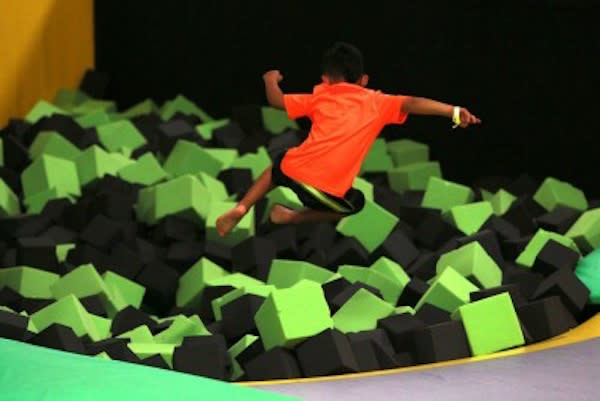 FuZion
Meet, eat and play at this state-of-the-art facility that features food, games and a variety of indoor entertainment. Check out the arcade that includes skee-ball, basketball, mini bowling and other skill games. FuZion also has a laser tag challenge area. Climb, duck, and dodge the laser beams over four difficult settings.
The food area offers a full menu from appetizers to burgers, salads and scrumptious deserts. And when you're looking for a belly laugh after all the activities, stay for the comics at the Surf City Comedy Club, which is located onsite.
7227 Edinger Avenue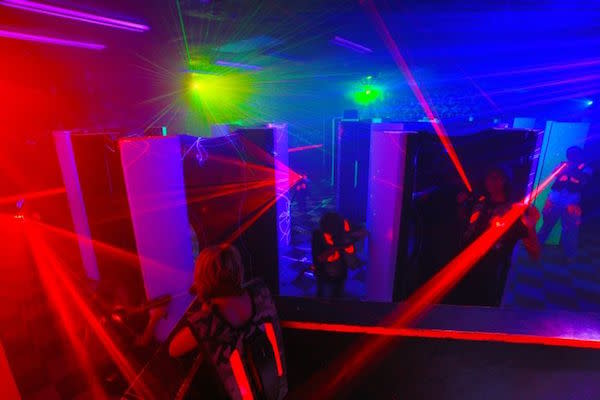 RELAX, LEARN, ENJOY
International Surfing Museum
You don't have to surf to appreciate the sport's rich history in Huntington Beach. Chosen as one of the 125 "Icons of Orange County," many of the great surfboards and local history are preserved in a huge, cataloged collection that rotates in the museum. Mingle with surfers from around the globe who visit the museum to share stories and soak up the beach vibe.
411 Olive Avenue 
*Closed on Mondays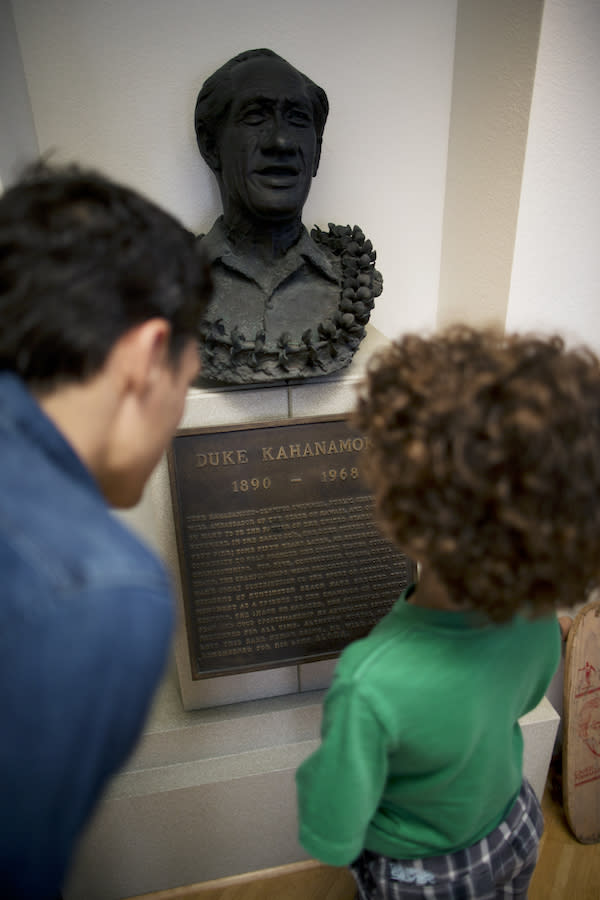 Huntington Beach Central Public Library and Cultural Center
Located in a 350-acre park, the library and cultural center features a beautiful theater, spacious rooms and all the technology you expect from a state-of-the-art facility.
You will enter the main lobby to the sound of cascading fountains merging into shallow pools at the end of a gracious spiral ramp. Enjoy the quiet by reading a book or delighting in the endless views of trees, outdoor fountains, ponds and pools. Take the time to tour through the Windows Art Gallery and Corner Art Gallery featuring local artist exhibits.  Also, be sure to check out the performance schedule in the library's theater.
7111 Talbert Avenue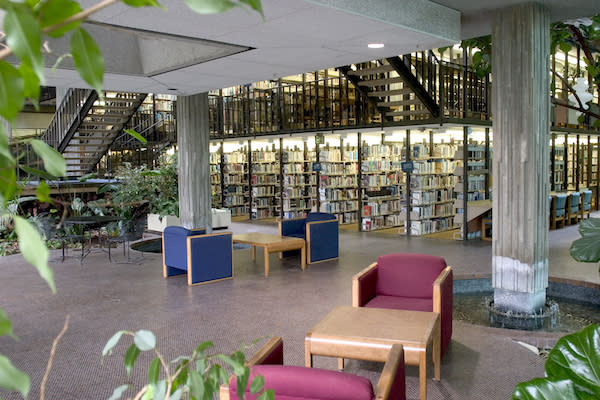 Huntington Beach Art Center
The Huntington Beach Art Center's galleries present the work of exceptional contemporary local and regional artists and community interests. In addition, Artist Council members host presentations and programs on the 2nd and 4th Thursdays of the month which include films, open studio for artists and art critiques. The 3rd Thursday of the month focuses on celebrating HB's Downtown Art Walk by featuring two artists at the center.
538 Main Street
*Closed Sunday and Mondays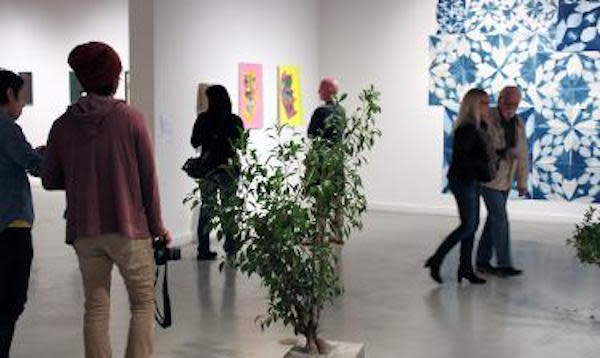 MORE THAN A WATERING HOLE: NIGHTIME ENTERTAINMENT
Perqs Nite Club & Sports Bar
Located in a historic 1913 building, this popular almost 40-year-old establishment is host to weekly karaoke on Thursdays and live bands on Fridays and Saturdays. According to one Yelp review, Perqs is "a mellow, laid back, no attitude kind of fun bar."
117 Main Street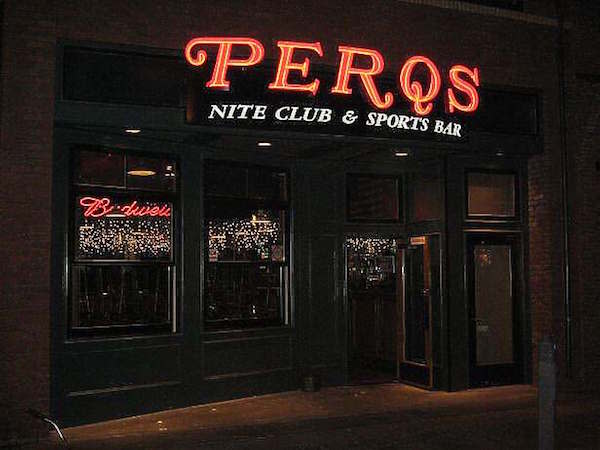 Don the Beachcomber
You will find yourself whisked away to a Polynesian paradise on the mainland in this 15,000 square foot Hawaiian-themed restaurant. The interior includes two waterfalls, hundreds of feet of bamboo, hand-carved Tikis and unique Hawaiian art and lighting.
Feast on entrees from the islands of the Pacific while you sip on exotic cocktails. Join in for karaoke on Wednesdays and Sundays and get your groove on while listening to live reggae band on Sundays, too.
16278 Pacific Coast Highway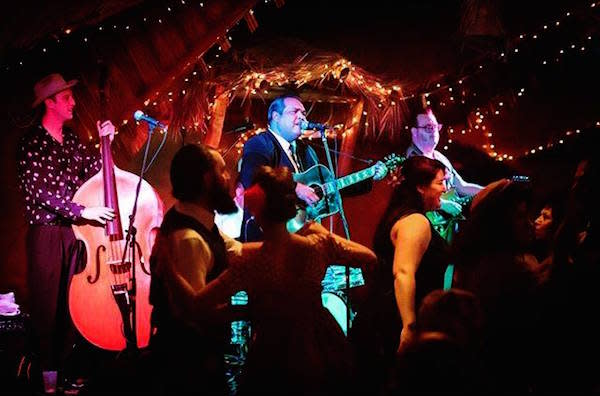 Red Chair Lounge at the Hyatt Regency Resort & Spa
If you are looking for class with a bit of sass, you will find it at the Red Chair Lounge. This cocktail lounge oozes an intimate club atmosphere with its bright red, high back chair, rich wood paneling, piano, pool table and cozy fireplace.
It's a comfortable spot to chat, play billiards and sip on a cocktail, glass of wine or designer drink while delighting in Huntington Beach's relaxed nightlife scene. Friday and Saturday nights feature mellow live duos or quartets.
21500 Pacific Coast Highway