Industrial chic meets the beach at this Surf City USA hidden burger gem. Tucked away below the luxury residences at Bella Terra, Eureka! has delighted local palates since its grand opening two years ago.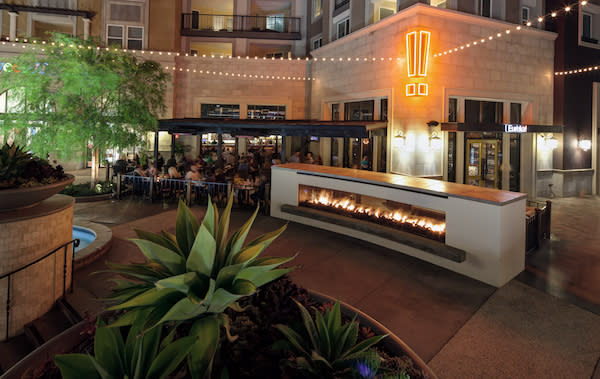 Open for lunch and dinner daily, in addition to a weekend brunch with $5 bloody marys, the Huntington Beach location of this all-American grill draws crowds that go wild for its innovative burgers, bourbon and beer. Grab a seat at a booth or table in the sleek dining room or request a spot out on the patio, then prepare your palate for a satisfying feast.
In celebration of National Hamburger Day on May 28, here are your best bets for decadent burgers with all the fixings.
●The Original Eureka! Simple is sometimes exactly what you need. Go with a classic and order this signature Eureka! burger, which features iceberg lettuce, pickles, red onion, tomato, a special sauce and, for a fun deviation, hickory smoked gouda.
●Fresno Fig Burger: Savory and sweet flavors combine to create what's one of top picks on the menu. Warm goat cheese and bacon offer contrast to the fig marmalade, tomato, red onion and arugula topping this beefy burger. Pair it with a side of sweet potato fries.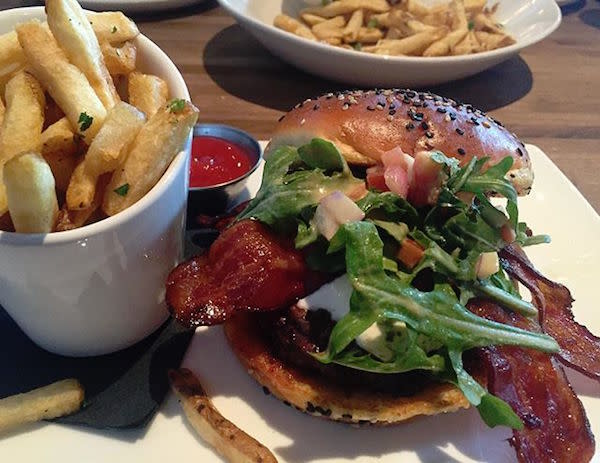 ●Jalapeño Egg Burger: Chipotle sauce is slathered on the bottom bun, topped with a hearty beef patty, and layered with cheddar cheese, bacon and a bacon-infused jalapeno jam. The piece de resistance, however, is the fried egg that creates a deliciously oozing mess of flavor with every bite.
●Cowboy Burger: Though barbecue sauce on a burger isn't a new concept, Eureka! does it well. A generously sized patty is piled high with plenty of shoestring onion rings, two pieces of thick bacon with deliciously charred edges, a slice of cheddar cheese and house-made beer barbecue sauce.
●And … a veggie option: The Veggie Beet Burger features a patty of blended beets and beans, charred slightly on the grill to add texture. Topped with pickles, tomato, red onion, arugula and a light lemon vinaigrette, it's a respectable vegetarian option.
The burgers come with a side of signature hand-cut fries, but if you're in search of an upgrade, try the sharable plate of truffle fries. A rich, earthy flavor comes courtesy of the truffle salt seasoning, shaved Parmesan and chopped green onions; a creamy cheese and truffle sauce also accompanies the fries. The other stellar accompaniment—which you can choose as a substitution for the standard side—are the panko onion rings. Twice as thick as typical onion rings, these fried morsels are served steaming hot and are best enjoyed with a knife and fork.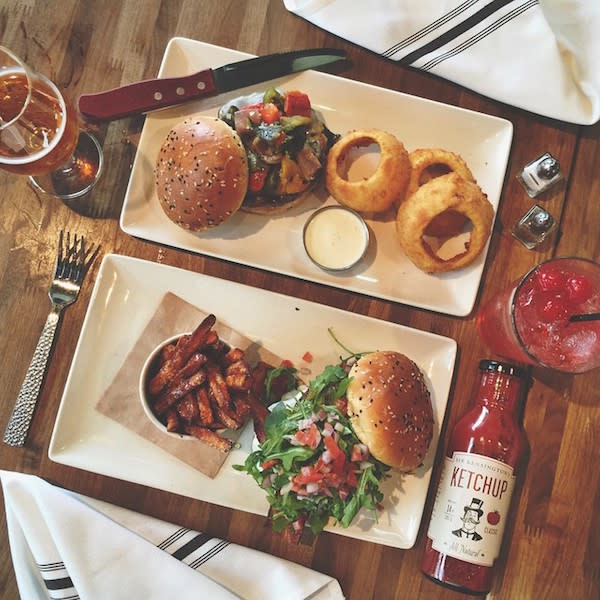 The burgers, of course, are the main draw at Eureka!, but there are plenty of options for those who don't want to dive in and get their hands dirty. A standout appetizer is the lollipop corn dog offering, which elevates the classic fair food to a mouthwatering must-try. Mini Polish sausages are breaded lightly with sweet corn batter—achieving just the right amount of crisp—and served with a trio of dipping sauces (ketchup, ranch and a spicy porter mustard). The kale, watermelon and beet salads provide an alternative for vegetarians, but carnivores can sink their teeth into one of Eureka!'s signature entrees, such as the pan-seared salmon or 8-ounce New York steak.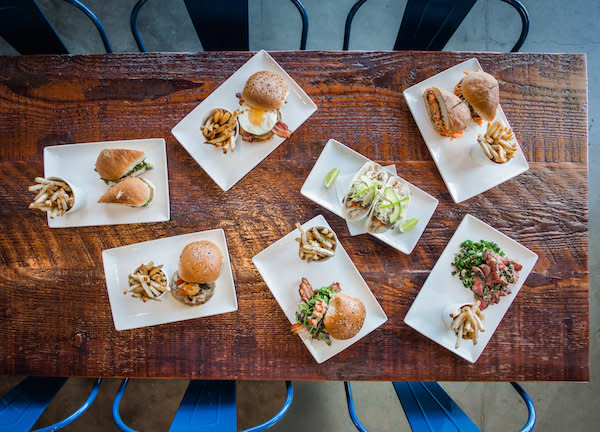 To wash it all down, order a microbrew from the bar, which features a list of local and rare craft beers—check the big chalkboard next to the bar for the daily tap selection. Wednesday is "Steal the Glass" night, so pair your burger with a brew and take home a specialty pint glass as a souvenir. Not a beer drinker? Eureka! has you covered with its selection of small-batch whiskeys. Try beers and whiskeys by the flight to find your new favorite sip. All beer and bourbon served at the bar is 100 percent made in the U.S, fitting for a restaurant that's perfected the art of all-American comfort food.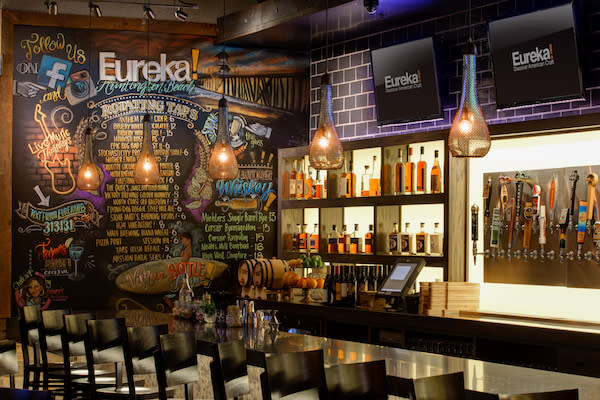 ***
7631 Edinger Ave., Huntington Beach, CA 92647
714-230-3955; eurekarestaurantgroup.com
Hours:
Sunday, Monday & Tuesday: 11 a.m. - 10 p.m.
Wednesday & Thursday:  11 a.m. - 11 p.m.
Friday & Saturday: 11 a.m. - midnight