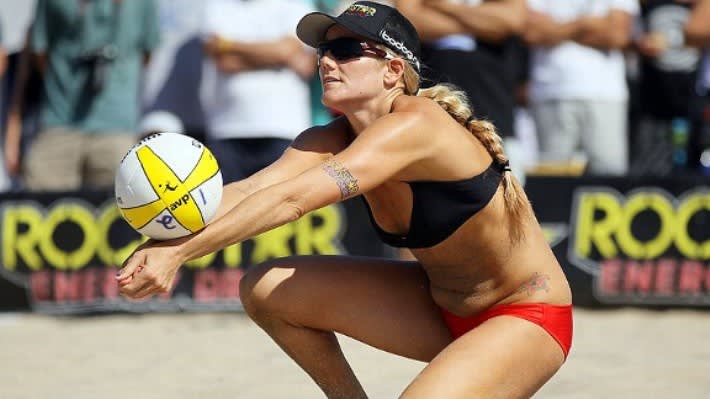 We may be popular for surfing, but Huntington Beach is also known to be sporty on the sand! No matter the weather or the surf conditions, you're bound to witness some intense beach volleyball matches by the pier.
We'll fill you in on some beach volleyball basics before the Association of Volleyball Professionals (AVP) Tour National Championships comes to Huntington Beach September 18 - 21! That way, you'll be in the know whether you're watching the epic matches or if you want to try your own hand at the game.
Equipment You'll Need
Volleyball: First things first, you'll need a ball to play with! Bring one from home, or if you spontaneously decided to play, balls are available for purchase and rental from all beach concession stands in HB (Check out Dwight's, Zack's, or Jack's)
Net and court: Courts are rectangular shaped with a free zone around it, outlined by sidelines and endlines. There are volleyball courts and nets all along Huntington Beach. They are first come first serve, so be sure to claim yours!
Your game face: Are you in it to win it? A little friendly competition will make things fun between you and your friends!
Basics
Each team can have 2, 3, 4, or 6 players. In AVP, teams may only consist of two players
A coin toss determines the order of play; the winner of the toss chooses the right to serve/receive service and which side of the court they want to play on
A ball is still in play if it touches a boundary line; it is out of play once it passes it
The ball cannot be caught or thrown; players may only hit the ball once consecutively and may hit the ball three times to get it over the net
Scoring & How to Win
A team scores a point by "grounding the ball on the opponent's court", when the opposing team commits a fault, or when the opponent receives a penalty
A fault is when a player performs an action that is against the rules
Matches are comprised of 3 sets, where the best 2 out of 3 wins.
A set is won by the team that reaches 21 points first with at least a two-point lead
In a 1-1 tie, the last set is played to 15 points with a minimum two-point lead
For more official beach volleyball rules, check out fivb.org!
What is the AVP Tour?
The Association of Volleyball Professionals has competed and toured around the country, all leading up to the championship tournament in Surf City USA! Players include pros such as Jake Gibb, Kerri Walsh Jennings, Orange County local April Ross, and many more.
All the action takes place right by the pier, and admission to watch matches at the stadium-style court is completely free! Though, VIP packages are available for purchase.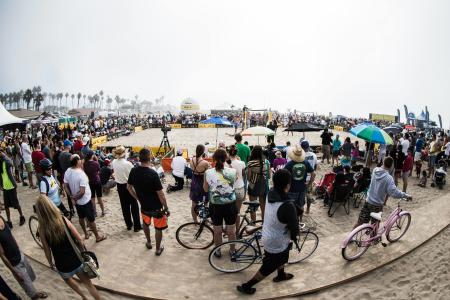 In addition to all the volleyball action, a family-friendly beach party will take place right by the court! Complete with awesome music, food, and activities, it's a weekend event everyone is bound to enjoy. Not to mention, you could have the opportunity to meet a few of the star athletes! So get your phone camera ready for that celebrity selfie.
Whether you're having a great time reveling in the AVP matches, playing a friendly game with your crew, or taking selfies with stellar athletes, be sure to tag your photos on Instagram and Twitter with #surfcityusa!
 For location, event schedules, and more, check out the AVP official website!