All eyes will be looking up to the sky to witness the spectacular stunts of the United States Air Force Thunderbirds and the Breitling Jet Team at the inaugural Breitling Huntington Beach Airshow. This family-friendly, free community event is scheduled for October 22 – 23 with a practice day on the 21st.  The Breitling Huntington Beach Airshow is the only beachfront airshow scheduled on the West Coast. It is also the first airshow to take place in Huntington Beach since the 1990s.
Presented by title sponsor Breitling, the independent Swiss precision watch company, the breathtaking airshow will be held over the Pacific Ocean between the Huntington Beach Pier and Magnolia Street. Flying begins at noon each day with many of the aerobatic maneuvers happening over the "show center" at Beach Blvd. and the Pacific Coast Highway.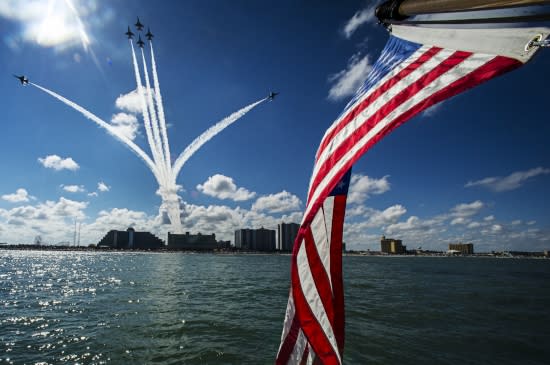 Onlookers who "feel the need, the need for speed" (Top Gun - 1986) will have their wishes granted when the USAF Thunderbirds soar and roar overhead in an impressive hour-long demonstration. Their sharply choreographed routines will feature F-16 Fighting Falcons flying wingtip to wingtip. These squadron's fighter pilots will give the crowd a glimpse of the exacting skills and capabilities possessed by the Air Force's premier multi-role fighter jets. 
The Thunderbirds will be joined by the flying aces of the Breitling Jet Team. Known as the world's largest professional civilian flight team, the renowned aerobatic aviators will showcase the fast and powerful L-39 Albatross aircraft with precise and dramatic maneuvers.
In addition, the Breitling Huntington Beach Airshow will feature top performers from around the world including two-time Red Bull Air Race World Champion aerobatic pilot Kirby Chambliss, California's own Bill Stein and his state-of-the-art Zivko Edge 540 and 1995 U.S. National Aerobatic Champion Michael Goulian. Other performances include an F-18 Super Hornet demonstration, Jack Link's Screamin' Sasquatch jet -powered Waco biplane and Orange County's Lyon Air Museum's historic C-47 Dakota Skytrain military transport aircraft that was recently christened "Willa Dean."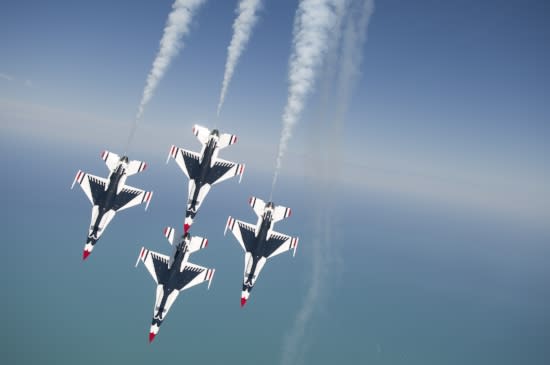 RESERVED SEATING: For those who want the ultimate aviation experience, reserved premium seating is available at the show center on the beach at Pacific Coast Highway and Beach Blvd.
Flight Line Club: October 22-23 - $59, October 21 - $49. Enjoy premium viewing for all ages, snacks and water with beer, wine and upgraded food vendor options available for purchase.
Aviator Beach Club: October 22-23 - $199 (adult), $100 (child age 13 and older); October 21 -$139 (adult), $75 (child). This first-class experience will feature soaring views from an exclusive beach bungalow tent with tables and chairs, private beach area, concert quality sound and narration, lunch, beer, wine, coconut water plus portable restrooms nearby.
For tickets, log on to http://www.hbairshow.com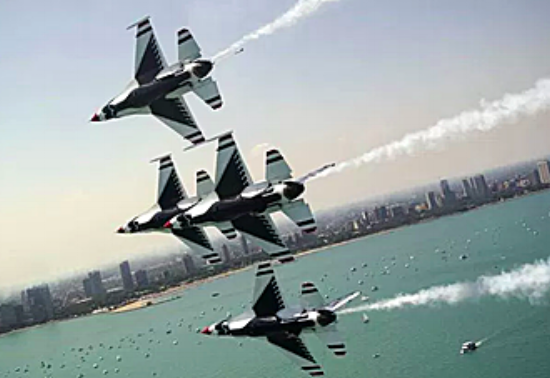 TRANSPORTATION: Due to the anticipated volume of traffic, guests are advised to leave early and expect delays or to seek alternative transportation to the airshow. Uber and taxi service will be available on a limited basis. Biking or walking is suggested for those who live or are staying nearby.
Parking will be available on a first-come, first-served basis around the city. The parking fee for local lots will be $25/day during the airshow. Yearly and monthly pass holders will not be charged; however, parking cannot be guaranteed.  
A general parking lot will be set up at Goldenwest Street and Ellis Avenue, approximately two miles south and west of the 405 Freeway, charging $40 per car. From the general parking lot, shuttles will take visitors to Show Center, located at Beach Blvd and Pacific Coast Highway. The shuttle will run from Friday, October 21 through Sunday, October 23 from 7:30am to noon and from 4pm – 8pm. During the show times, the shuttles will run at various intervals depending upon need. You can find more shuttle information here.
To allow for a greater number of beach visitors to view the airshow, Huntington Beach will not be open for RV camping at the Sunset Vista Camping Facility, 103 PCH. No reservations will be permitted from October 20 to October 24 at noon.