As the sun dips beyond the horizon, the Huntington Beach coast lights up with 500 glowing, orange spots. Night has arrived and it's bonfire season. Whether you're looking for a DIY experience or a no-work necessary evening, we are here to help you plan your perfect night by the fire.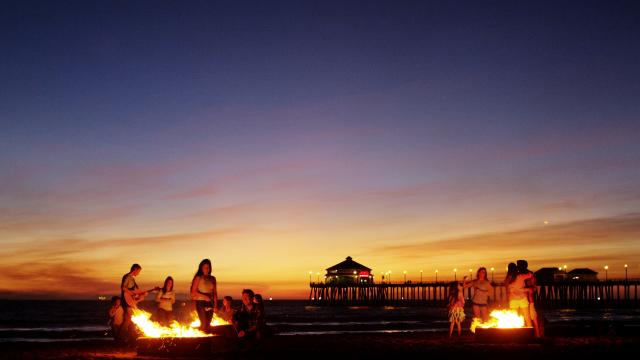 As part of the Waterfront Adventures activities, this resort offers several beach bonfire packages. This is a wonderful option if you're looking for a no-mess, all-fun bonfire experience! You will be assisted by a "beach butler" who will bring out your portable fire pit, beach chairs, drinks, and s'mores supplies. They will also start the roaring fire for s'mores fun until the beach closes. 
Price: 
$125 for 4 people 
$200 for 10 people 
$350 for 20 people 
Hot dogs and potato chips can be added for $5 per person. 

Where: The Waterfront Beach Resort, A Hilton Hotel 
When: Available from 6 p.m. – 10 p.m. 
Website: http://www.waterfrontresort.com/wa
Phone:  714-845-8000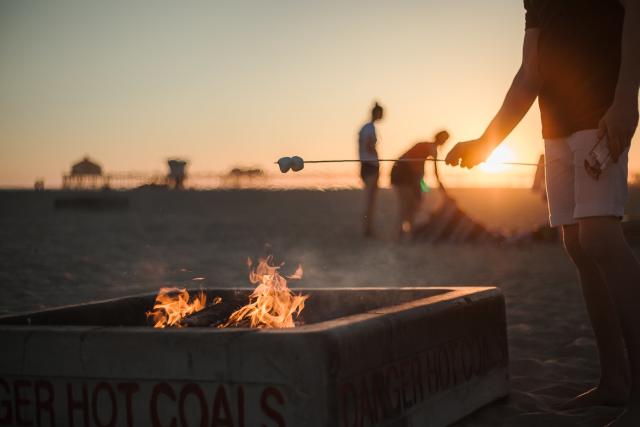 Your perfect fireside evening is just a quick stroll across the bridge and a few sandy steps away! The Hyatt Regency Huntington Beach Resort and Spa offers an Evening Beach Bonfire Package which allows you to sit back, relax, and enjoy the night at your leisure.  
Includes: 
Firewood, beach chairs, blankets, hot chocolate and s'mores 
You may also order food from any restaurants on resort property and have it delivered to the sand for a separate charge.  
Bonfires are located on the beach, across from the resort. The beach attendants will reserve a pit with the amount of seating you need to ensure you a spot. 
Price:
$225 for 1-10 people 
$275 for 11-20 people 
$325 for 21-30 people
Where: The Hyatt Regency Huntington Beach Resort and Spa
When: Available from 6:30 p.m. - 9:30 p.m.
Website: https://huntingtonbeach.regency.hyatt.com/en/hotel/news-and-events/events/evening-beach-bonfire-package.html
Phone:  714-698-1234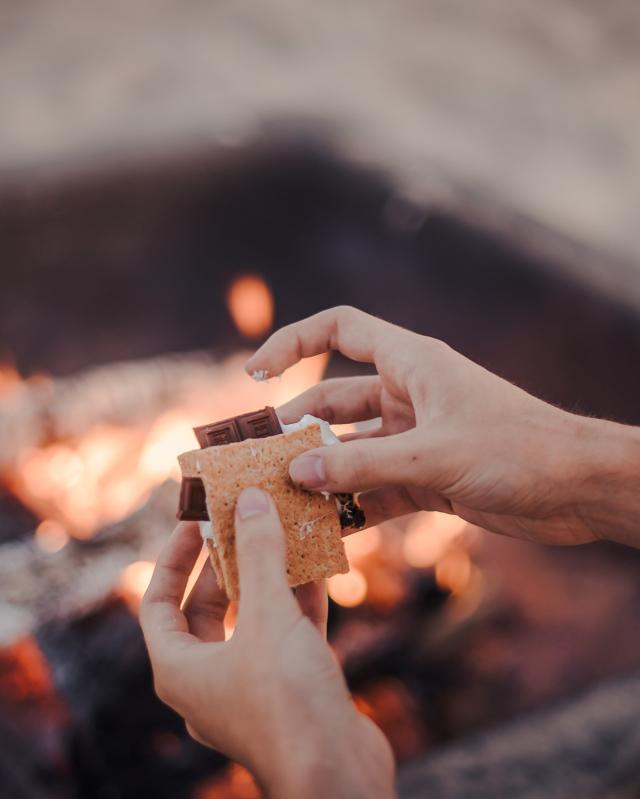 As part of the $30 resort fee paid by guests staying at the Kimpton Shorebreak Hotel, you can indulge in a gooey treat every night with their Fireside S'mores. This evening roast happens nightly from 5 p.m. – 10 p.m. at the courtyard fire pits on the hotel property. It's the perfect night cap for anyone with a sweet tooth, and you can come back every night until you've perfected that golden-brown marshmallow toast. 
Where: Kimpton Shorebreak Hotel
When: 5 p.m. – 10 p.m. nightly
Website: http://www.shorebreakhotel.com/boutique-hotel-amenities/
Phone: 714-861-4470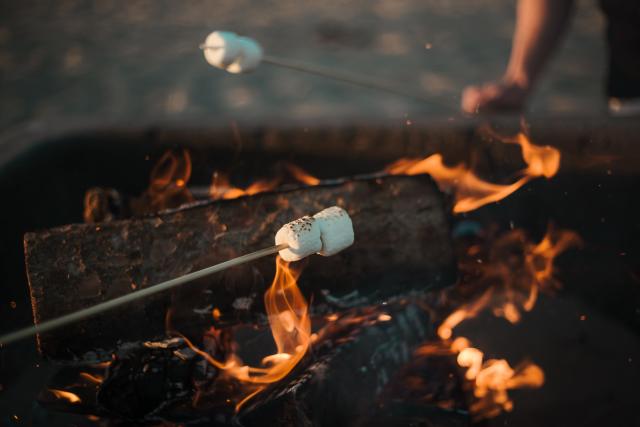 Huntington Beach Public Beaches 
There are over 600 fire pits stretching from Huntington State Beach and Huntington City Beach to the south and Bolsa Chica State Beach to the north. These public beaches all follow the same basic rules when it comes to bonfires and beach etiquette. 
Beach hours: 6 a.m. - 10 p.m.
(Have your area cleaned and packed up by 10 p.m.)
Fire rings are first come, first serve (no individual reservations or rentals).
Only coal and wood are allowed to be used in the rings. 
No alcohol or glass allowed. 
No charcoal grills allowed. You may bring your own propane grill (must be at least 18" off the ground and can be put anywhere on the beach behind the line of Lifeguard Towers). 
No enclosed tents. EZ-ups and open tarps are allowed.  
If throwing a party, NO balloons, piñatas, or other decorations allowed anywhere on the beach. We do have wildlife that like to eat inedible things they find. 
Catering food must be approved by the State Beach and requires a permit. 
Reservations can be made for a fire pit if reserving a picnic location for a special event or large group.
For more details, visit the Huntington State Beach info website, the Bolsa Chica State Beach info website, or call the Special Events Office at (714) 377- 5691.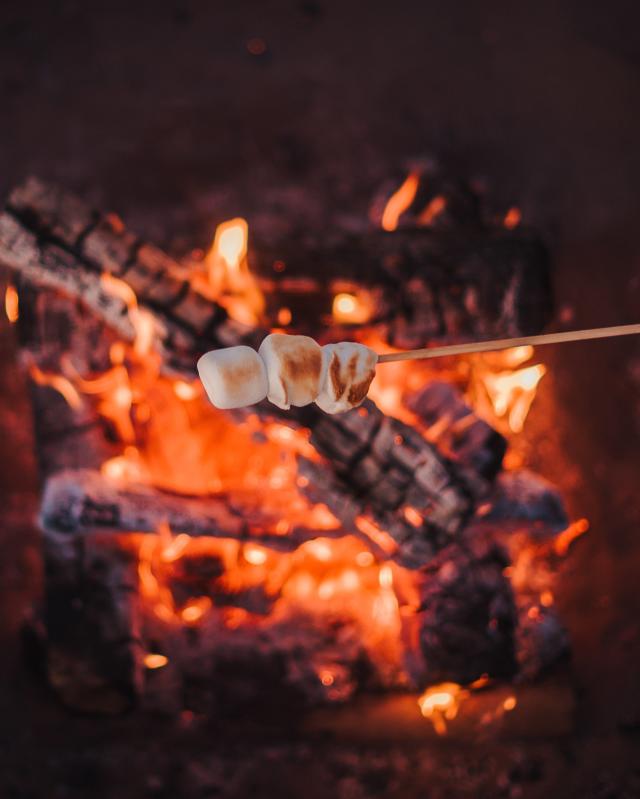 Basic Tips
The earlier you arrive to claim a fire pit, the better. Summer is our busiest time and there is no guarantee you will find an empty spot in the late afternoon. 
Visitors with a Day Pass cannot exit and re-enter the beach parking lots with the same pass. You will be charged again. 
Setting up your own beach bonfire is all about DIY and BYO, so here are some pro tips to keep in mind when planning your evening.
What to pack:
S'mores supplies and all the food & fixings you'll need 
The skewers for roasting 
Natural wood (nothing with paint/ varnish on it because burning those chemicals is harmful) 
A lighter or matches and some fire starter 
Your own trash bags just in case. There are trash cans for use on the beach. 
Warm layers & blankets—yes, it does get cold at night! 
A small table if you're worried about sand touching the food 
Baby wipes for clean up—it's going to get sticky! 
A speaker to set the mood for your ideal evening vibe