The focal point of Huntington Beach is the Pacific Ocean, with its wide beaches, breaking waves and views of crimson sunsets. Plus, beneath the waves fresh fish and sea life thrive under the surface.
Several Huntington Beach seafood restaurants represent the best of the best for creating and serving masterful seafood dishes using catches from our abundant ocean. Moreover, each eatery is cognizant of keeping the ocean and sea life healthy by serving sustainable seafood that is either caught or farmed in ways that consider the long-term vitality of harvested species and the well-being of the oceans. In turn, guests at these restaurants can enjoy the freshest and best-tasting seafood with the knowledge that one of our most amazing natural resources is not being depleted.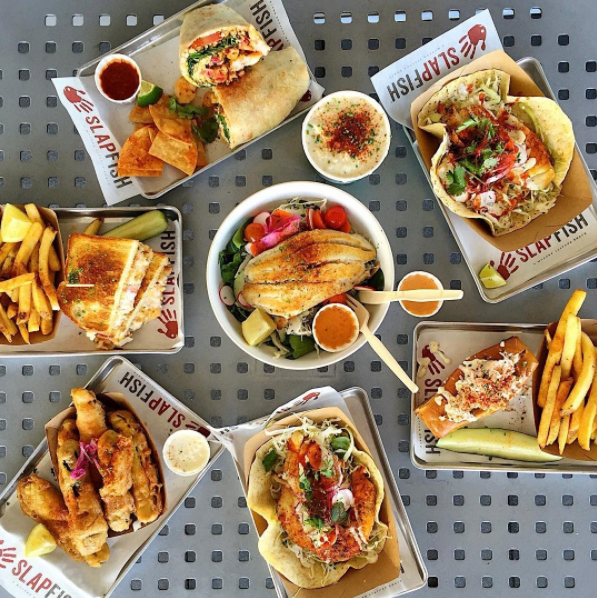 Photo by @kouzines
Called "The Chipotle of Seafood" by Forbes Magazine in 2016, SlapFish offers boat to plate dining with market-fresh fish served in a casual, fast food restaurant. This seafood shack sources their products from eco-friendly fisheries and has a partnership with the Aquarium of the Pacific in Long Beach to ensure that their seafood is ethically sourced and sustainable. Even their takeout containers and napkins are biodegradable. Menu items include the Lobsticle™ lobster corn dog, shrimp pops, major crunchy fish sandwiches, creamy clam chowder, Carlsbad oysters and the east coast style Maine lobster roll. Fish tacos are a favorite topped with avocado puree, lemon sauce and cabbage. Slappy Happy Hour specials are available daily.
19696 Beach Blvd., http://www.slapfishrestaurant.com, (714) 963-3900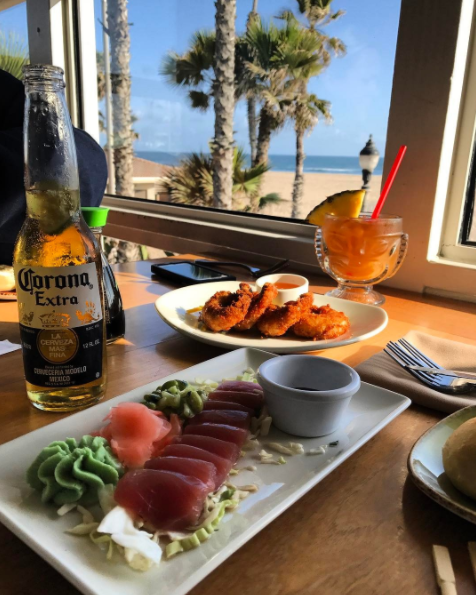 Photo by @thisguy_76
Named for the legendary Hawaiian surfer Duke Kahanamoku, Duke's Huntington Beach's fresh seafood is served in a prime location overlooking the Pacific Ocean and the Huntington Beach Pier. Relax and eat at the restaurant's dining room or Barefoot Bar. Fish from sustainable fish vendors are delivered daily from Hawaii, Fiji and Mexico. The light and savory crab cakes and the ahi tuna and rice are particularly delectable. Accompanied by a Mai Tai and a slice of delicious hula ice cream pie for dessert, Duke's provides the perfect oceanside culinary experience.
317 Pacific Coast Hwy., http://www.dukeshuntington.com, (714) 374-6446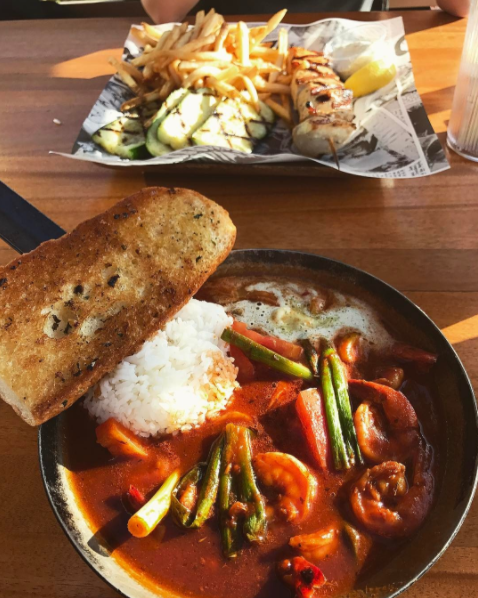 Photo by @clarisseloewengard
Select a fish, choose a serving style (salad, sandwich, taco or on a plate), decide on preparation style (grilled, crusted, blackened, BBQ spiced rubbed or la plancha - grilled on a metal plate), then pick a table at the Fish Camp. This casual quick-serve establishment offers moderately-priced seafood of all sorts, plus beer and wine, amidst a quirky dockside ambiance interior in addition to a sunny patio. Meals are ordered at the counter, drinks are self-serve, and servers bring your food to the table. Start with the prepared foods such as fried calamari, crispy lobster rolls, clam chowder and spicy red seafood chowder, mussels served with a bowl of dripped juices or peel-and-eat shrimp dusted in Old Bay seasoning. Then save room for the fresh catch. The Fish Camp has more than 700 customizable combinations.
16600 Pacific Coast Hwy., http://www.samsfishcamp.com, (562) 592-2267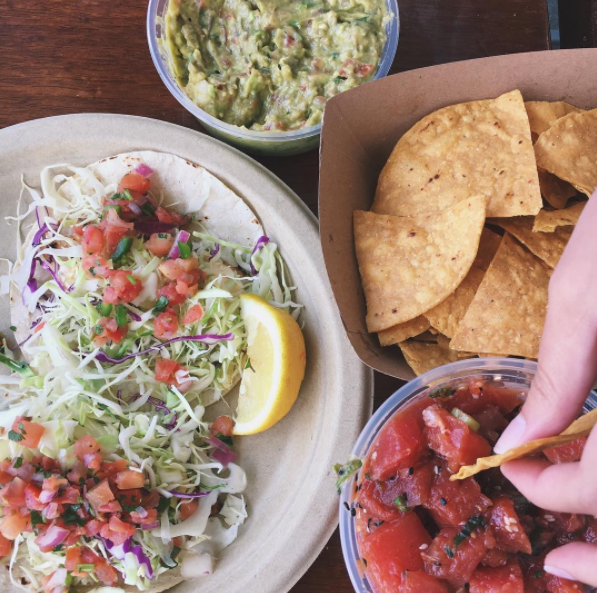 Photo by @foodieorgtfo
Bear Flag Fish Co. is a refreshing take on healthy seafood choices. Featuring a display case of the day's fresh catches, Bear Flag Co. offers a wide variety of fish depending on what's in season. You have the choice of raw, seared or fully cooked fish, but never fried. You can also choose how you want the fish prepared and whether you'd like it served in a burrito, a bowl or a taco. Another selection option is the popular pre-made ahi or salmon poke salad. The counter staff will encourage you to try a sample. Once you've tasted this melt-in-your-mouth, marinated concoction, you will undoubtedly want to order poke by the pound. The picturesque patio and ocean view are reasons enough to visit Bear Flag at Pacific City's Lot 579, but the seafood will lure you back time and time again.
21058 Pacific Coast Hwy., www.bearflagfishco.com, (714) 374-0558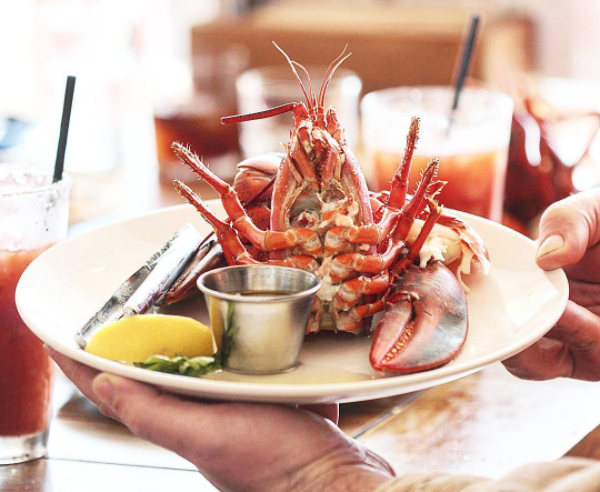 Photo by @dammitrico
2017 Diner's Choice Award winner Ways & Means Oyster House is a full-service restaurant committed to sustainability and localization of product with a menu focused on fresh seafood and seasonal dishes. Raw oysters, clams, grilled fish, seafood towers and creamy lobster bisque are among guest favorites served with wine and classic cocktails in an elegant setting with views of the Huntington Beach Pier. The restaurant features popular specials such as Maine Monday - $9.99 for a whole Maine lobster and Taco Tuesday - $2 fish and shrimp tacos.
21022 Pacific Coast Hwy B140 in Pacific City, http://www.wmoysters.com, (714) 960-4300

Photo by @sydnaciouseats
G's Boat House Raw Bar & Grill is a laid-back, family-friendly spot offering seafood plates and steaks plus a raw bar. Feast on oysters on the half shell or chopped salads topped with shrimp on their outdoor sidewalk patio. There is an abundance of seafood on the menu to choose from such as appetizers, chowder and salads, taco plates and sandwiches. According to a 2017 Yelp reviewer, "The steamers (Manila clams with garlic and herbs prepared in a special white wine broth) are definitely delicious and a large portion. They come with super yummy garlic toast and a smile."
200 Main St., http://www.gsboathousehb.com, (714) 969-3100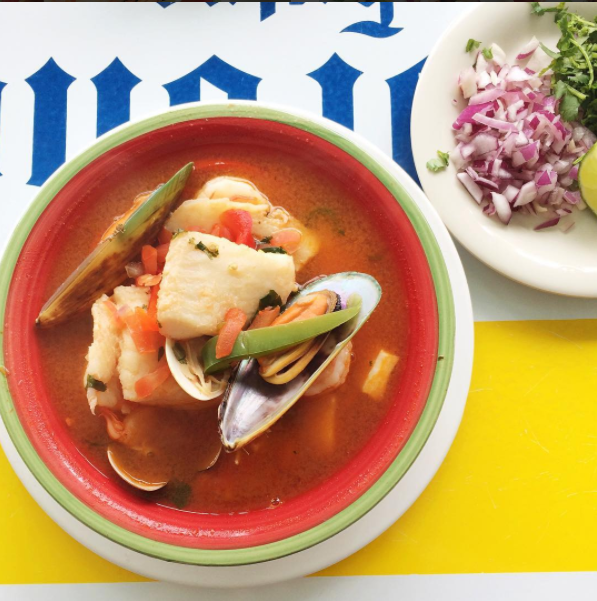 Photo by @zedaddychad
The sign in front of The Seafood Zone Mexican Restaurant boasts "food that Mex sense." This casual, beach-themed eatery with patio seating, calls their style of seafood Fusion Mexican. They serve up plates that recreate the authentic taste of world-known Mazatlán, Mexico seafood dishes using some old recipes passed on from generation to generation. Specialties include ceviche tostada (fish and shrimp), shrimp tacos and grilled fish tacos and burritos. Complete your meal with the sweet treat of churro ice cream.
6441 W McFadden Ave., www.theseafoodzonemistralhunter.com, (714) 891-1981
Header Photo by @memories2life