Take a bite out of the East Coast with a New York foodie staple: the bagel. Huntington Beach is in on what the New York Times calls the West Coast bagel boom, serving up the breakfast favorite that makes mouths water at the sight of its golden brown, blistered exterior. Our Surf City USA® bagels offer contrast in flavor and texture — that perfect crunch as you sink your teeth into a soft, chewy interior. Whether you're a fan of an open-faced sandwich or good old-fashioned cream cheese, we've got an option for you. Check out 10 cafes and specialty shops in Huntington Beach where you can grab a hot and fresh bagel, any way you like it.
2. Bo's Bagels & Coffee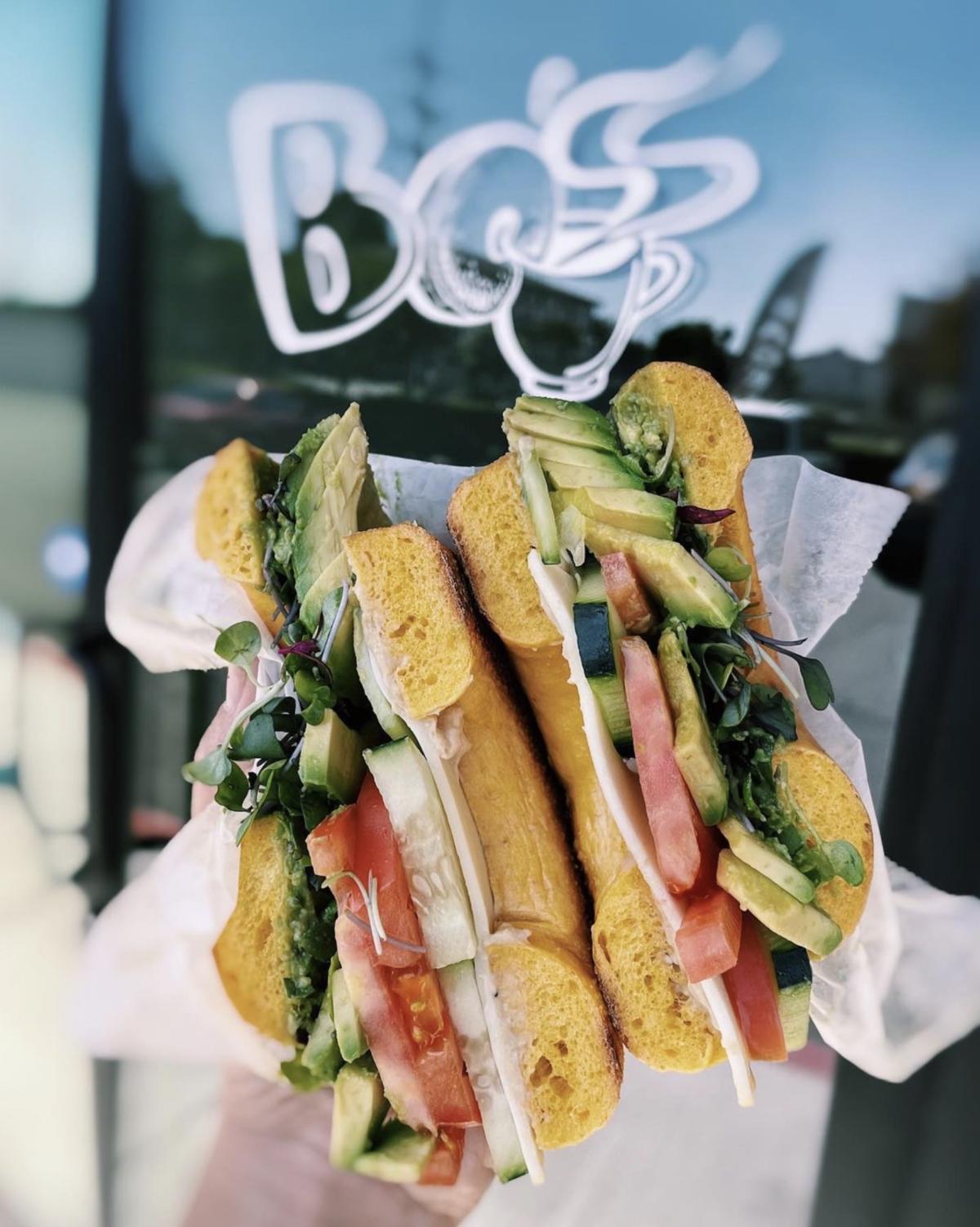 A Huntington Beach family collaborated with their East Coast friends to bring a signature New York-style bagel recipe to their SoCal shop on Hamilton Avenue. Pop by on your way to the beach to build the bagel of your dreams, whether it's double-toasted or scooped out to fill with one of the more than two dozen cream cheeses, butters, or spreads. These aren't your average toppings — choose from options including vegan pumpkin and maple walnut cream cheese, and add veggies and protein to your heart's content (fried egg, lox, or lemon pepper, to name a few). Specialty sandwiches are also served until 3:30 p.m., with items like the Beach Blvd (tuna or chicken salad, Muenster cheese, cucumber, tomato, and microgreens) or the Magnolia (French toast bagel, almond or peanut butter, banana, cinnamon, and honey) paying homage to Surf City USA streets.
1. Bagelmania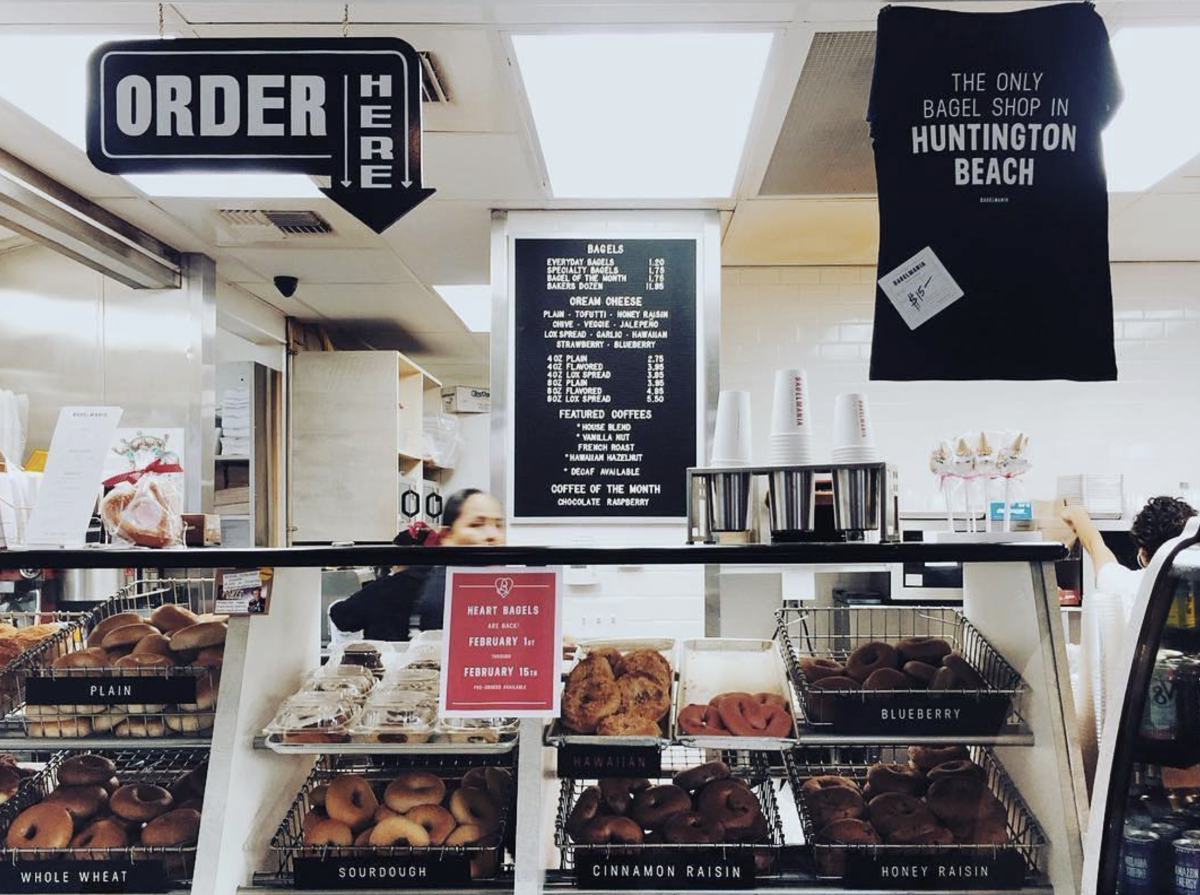 Try a breakfast special at this Adams Avenue coffee shop and bagel house, where you can keep it classic with Nova lox, cream cheese, and capers, or upgrade to an "Egg McBagel" with cheese and your choice of meat. Vegans can also indulge with a dairy-free Tofutti spread piled high with avocado, tomato, and meatless bac-"un" bits. Stop by for a quick lunch before 3 p.m. to enjoy "Mania Melts" with turkey, ham, tuna, or chicken salad.
3. JT's Bagel Co.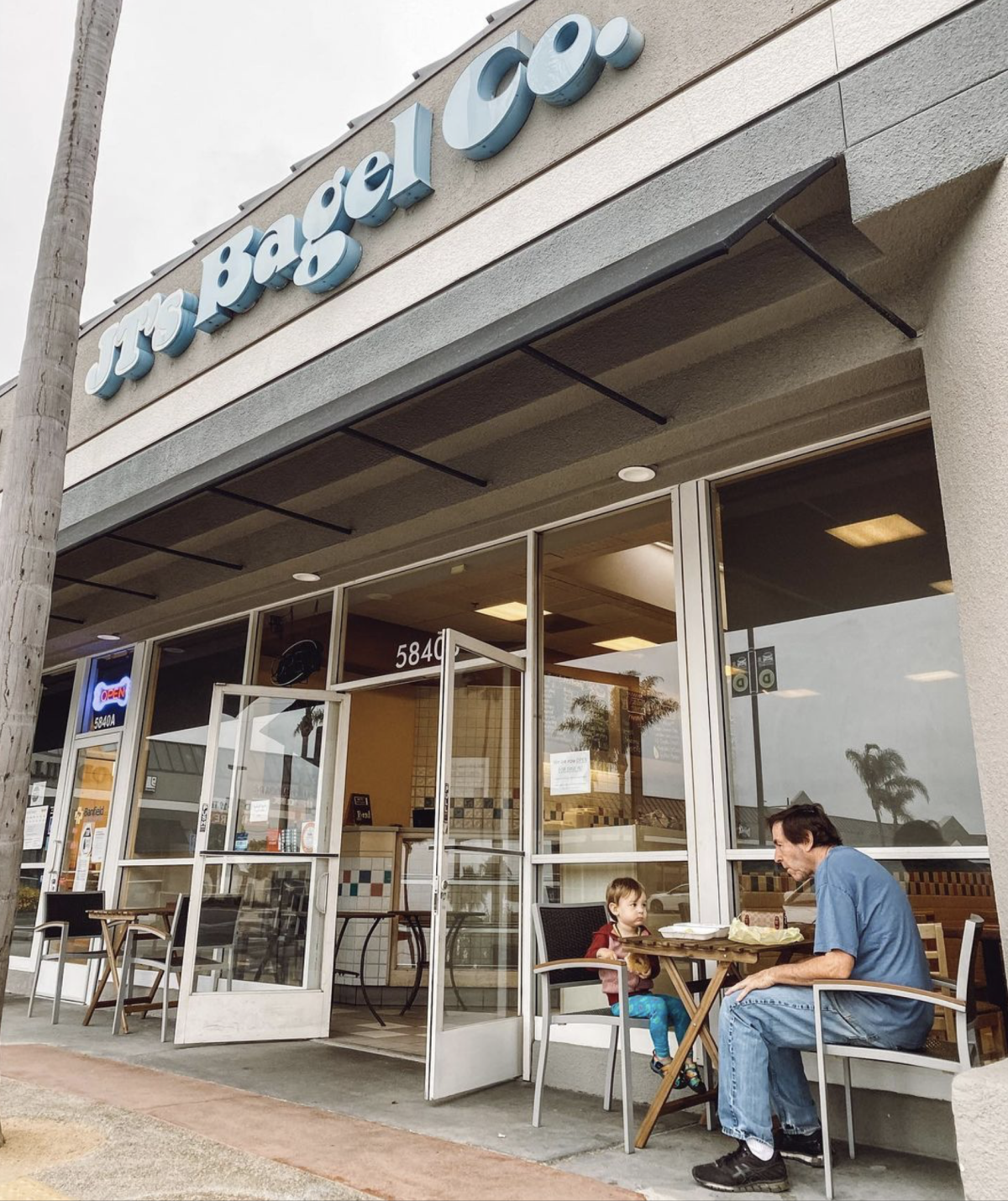 A local staple since 1985, JT's Bagel Co. on Edinger Avenue bakes all of its bagels fresh in-shop each morning. In addition to a selection of grab-and-go New York-style bagels, the family-run shop is known for its breakfast and lunch sandwiches. Choose your bagel for options like the Viking, a hearty bite that's not for the faint of heart with its towering pile of hash brown, fried egg, bacon, avocado, cheddar, arugula, cream cheese and dressed with chipotle aioli. Open until 1:30 Monday through Saturday and 1 p.m. on Sunday, lunch options are served with a side of macaroni or potato salad and a pickle.
4. Bagels Tea Lounge of HB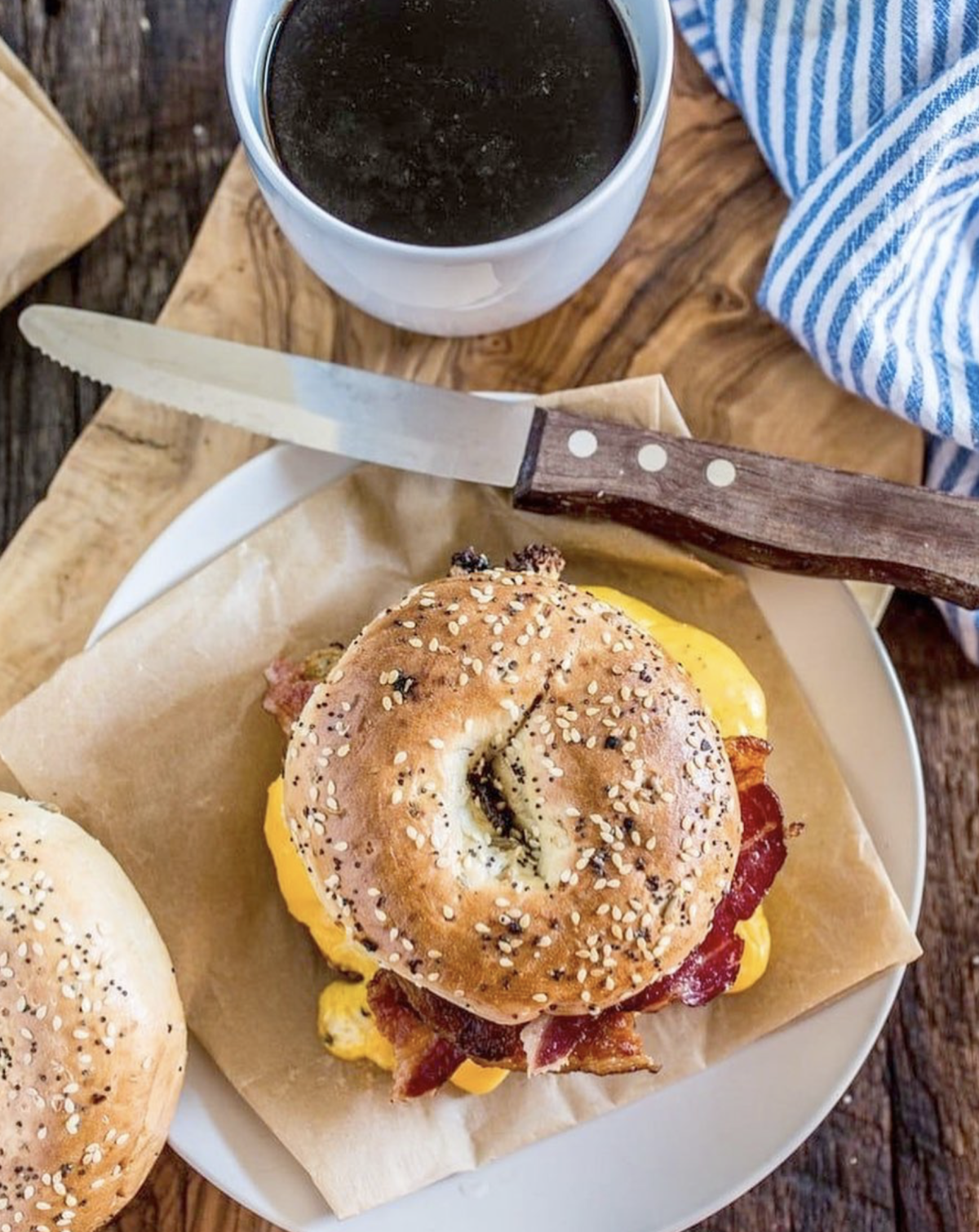 The Bolsa Chica bagel shop makes all of its baked goods fresh to order. Start your day with an omelet bagel, which features a folded egg filled with toppings like bacon, ham, bell peppers, and other veggies between two halves of your choice of flavors. Of the dozen or so bagel sandwiches and open-face specialties, a must-try is the lox special: an Instagram-worthy spread served open-faced with lox, cream cheese, tomato, capers, and red onions.
5. HB Corner Market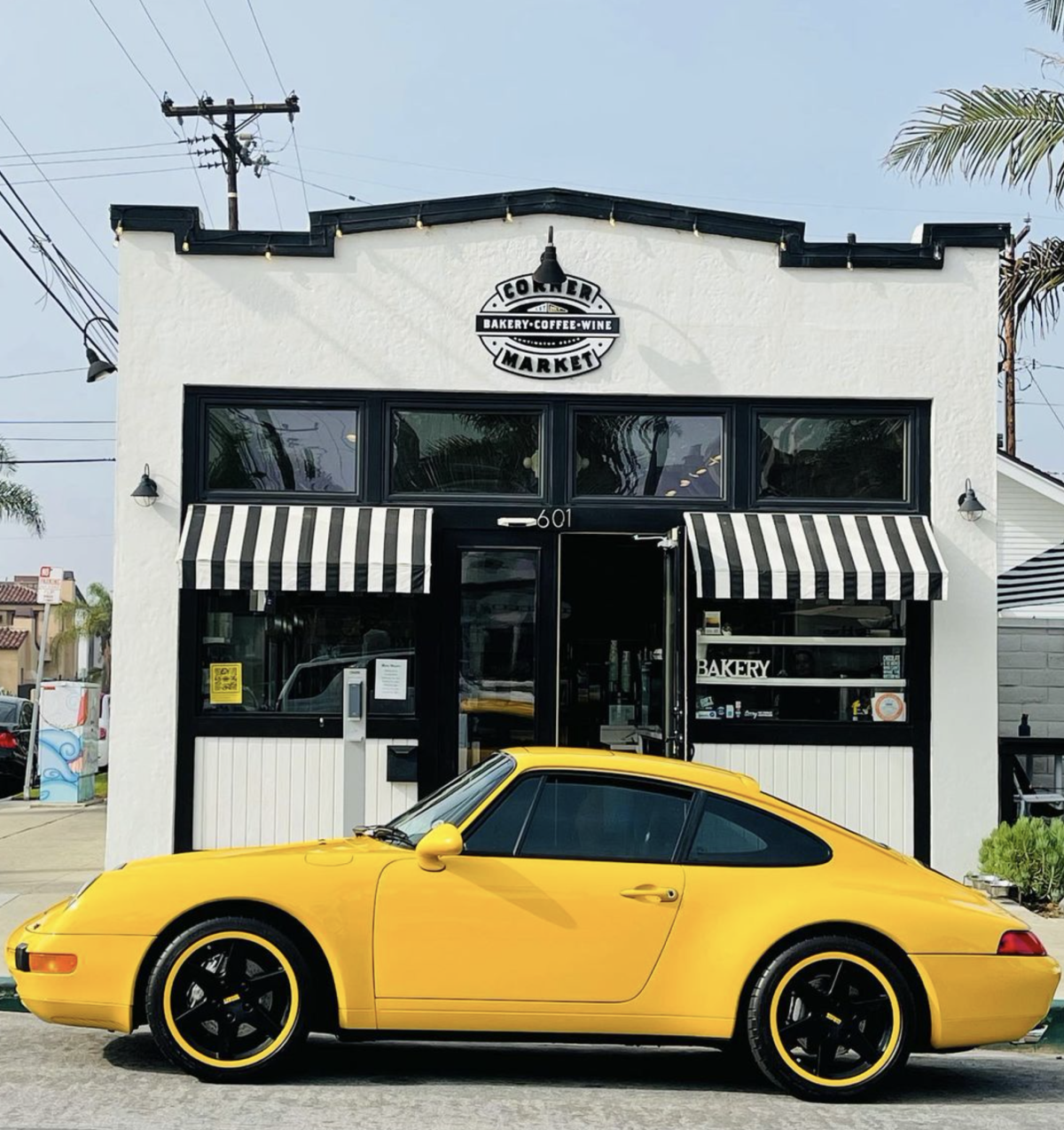 A hidden local haunt tucked away on 11th Street offers a selection of fresh, hot bagels in its pastry case. If you're in the mood for something more substantial, order a sandwich with fried eggs, melted American cheese, avocado, and tomato on your choice of a house-made bagel. The market is a great pit stop on the way to the beach, so grab your bagel to-go along with other essentials like wine, cheese, coffee, treats, and even glassware.
6. Bagel City Cafe
The Beach Boulevard cafe offers quick service to enjoy your breakfast on the go. The City Bagel is a local favorite, served open-faced with cream cheese, tomato, and lemon pepper topped with slices of fresh avocado and red onion. If you're looking for protein, you can also enjoy a breakfast bagel with egg, cheese, and your choice of meat (sausage, ham, bacon, or turkey). Pair it with a specialty coffee like the caramel macchiato or cinnamon roll latte for a sweet and savory combo.
7. Fresh Gourmet Bagels & Cafe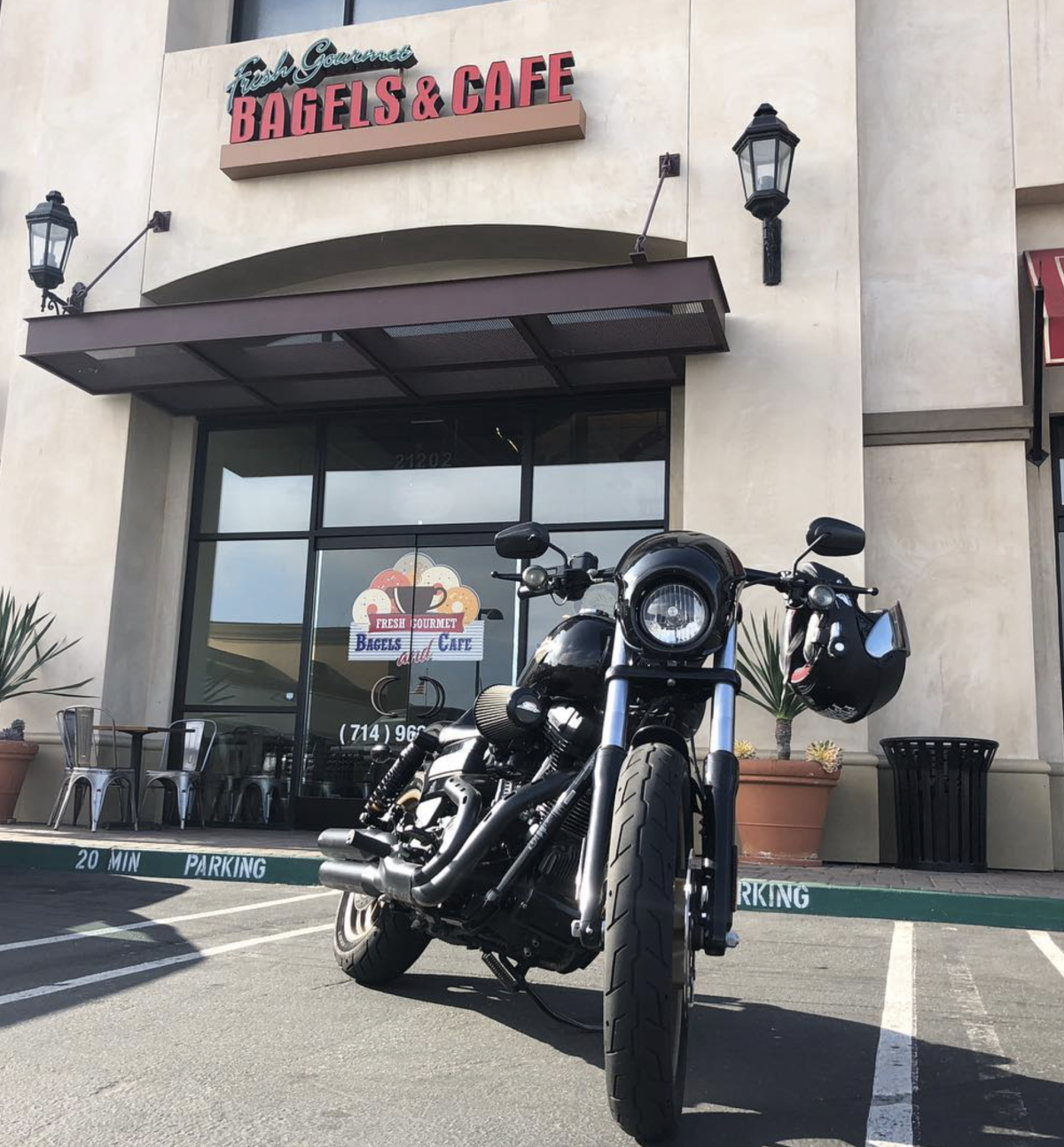 Open until 2 p.m. daily for breakfast and lunch, this bagel shop is located just five minutes away from the beach. Rows of bagels offer more selection than you could imagine, from sundried tomato and jalapeno cheese to strawberry banana and super berry. Breakfast bagels with egg, meat (ham, bacon, or sausage), and cheese are served all day, or order an omelet sandwich featuring two eggs and fixings like bell peppers, onions, avocado, and protein.  
8. Java Point Cafe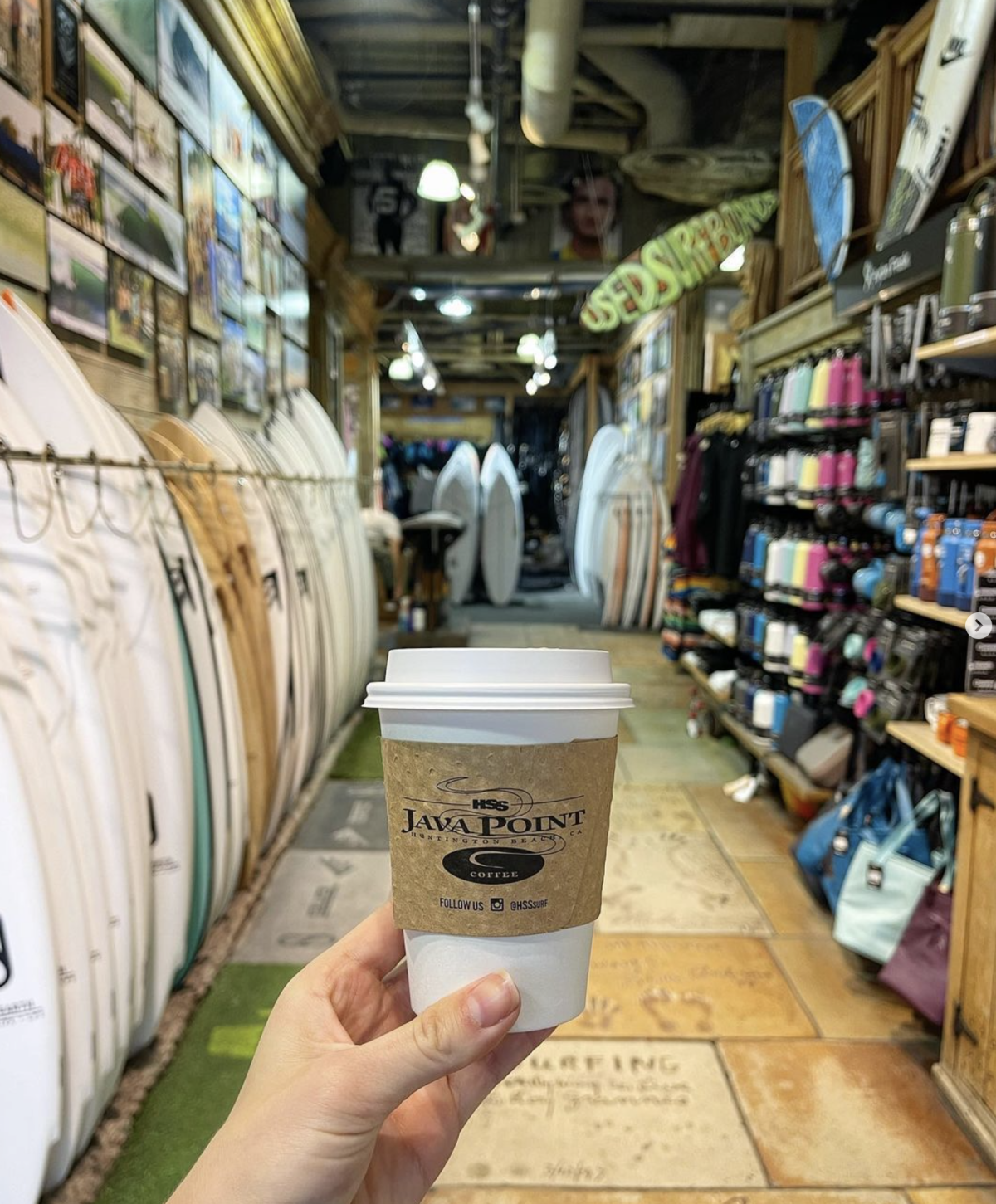 Inside Huntington Surf & Sport downtown, Java Point is brewing up big breakfast tastes starting at 6 a.m. Pair your lavender latte with a California bagel topped with cream cheese and avocado, or make it "the works" with onion and tomato. Early risers can take your goods to go and catch a sunrise walk along the pier located just across the street.
9. 602 Coffee House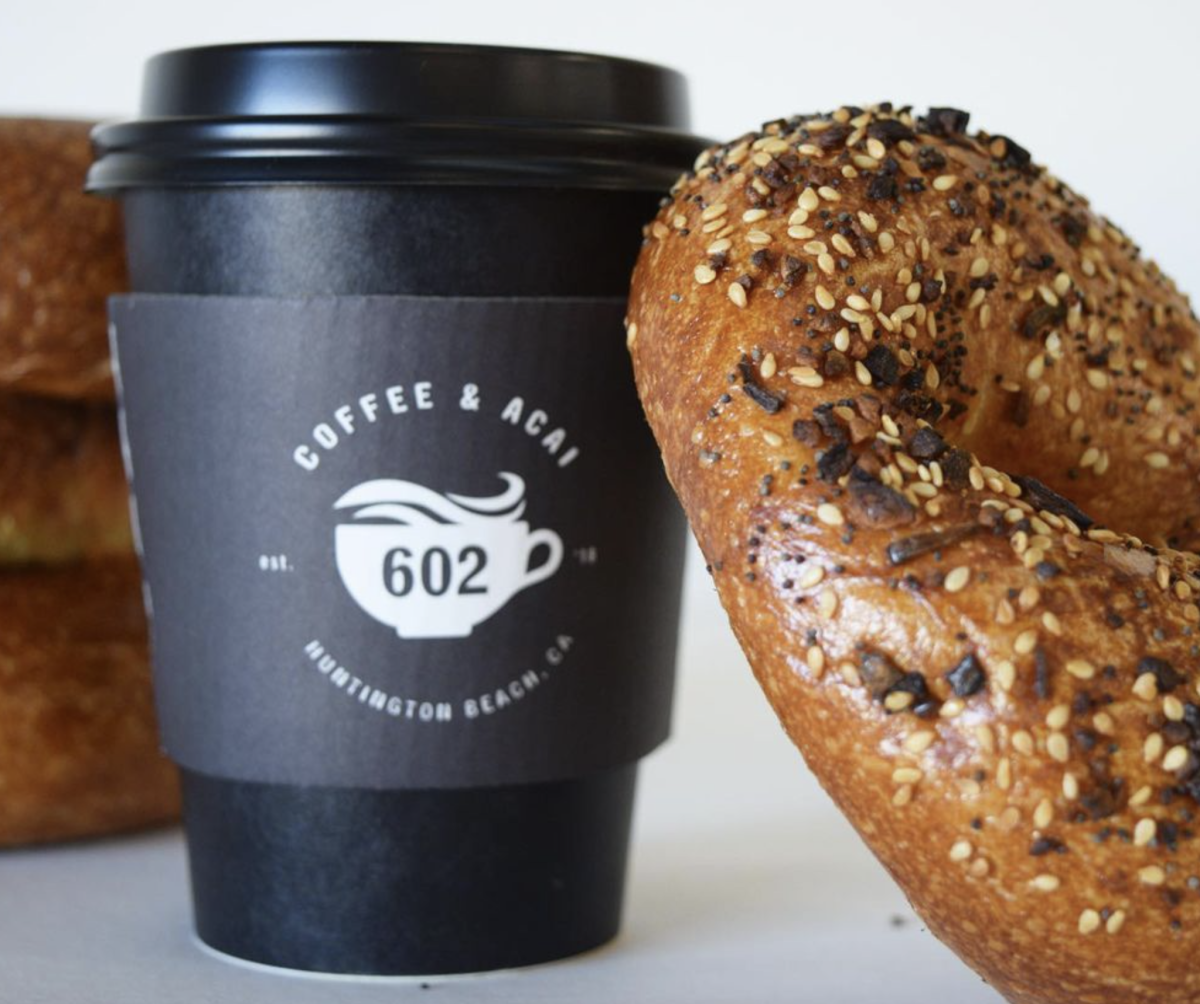 You won't have a problem remembering the address of this downtown coffee shop, located at 602 Pacific Coast Highway. Serving up coffee and bagels with a view of the ocean, the cafe is known for having some of the best brews in town. Enjoy a nitro cold brew or seasonal latte with a specialty sandwich served on plain, whole wheat, jalapeno, or everything bagel.  This version of the Californian features one egg, American cheese, avocado, and a drizzle of Sriracha, but you can also go big with the "Thicc" bagel, which adds an extra egg and slice of cheese, plus sausage and diced bacon.
10. Philz Coffee
This cult-favorite coffee house at Pacific City offers specialty drink creations (ask your barista for rec off the secret menu!) and food made-to-order. The iced mint mojito, a signature drink, goes well with the Philz bagel, featuring cream cheese, cucumber, tomato, and sea salt served as a closed sandwich. Open 6 a.m. to 8 pm. on weekdays and until 9 p.m. on weekends, you can get your fix of caffeine and carbs even after dark.