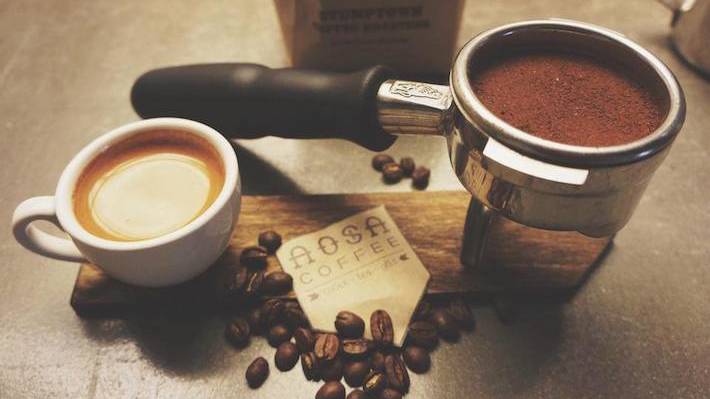 Walking into AoSA Coffee shop, you'll likely notice the art displays, wood detailing and of course the delicious smell of Stumptown coffee. Located a few doors down from Trader Joe's at the Huntington Harbour Mall, AoSA Coffee has been open for just over 6 months and already serves a large number of regulars. The nearly 100% organic menu features your typical cup of joe along with an assortment of espressos, americanos, cappuccinos, macchiatos, lattes, mochas, teas, and even hot chocolate. Pastries are made with natural ingredients and provided by local HB bakery, Simply Layered.
AoSA, which stands for Art of Sustainable Action, puts a huge emphasis on using only recyclable, compostable, and organic paper products. From their coffee beans to the large reclaimed birch wood table in the center of the shop, everything about AoSA is environmentally friendly. They even started a recycling program for the entire Huntington Harbour Mall. Tom Goad at AoSA explained that the company began 6 years ago when his close friend, Mike Hill, opened AoSA Image. "Printing is probably the least environmentally friendly production process and we've found a way to make it sustainable," says Goad.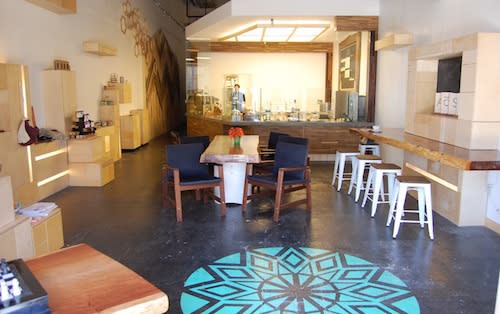 AoSA Image does special projects for companies such as TOMS Shoes, Burton Snowboards, Clif, Obey, and Yerba Mate among others. Their 10,000 square foot warehouse/workspace is hidden behind the cozy coffee shop and currently features a rock wall and other treasures. "All of the construction for the coffee shop was done in house. I even laid that concrete table up front myself," claims Goad. "The wood is also all reclaimed or from fallen trees. None of it was cut."
The shop is certainly impressive, a true hangout for locals and pleasant alternative to Starbucks or Coffee Bean. We asked Tom about their most popular coffee orders at AoSA, "The mate latte is common. Nitro is another popular one. It features our Stumptown Coffee infused with nitrogen." The shop has also noticed a lot of International visitors with Australians touting that AoSA coffee is the best they've found in the area. Recently, Bowl of Heaven joined forces with the AoSA team and began selling their acai bowls, juices and smoothies out of the shop. "The peanut butter bowl is my favorite. And I've been taking a lot of ginger shots lately," states Tom.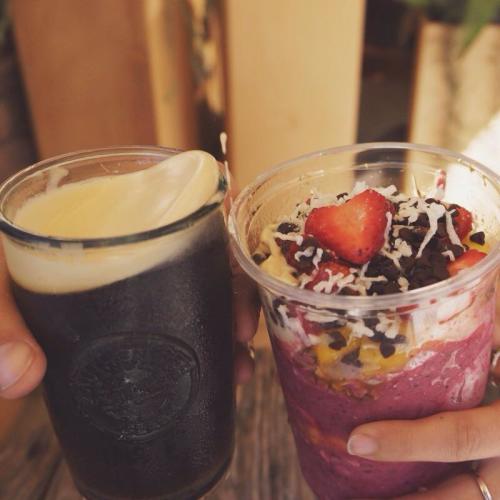 Every Monday night is open mic night at AoSA featuring half-off drink specials and $1 iced coffee promotions. The facility also hosts monthly art shows with a rotating exhibit. They've even hosted concerts in their back warehouse. In Tom's words, AoSA is about community outreach and providing an artistic outlet for Huntington Beach.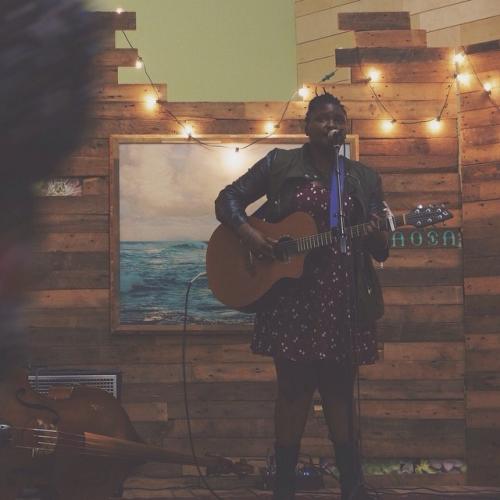 If you're somehow still not inspired to visit AoSA, take a look at their social media channels. "All of our photos are taken with an actual camera rather than an iPhone to ensure a higher quality. And we take the time to edit and choose filters for each post so that it reflects the aesthetics of the shop," says Goad referring to their Instagram, @aosacoffee.
"The most challenging part of my job is explaining the price of our coffee. People get turned off by the cost, but organic is always going to be more expensive. It's about showing respect to the farmers who grow organic and also nature in itself," explains Goad. When not working in the AoSA warehouse, Tom enjoys walking through the Bolsa Chica Wetlands and cycling on Pacific Coast Highway. He also enjoys catching a wave in Surf City USA with the AoSA staff. "I'll usually surf Goldenwest and sometimes Bolsa Chica. I also like to experiment with finless boards."
If you are an artist or performer interested in participating in an AoSA open mic night or art exhibition, contact the shop here. Be sure to check out their social media channels as well!
*All images courtesy of AoSA Facebook and Instagram