Nothing says "I Love You" like a romantic overnight stay right here in Surf City USA.  This year, celebrate with your valentine and sweep them off their feet with a staycation at one of our spectacular waterfront resorts. And lucky for us all…Valentine's Day lands on a Tuesday and as a result, the hotels are anticipating many couples will celebrate the weekend prior, during the week, and even the weekend following the 14th!
This year there are boundless options…. from a quiet dinner by candlelight, or perhaps a glass of champagne followed by a couple's massage?  Roasting s'mores by the fire-pit just brings out the playful child in all of us, as does a sunset bike ride on the strand. The hotel Concierge will gladly have flowers delivered to a guest suite or perhaps fragrant rose pedals in the shape of a heart for a special surprise. They have lots of creative ideas to share!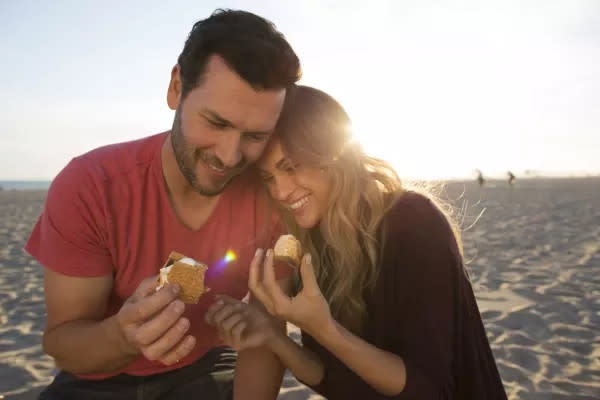 Here are some of the stellar hotel happenings that just might ensure your Valentine's celebration is an "over-the-top" evening with that special someone.  With one easy phone call you can unplug, recharge and reconnect. No airline reservations required.
Pasea Hotel & Spa
This is the newest darling along the Huntington Beach coast. Think blue. It is a modern oasis with a crisp, coastal style. There are 250 spacious guestrooms and suites and a restful Aarna Spa. The name Aarna refers to the mythological "Goddess of the Sea". This Balinese-inspired spa features both indoor and outdoor treatment areas, and a lovely Tranquility Garden with fire pit, cabanas and lounge chairs. Tanner's Restaurant has an exhibition kitchen and both indoor and outdoor dining. They specialize in SoCal cuisine cooked over an open fire of cherry and citrus woods.  After dinner, guests enjoy heading upstairs for cocktails at the Treehouse Bar. A beautiful canopy creates an artful scene with exceptional views of Huntington Beach and epic sunsets.
The "Bed & Breakfast Package" is a perfect option for a staycation. This is quite a value, including an $80 breakfast credit which can be used for breakfast in bed, or dining at Tanner's Restaurant, and valet parking (which is normally $35 per night). Using Valentine's Day as an example, the package is: for a Partial Ocean View King $440.27, Ocean View King $474.23 and Ocean Front King (the best view) $530.83. The weekend prior to Valentine's Day the rates are slightly lower.
(Note: The resort does charge a $30 daily "Hospitality Services Fee" which includes: complimentary water, phone calls, Wi-Fi, HSIA, access to the Fitness Center, a welcome bottle of Trinitas wine, PressReader app, coffee and tea services, beach chairs, towels and umbrellas, surfboard storage, surfing ambassador and 2 complimentary cruiser bike rentals.)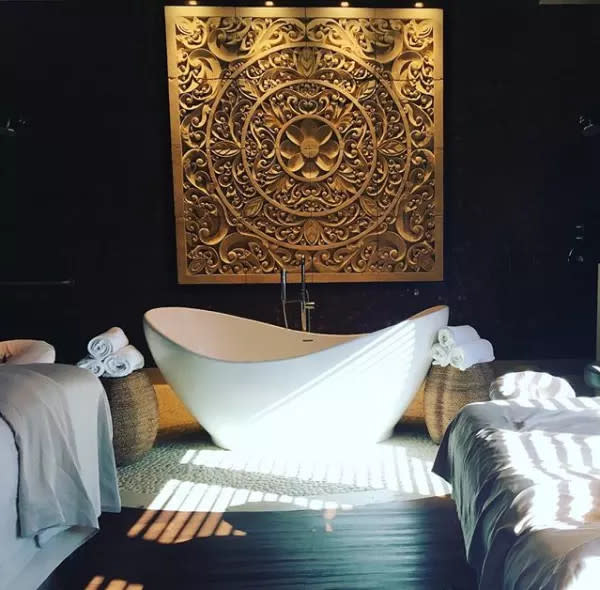 PHOTO BY @EVENTSBYVALERIE
The Aarna Spa has been thoughtfully designed for couples. Men and women can spend time together in the Relaxation Lounge, the Tranquility Garden, or by booking a treatment in the Signature Suite. The Spa staff recommends a 20minute soak in an herbal tub for two ($102 per couple), followed by a 50 minute Couples Massage ($318 per couple).
(714) 698-6100
21080 Pacific Coast Highway- Huntington Beach, CA 92648
www.meritagecollection.com/paseahotel/
Hyatt Regency Hotel & Spa Huntington Beach
This mega-resort features 517 guestrooms and suites in a contemporary, Spanish-style architecture setting.  Guests enjoy relaxing on their private balcony and gazing out at the shimmering views of the Pacific Ocean. However, adventure awaits at this fun-filled oasis. The resort offers bike rentals, there is a surf shop and they can arrange lessons, a complete fitness center, pools, and lush gardens for moon lit strolls around the resort.  Perhaps enjoy an after-dinner cocktail by the fire pit, or roast some s'mores over the warm fire. The Pacific Waters Spa is a lovely retreat for a couples massage and don't miss the tranquil lagoon-style pool just steps from the Spa. And yes, cocktails can be delivered.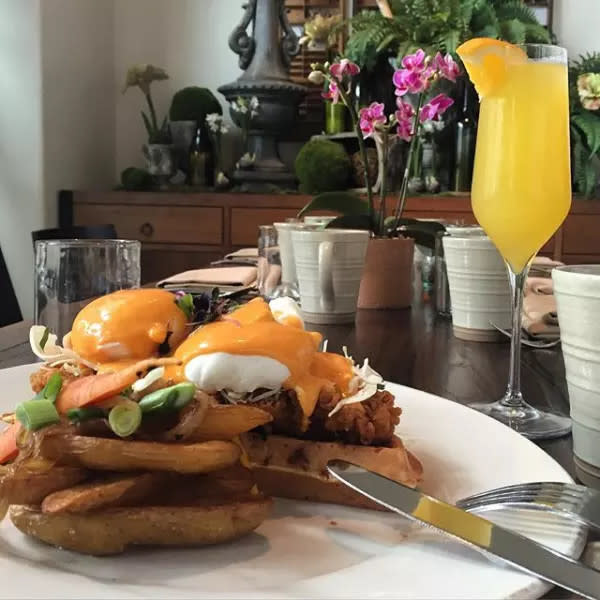 The Watertable Restaurant is not to be missed.  It is a unique blend of old and new, rustic and refined. The seasonal, regional, grill-centric menu features "west coast comfort food with attitude" as they refer to it. Treat your special date to a sophisticated breakfast or romantic candlelit dinner. An impressive selection of vintage world-class wines, craft brews, and artisanal cocktails complement the venue perfectly with a large bar scene in the evenings.
Unfortunately the Resort is sold out on Valentine's night (February 14th), however for the Saturday night prior, they do have a Bed and Breakfast package available with a starting rate of $329. Other nights are also available that week. (Note: There is a daily Resort Fee of $25 plus tax and includes: surfboard/golf bag storage, use of the Fitness Center and two bottles of water.)
A romantic recommendation by the Pacific Waters Spa staff is a two-part experience. Couples can reserve a Private Room with a Soaking Tub. During this 30 minute seclusion there is fruit and waters provided and other beverages can be arranged. (The cost is $85 per couple.) Then a 50 minute Couples Massage will be arranged for $345 per couple. The style of massage is at the request of each guest---from Swedish to Sports style. And of course, guests can enjoy the sauna, whirlpools and all the facilities for the day.
(714) 698-1234
21500 Pacific Coast Hwy, Huntington Beach, CA 92648
www.huntingtonbeach.regency.hyatt.com/en/hotel/home.html
The Waterfront Beach Resort-A Hilton Hotel
This resort features 285 guest rooms and suites, and all offer ocean views.  The suites include dramatic wrap-around balconies to experience the view in all directions. The grounds are lush with dramatic heated pool and whirlpool, comfortable seating and palm trees in every direction. Bike rentals are available for the asking on-site and a complete fitness center is available at any hour of the day or evening. They can even arrange a beach cookout, if desired. They currently do not have a spa at the resort (opening in 2018), however the Hyatt is just a ten minute walk away!
One of the focal points at the resort is the Shades Restaurant. It is open and airy offering indoor dining and a lovely poolside patio with umbrellas and views of the ocean. Executive Chef, Ben LeFleche hand selects the finest farmer's market ingredients and gourmet products for his California-centric menu. The restaurant is open for breakfast, lunch and dinner.  On Friday and Saturday evenings a live guitarist plays from 6:00-10:00pm in the Shades Lounge. What a perfect way to end an evening of dining and romance!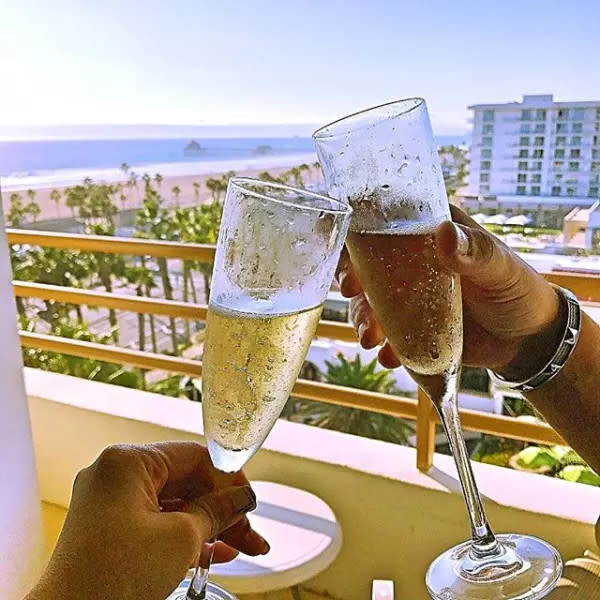 PHOTO BY @ROSEYLI
Guest room rates for Valentine's night begin at $259, and for an Ocean Front King guestroom, the rates begin at $309. (Note: An expansion is currently underway at the property and will be completed in June of 2017. Construction is underway adjacent to Resort from 8:00 am to 5:00 pm Monday through Friday. They appreciate your understanding during this time.)
(714) 845-8000
21100 Pacific Coast Highway, Huntington Beach, CA 92648
http://www.waterfrontresort.com/
The Kimpton Shorebreak Hotel
Guests enter this hotel on the second level and the setting is a unique and casual one on the corner of Pacific Coast Highway and charming 5th Street. Just one block north of bustling Main Street, this charming street is filled with surf gear, electric bike rentals, one-of-a-kind restaurants and the like. It is an eclectic, casual environment, with games in the lobby, and lots of things to do in the area.
In March of 2017, Chef JT Walker Chef will be unveiling a brand new restaurant concept called Pacific Hideaway. The on-site restaurant is closed until then, however there is in-room dining available, and just steps away are over 40 eateries, wine bars, restaurants, bars with some offering live music as well.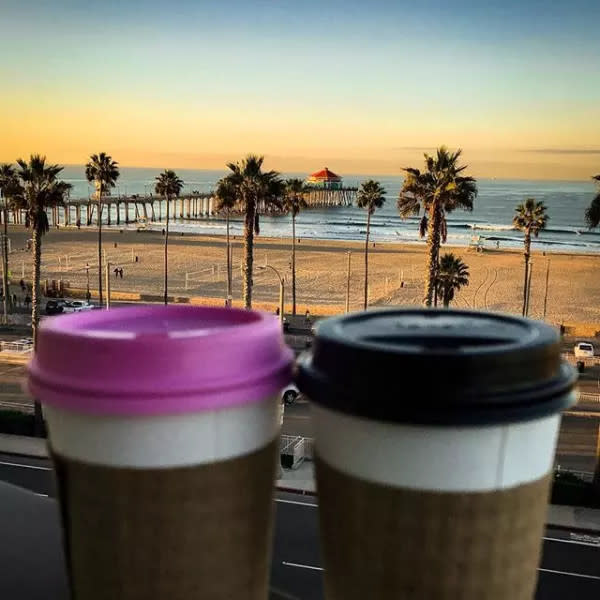 PHOTO BY @ADECOSMO2
For Valentine's night, for example, rates begin at $279 per night, and ocean view rooms begin at $380. An additional $25 (plus tax) Resort Fee is added per room, per night. This fee includes quite an array of perks, so listen up. It includes:  all the beach essentials, a surf ambassador to guide you, morning coffee & tea to start the day, beach cruisers available to get around town, surfboard lockers, bike racks and golf club storage, Wi-Fi on all devices for Kimpton Karma Rewards members, a complimentary yoga mat in every guestroom, a selection of newspapers to stay in the know – available at the front desk, a hosted evening social hour from 5pm – 6pm in the lobby living room, and if bringing your furry friend there are no extra fees for pets!
 (714) 861-4470
500 Pacific Coast Highway, Huntington Beach, CA 92648
www.shorebreakhotel.com/huntington-beach-hotels/
So there you have it----romance made simple. Here's hoping you are a hero and that this has helped you to plan a wonderful staycation right here in beautiful Surf City USA.  Happy Valentine's Day!