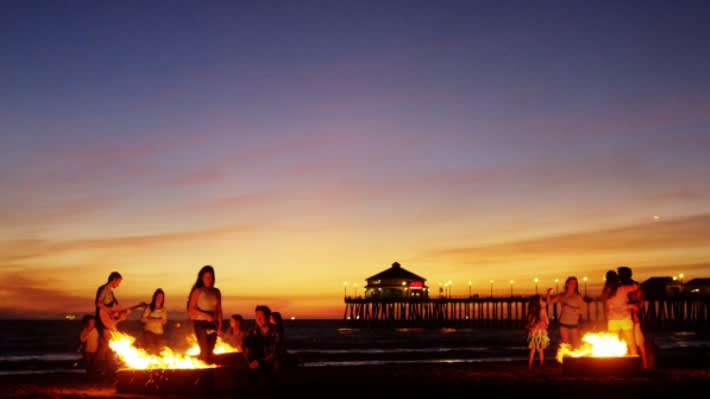 Beach bonfire rings have been an important part of the Huntington Beach culture and experience for over 60 years.  They provide an affordable means of gathering family and friends along the shore to celebrate our outdoor beach lifestyle. This tradition was almost put to a stop this past summer as the South Coast Air Quality Management District (SCAQMD) threatened to remove beach bonfire pits across Southern California.
On Friday, July 12th, the SCAQMD cast their vote and decided to leave the fire pits in Huntington Beach alone. The rally cry "keep your mitts off our pits" was heard throughout the city. Recently, an Assembly bill has been proposed that would require the SCAQMD to obtain certain permits and work closely with cities and other coastal agencies to regulate or restrict the use of beach bonfire pits.
After soaking up the sun on the sand, there is no better way to end the day than sitting in the glow of a beach bonfire, watching the sun set over the Pacific.
With 530 concrete fire rings, Huntington Beach is one of the very few places on California's coast where you can still build a bonfire and enjoy s'mores - that simple yet incomparable combination of toasted marshmallows and chocolate pressed between two graham crackers.
Tired of the same old s'more? Here are a few fun ways to mix up this classic bonfire dessert.