Ready to ring in the new year with a resolution to eat healthy? Surf City USA chefs are dishing up meals that prove dining out can be a smart splurge on your journey to more mindful eating. Whether your goal is to start the day with a balanced breakfast, add greens or pack your plate with lean proteins, there's a restaurant for you. Discover a diverse array of healthy eateries in Huntington Beach that are big on both flavor and nutrition.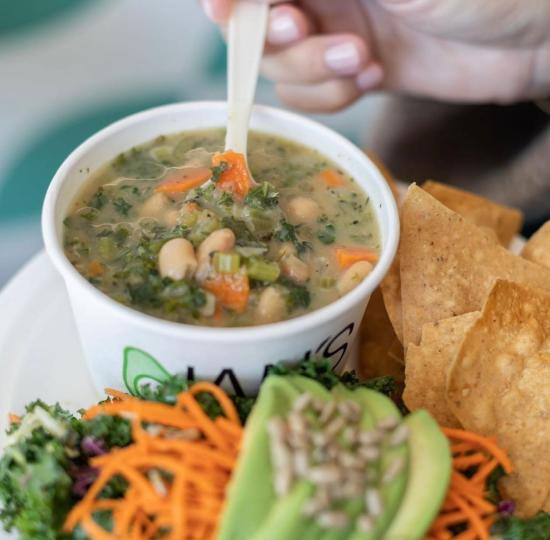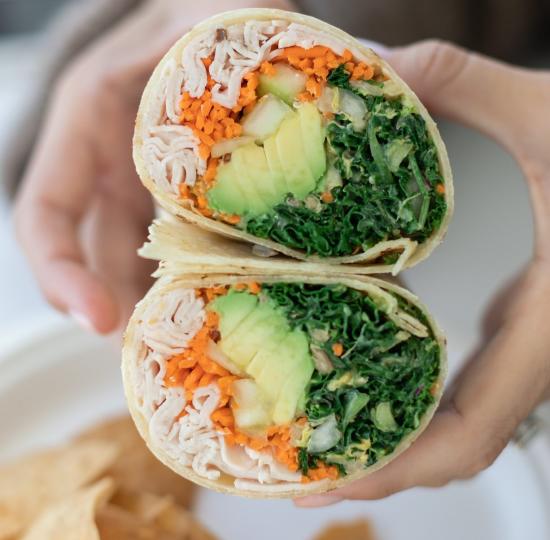 At this quintessential Main Street spot where the name says it all, choices seem limitless. Classic salads, sandwiches served on cracked wheat bread and wraps are all quick and easy staples before a trip to the beach. Early risers can also linger over a fresh juice that delivers your daily dose of veggies in flavor combos like the Carizma (carrot, orange, ginger and lemon) or the Garden Frenzy (spinach, kale, cucumber, celery, carrot, beet, apple, pineapple, orange, ginger, lemon and parsley). For a boost of heart-healthy fats, pair it with an avocado toast served on Sunflour cracked wheat and a side of seasonal fruit.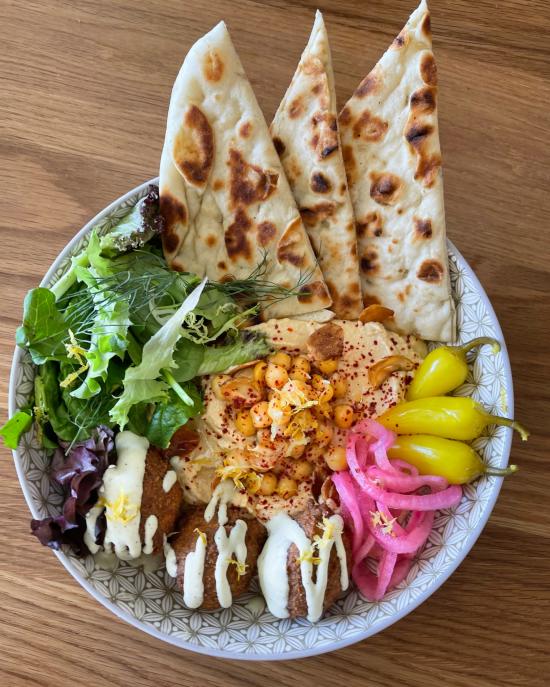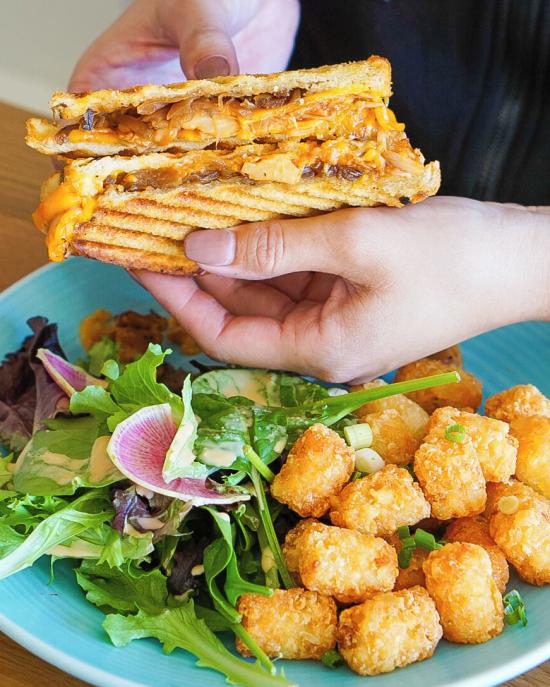 Nourish your body and soul at this downtown vegan restaurant that sources its ingredients from local farmers markets. In addition to noodles, rice bowls, tacos and sandwiches that feature plant-based proteins, Good Vibes offers power bowls packed with a rainbow of fruits that will give your day a splash of color. From purple açai and hot pink dragonfruit to green matcha, the six different bowls look almost too good to eat. Each begins with a base of granola layered with toppings like graviola, strawberry, banana, blueberries, almond butter and even kale.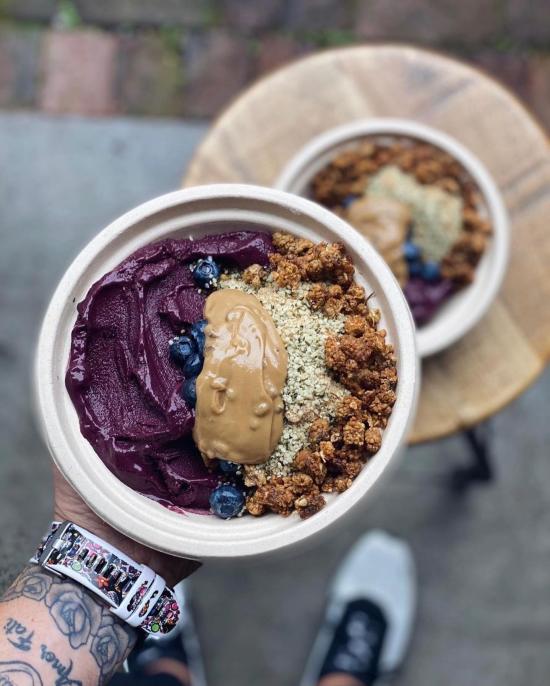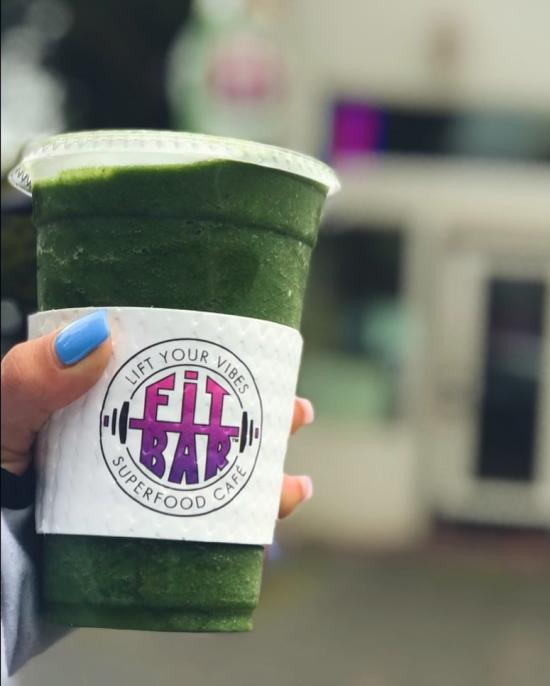 The gym-adjacent cafe offers Sunset Beach visitors a place to fuel up before a workout or a trip out to the sand. Superfood bowls feature açai and pitaya while incorporating other nutritious ingredients like vitamin-rich goji berries and cacao nibs packed with antioxidants. Fit Bar serves fresh juices and kombucha on tap, but is also known for a creative menu of smoothies blended with coconut, almond or oat milk. Order a favorite off the menu like the Health Nut (with peanut butter, banana, coconut, cacao powder and nibs) or build your own with an added vitamin booster.
Green Tomato Grill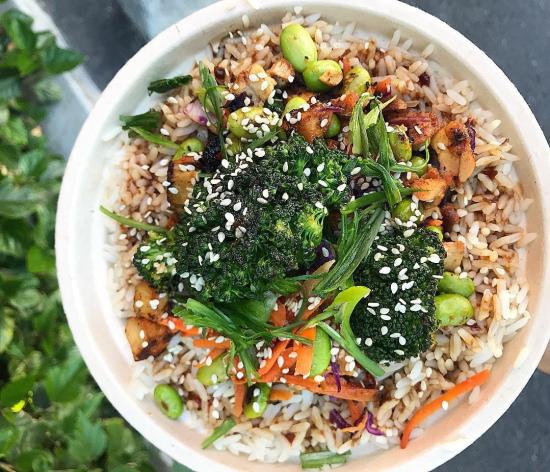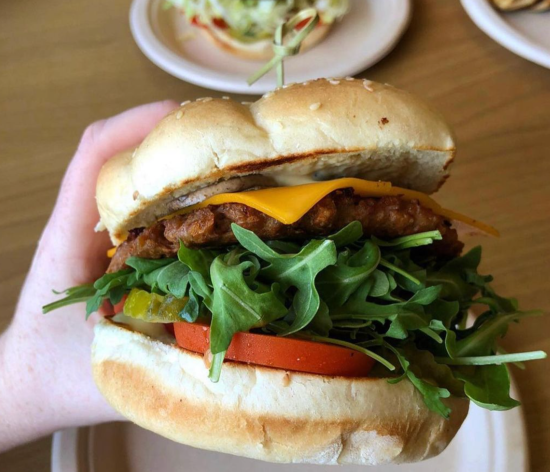 Curb your cravings at this north Huntington Beach eatery on Goldenwest Street, known for its from-scratch approach to fast food. A fast-casual joint that centers its menu around vegetables and meat butchered and marinated in-house, Green Tomato Grill infuses every dish — from melts and wraps to rice bowls and stews — with incredible flavor. While everything can be made to order for specific dietary needs, those on a paleo or keto diet can check out chef-designed menu items like the lettuce-wrapped grass-fed grill burger or the chimichurri bowl, which tosses proteins like salmon, tofu and chicken with an aromatic sauce and mixed veggies.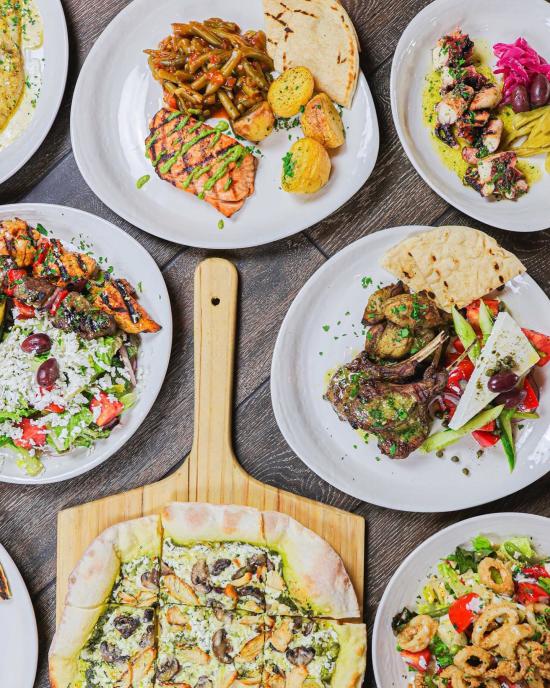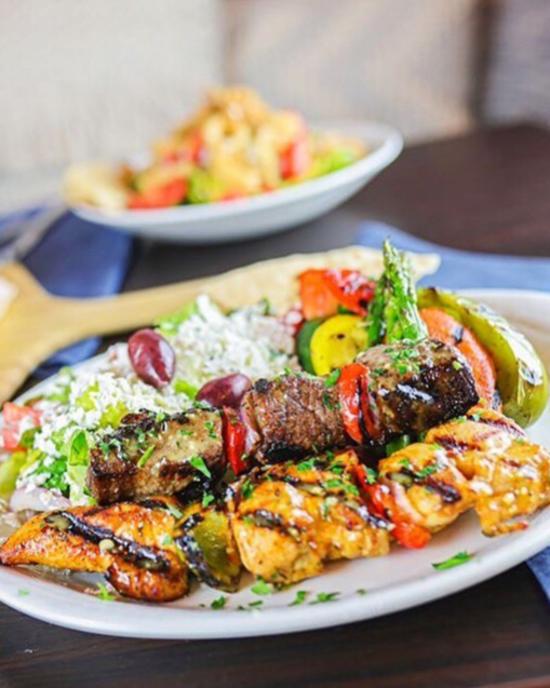 In north Huntington Beach off Bolsa Chica Street, home-style Greek food inspired by the chef's family gatherings is created with ingredients that are low-fat, low-cholesterol and always natural. Dips like the olivada, melitzanosalata (eggplant) and tabouli (parsley and bulgar wheat) lean on nutritious ingredients to deliver big flavors. Meanwhile, the avgolemono soup is a classic comfort food that brings together chicken, lemon and rice for a silky bowl of nourishing broth. For a heartier meal, kabob and entree plates give diners a pick of protein like grilled salmon and seared tuna, paired with two small bites including stewed green beans and roasted artichoke hearts.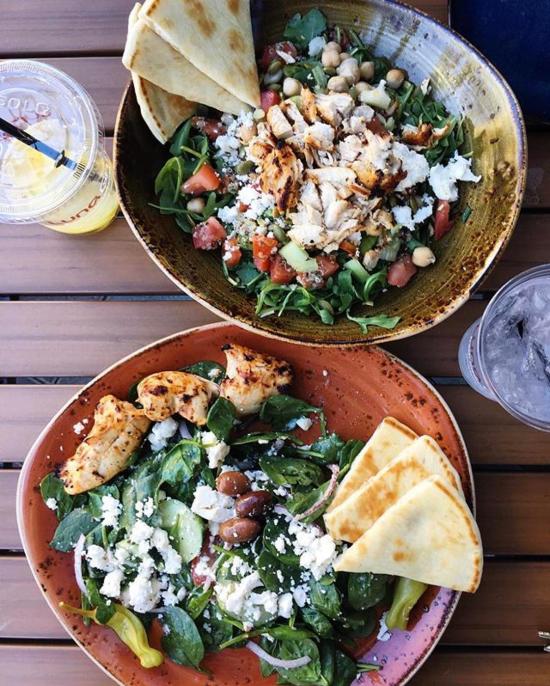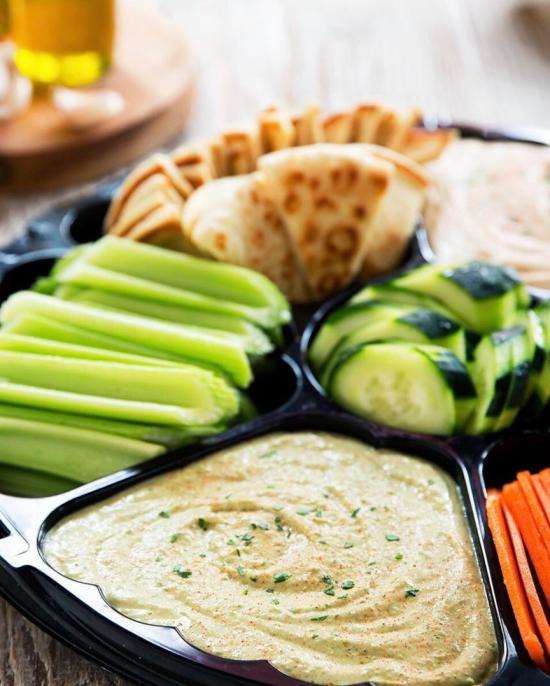 Go Mediterranean for a meal at this Beach Boulevard kitchen — and don't skimp on the appetizers. Stuffed grape leaves are rich in vitamins and antioxidants, while two kinds of hummus can be enjoyed with sliced veggies for a vegan and gluten-free dish. And, of course, you can't go wrong with a modern Greek salad featuring house-made pickled onions, crispy chickpeas and a house vinaigrette. The restaurant also makes an effort to lower sodium in its dishes by swapping out salt for fresh herbs and spices.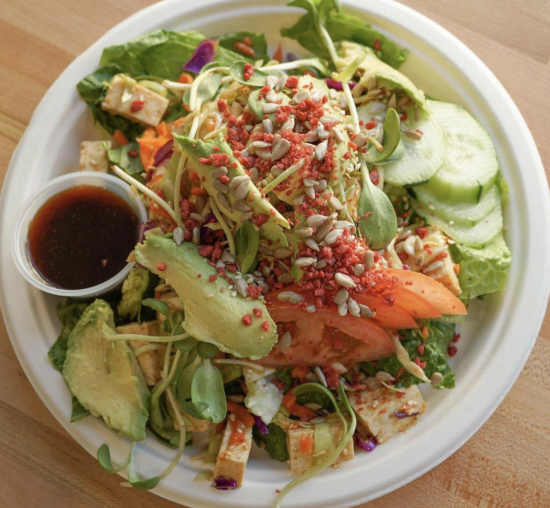 The Old World Village shop is beloved by locals for its selection of sandwiches and shakes. Each of the nine sandwich options is served on whole wheat bread with lettuce, tomato and sprouts, which are full of vitamins, minerals and amino acids. Try the veggie delight, a customer favorite with fresh produce, avocado and mustard, and make it a combo with a smoothie shake. All smoothies, like the Energy Plus with spirulina, banana, lecithin, and papaya and boysenberry juice, can be boosted with add-ons such as bee pollen or protein powder.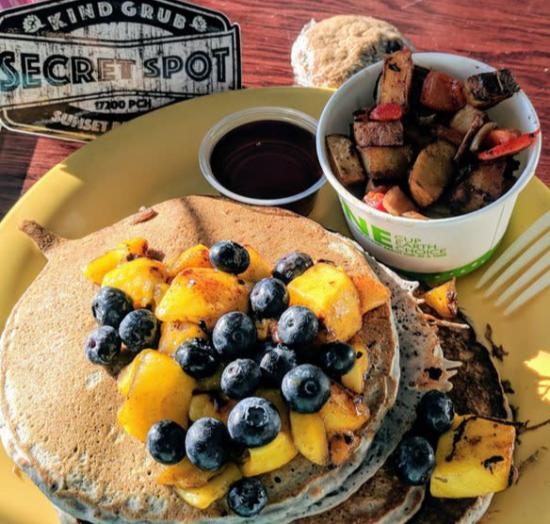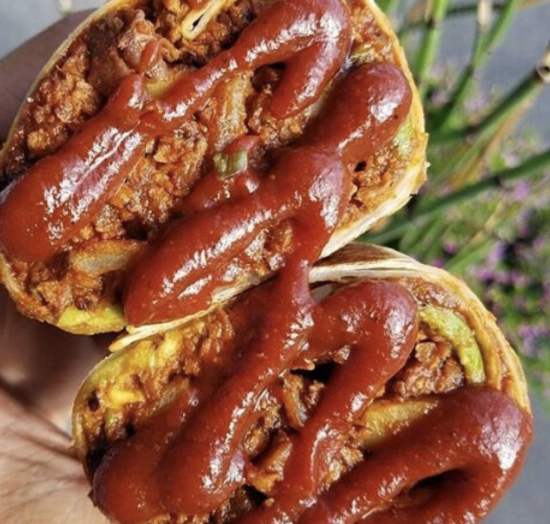 If you're on a plant-based diet and craving a full breakfast spread, Secret Spot has incredible vegan options packed with proteins and veggies. Enjoy a balanced breakfast with one of two vegan burritos — a grilled vegetable medley with avocado and hot sauce, or soyrizo and tofu combo wrapped up in a spinach tortilla. Salads, sandwiches, wraps and tacos also provide sustenance throughout the day, and all items can be prepared vegan upon request.
Northside Café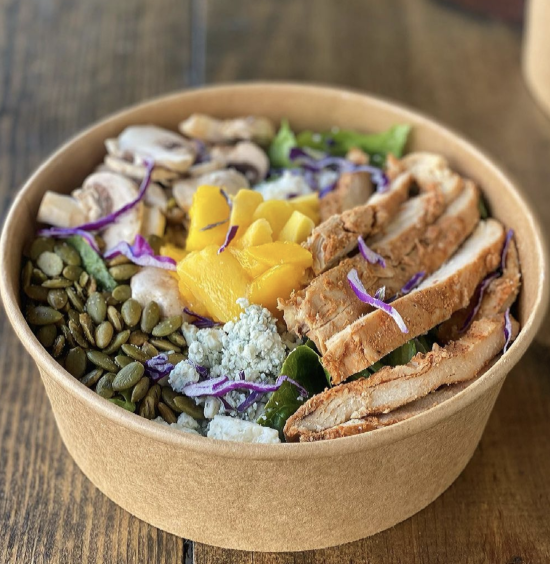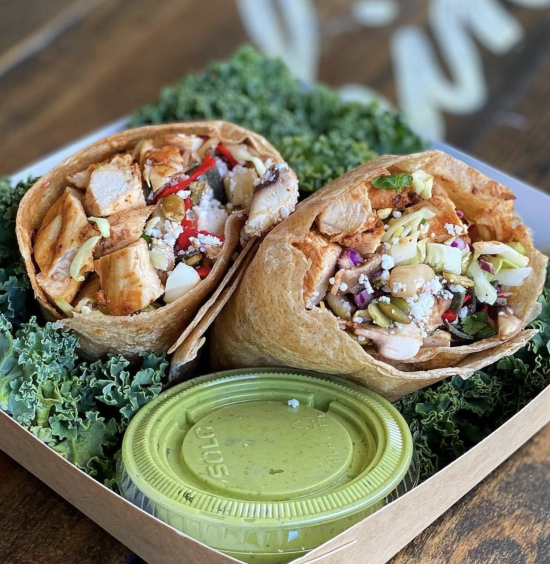 This neighborhood cafe on Bushard Street, just up the road from Huntington State Beach and the wetlands, serves up organic coffees with a selection of breakfast and lunch items perfect for a grab-and-go meal. Salads go far beyond your basic greens, with mouthwatering mixes like the hacienda black bean with achiote grilled mushrooms, pepitas seeds and crispy corn strips. Add lean proteins like grilled chicken, salmon or shrimp to any salad, or hold the cheese for a vegan option. All produce is delivered from local farms daily to bring diners bright, fresh flavors in every bite.