There's a gelato counter, ice cream shop or shaved snow cafe around what seems like every corner in Huntington Beach, but where do you turn when the weather gets cold and you have a craving for something warm and sweet? In the winter chill, sometimes the only thing to satisfy your sweet tooth is a decadent dessert that can heat you up from the inside out.
Rockin' Crepes
Tucked away in a strip mall just a few blocks from the beach, Rockin' Crepes has a serious rock 'n' roll attitude when it comes to hitting your taste buds with melt-in-your-mouth desserts. Taking cues from its 1980s rock decor, the generous menu of sweet crepes are named after headbanging bands ranging from Anthrax to Zeppelin. Crepes are made fresh to order—don't miss the popular Iron Maiden, warmed to perfection with Nutella, strawberries and bananas, and topped with whipped cream and powdered sugar.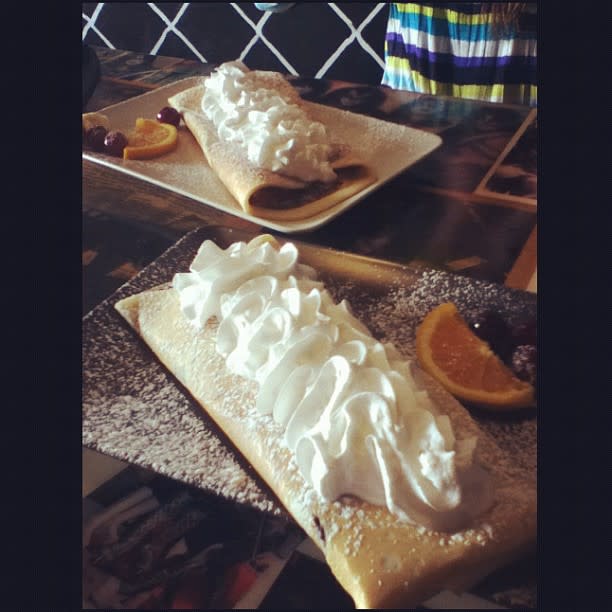 8943 Atlanta Ave., Huntington Beach, CA 92646
714-536-9100
rockincrepeshb.com
The Funnel House
The old-fashioned treat that brings to mind afternoons at the fair can be enjoyed any day of the week at The Funnel House, located downtown on Main Street. Though the fluffy, golden funnel cakes can be topped with all the fixings, like fresh fruit, whipped cream and ice cream, sometimes simple is just what you need: Go traditional with only a healthy dash of powdered sugar that gets absorbed into the hot surface of the deep-fried dough. The shop is open late on Thursday, Friday and Saturday, so you can get your fix after a night on the town.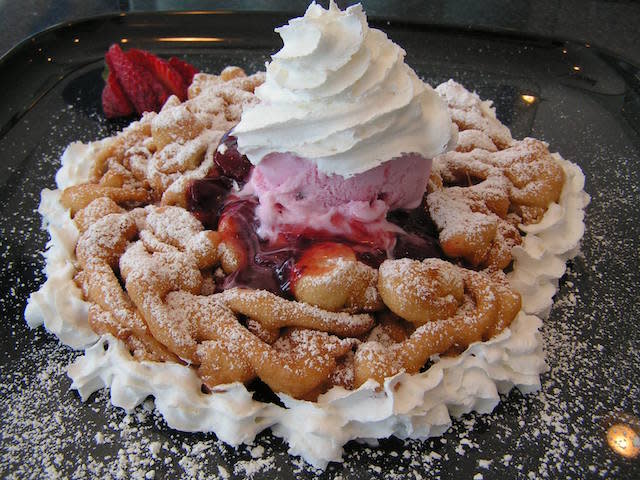 205 Main Street
Huntington Beach CA, 92648
714-969-3099
thefunnelhouse.com
Eureka!
In this open-concept Bella Terra restaurant with indoor/outdoor seating, keep warm with a comforting dessert: apple crisp. An American classic, the apple crisp is served in a bowl with extra spoons for sharing—though you may want it all to yourself when you take your first bite of sweet yet tart caramelized apples topped off with a pecan oat crisp for texture. It's served a la mode with a scoop of vanilla bean ice cream and finished with a drizzle of caramel for good measure.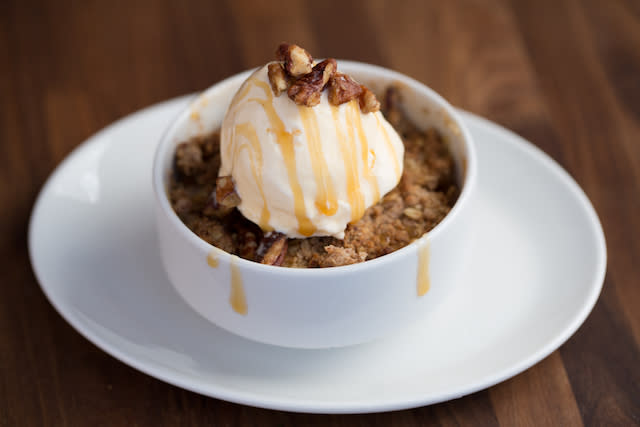 7631 Edinger Ave., Ste. 1524, Huntington Beach, CA 92647
714-230-3955
eurekarestaurantgroup.com
Solita Tacos & Margaritas
Bella Terra is also home to Solita Tacos & Margaritas, where diners can sink their teeth into a crispy churro after a satisfying dinner of upscale Mexican street food. Presented in a cone-shaped basket with four strips, these churros are the perfect shareable dessert. The fluted treat is rolled in cinnamon sugar and served hot to your table with a side of chocolate sauce for taking the sweet decadence to the next level. Honorable mention: If fried dough doesn't please your palate, the warm cinnamon-berry bread pudding (also offered at brunch) is a sweet diversion from heavier winter options. Enjoy it with fresh berries, brown sugar sour cream sauce and a drizzle of agave syrup.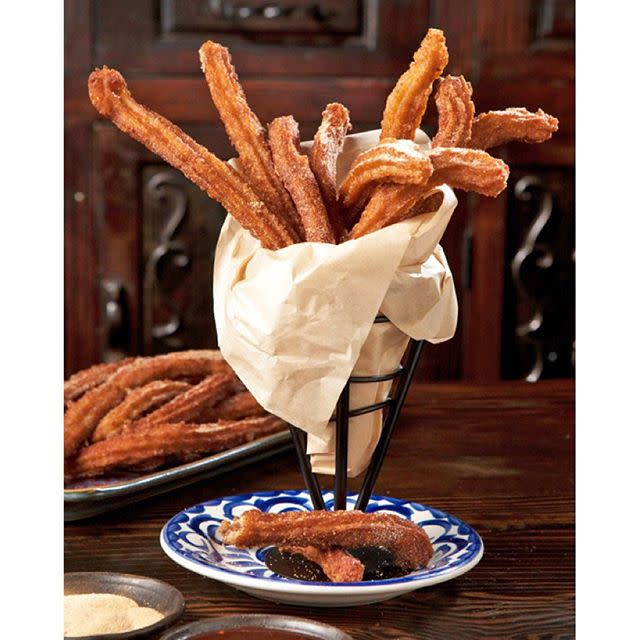 7631 Edinger Ave., Ste. 1508, Huntington Beach, CA 92647
714-894-2792
solitatacos.com
Slater's 50/50
At a restaurant known for its bacon infusions—house-made bacon ketchup, anyone?—it's no surprise that the concept extends to the dessert menu. The bacon brownie is a customer favorite at Slater's 50/50: An explosion of chocolate, the dense confection (with a consistency closer to a rich cake than brownie) is served warm with layers of bacon crumble for a complementary sweet and salty flavor profile.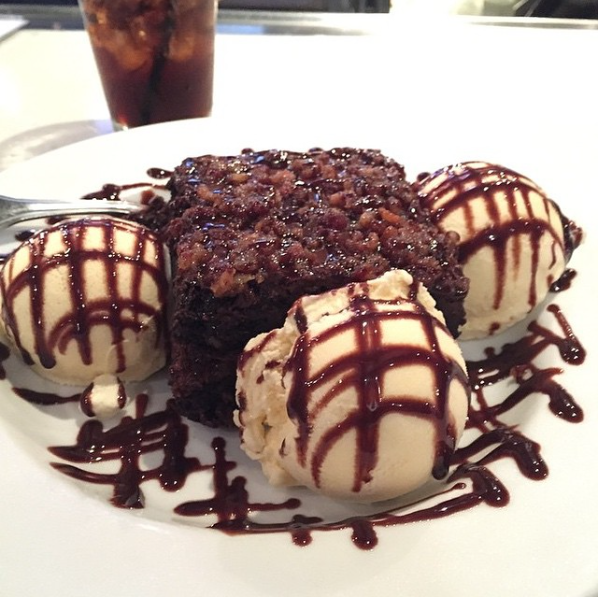 8080 Adams Ave., Huntington Beach, CA 92646
714-594-5730
slaters5050.com
Simmzy's at Pacific City
Opened late last year at Pacific City, Simmzy's has two fun dessert options for cool days by the beach. For a departure from traditional brownie a la mode, try the apple-filled donut. Filled with warm fruit spiced with cinnamon, the donut is as every bit delicious as its presentation will have you believe. Plated inside a ring of salted caramel drizzle and cracked pistachios, the glazed doughnut is topped with vanilla ice cream and garnished with a sprig of mint.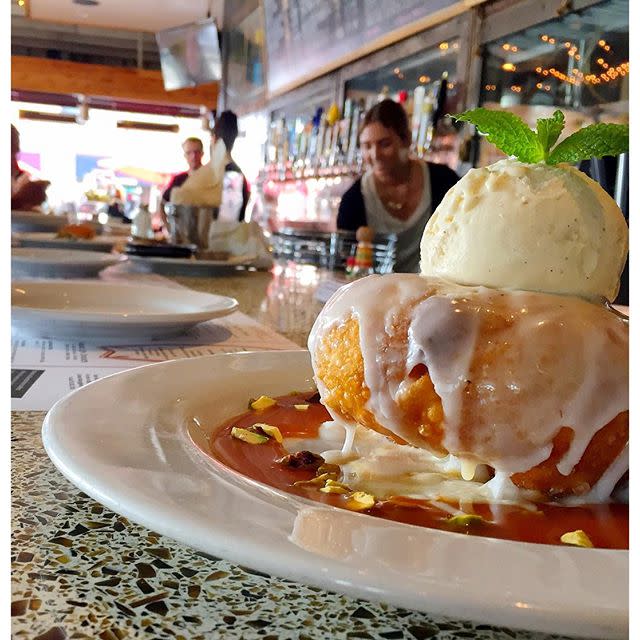 21028 Pacific Coast Hwy., Ste. #E-100, Huntington Beach, CA 92647
714-831-1240
simmzys.com