Lunch may be the most under-celebrated meal of the day. It's hard to slow down when you're on the go, with places to be and things to see. But, with so many restaurants across Huntington Beach, lunch provides a great opportunity to try some local favorites at prices that aren't going to break the bank.
Here's five to try, from hearty build-your-own options to light lunches that won't spoil your appetite for dinner.
Bruxie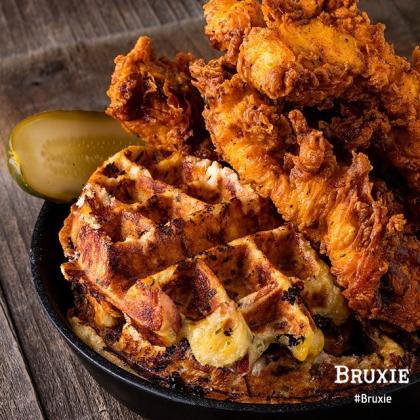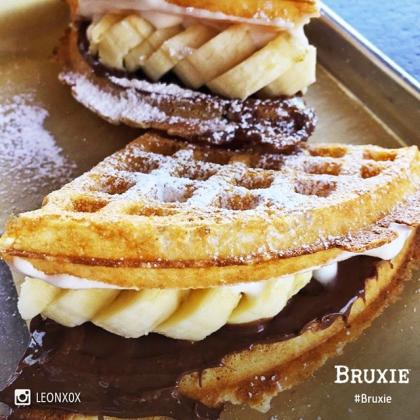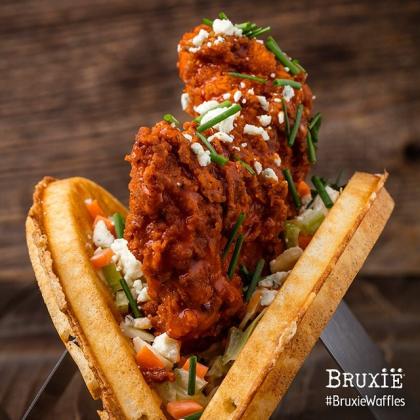 Throw out everything you know about waffles. Bruxie's airy version is light, yet sturdy enough to bear the weight of protein and sauces packed between the fold. In 2011, the Old Town Orange location was ranked second on Yelp's most popular restaurants across the nation, so it stands to reason the HB indoor/outdoor restaurant is worth a visit. For your first time—or your tenth, for that matter—go with a classic chicken and waffles combo. Tender chicken with crisp breading is topped with a chili honey sauce and rests on a bed of tangy slaw that adds a nice crunch of texture. The Nashville-style sandwich will clear your sinuses with its spicy sauce, or try a more savory option with grilled chicken and goat cheese with pesto. Not a poultry eater? No problem. A Bruxie burger with "secret sauce" satisfies cravings for red meat, and there's even a veggie version with crimini mushrooms, arugula and a balsamic reduction. 657-215-3559; bruxie.com
Olive Pit Mediterranean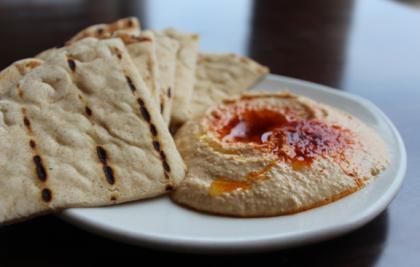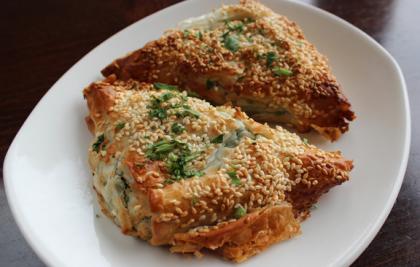 Blink and you might miss this tiny Mediterranean gem, hidden in a strip mall next to a residential neighborhood off Bolsa Chica Street and Heil Avenue. It's an easy drive from Sunset Beach—perfect for grabbing a wrap, sandwich or selection of small bites for a lighter lunch. A build-your-own" form ordering system makes lunch quick and easy, so pick from nine different proteins like seared ahi tuna, marinated steak, lamb gyros and falafel, and enjoy it in a whole wheat flat bread wrap or with a variety of greens and veggies. Wraps are served with a choice of a small bite, but a couple of these starter dishes are also great for small appetites. Try the roasted artichoke hearts for five tangy bites that almost melt in your mouth, along with the hummus or tzatziki with warm pita bread for dipping. For little ones under 12, a kids' menu has three friendly options (protein plate, grilled cheese or pasta) for under $7. 714-316-5000; olivepitgrill.com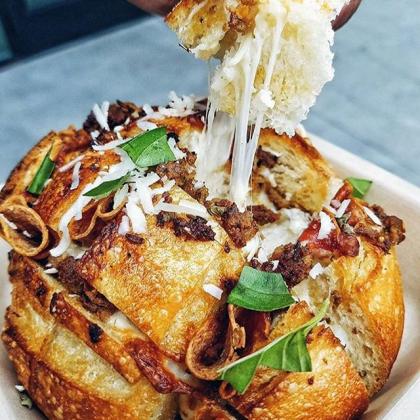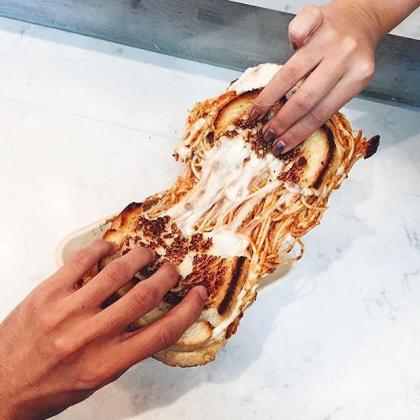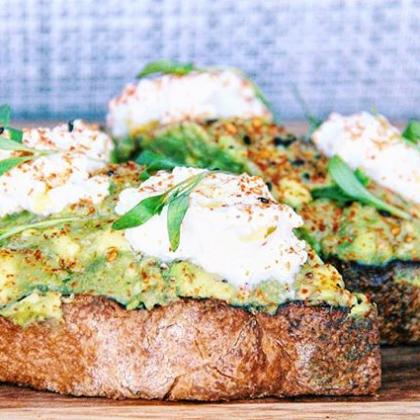 Three words: spaghetti grilled cheese. A signature item at Burnt Crumbs, located inside Pacific City's Lot 579 food hall, the spaghetti is served between buttery pieces of toast with a dipping cup of marinara. While the hype of the pasta sandwich might get you up to the counter, the other items will keep you coming back. The menu may be small, but it's packed with flavor. The crispy pork sandwich, which pairs the tender meat with crunchy chicharrones for textural contrast, is a menu mainstay, as is the fried chicken and gravy biscuit that gets an extra kick from a drizzle of Sriracha honey. Five sandwich options, two toasts (avocado and an innovative chicken liver mousse) and sides like garlic aioli fries and chicharrones provide plenty of affordable options without sacrificing taste. 714-374-0777; burntcrumbs.com
Holé Molé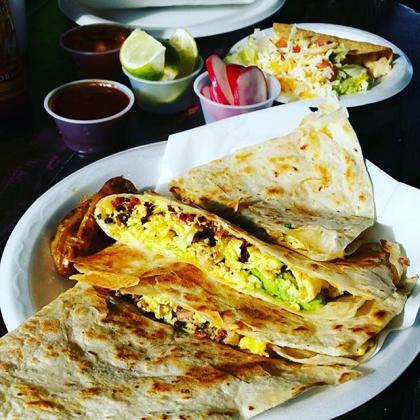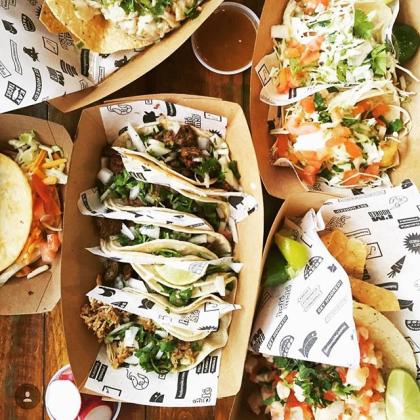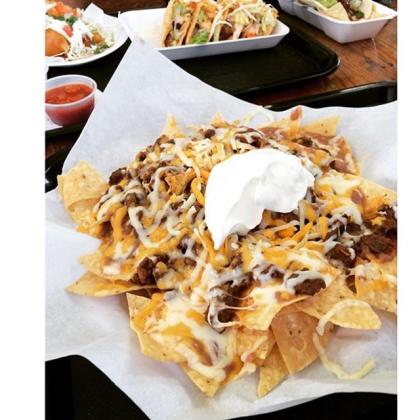 It doesn't have to be Tuesday for you to enjoy cheap, delicious tacos. This local chain at Beach Boulevard and Slater Avenue churns out flavorful street tacos at prices so reasonable you won't feel guilty trying them all. For $1.39, try a corn tortilla packed with asada, chicken, carnitas or al pastor (a fan favorite, with tender cuts seasoned pork, onions and cilantro), or upgrade to seafood options for just a bit more. If you're still hungry, add a few mini crunchy tacos at just 59 cents each—the potato are a surprising hit, packed with shredded lettuce, tomatoes and mexican cheese. Top it off with some serve-yourself salsa and try to snag a salted, roasted chili from a server for the perfect garnish to this quintessential SoCal lunch. holemole.com
North Shore Poke Co.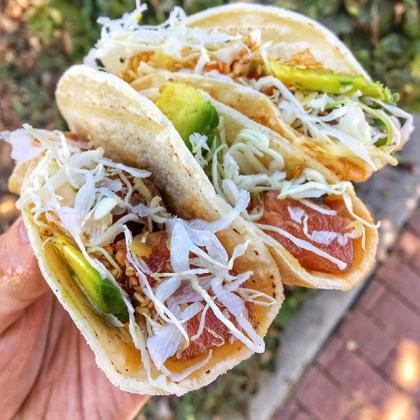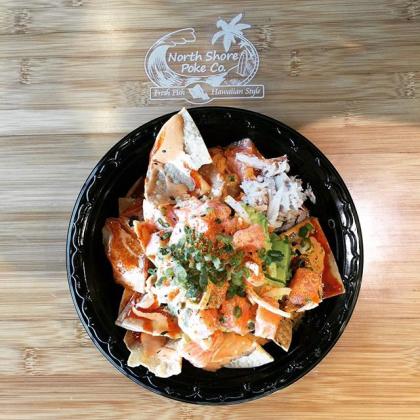 Earlier this year, poke was predicted to be the next big food trend, but downtown Huntington Beach was ahead of the curve. Opened in March 2012, North Shore Poke Co. serves up nine distinct Hawaiian flavors served atop a base of white or brown rice with your choice of raw fish (the small bowl is great for a quick snack between a big breakfast and dinner). The Pipeline is a solid option, keeping it simple with soy sauce to complement the freshness of the ahi. You can also turn up the heat with the Kalihi-kine, the hottest item on the menu that benefits from a $1 add-on of macadamia nut or avocado to temper the burn. You can also think outside of the bowl with poke nachos, tacos that start at just $2, or a sandwich with a side of seaweed or cucumber salad. 714 465-9011; northshorepokeco.com