We all have our go-to cafes for various personal reasons, but for some reason, The Coffee Tale, Caffe Caldo, and Sweet Elle Café reign supreme in Huntington Beach—according to Yelp. Here's a look at why these cafes pour the best coffee, pair the best bites, and create the best ambiance. And to answer your first burning question, yes, they all have free wifi. This is 2015, after all.
Tucked away in Old World Village, The Coffee Tale opened in early 2015 with an exceptional approach to coffee and tea. They're serious about their craft, and they're brewing in ways no one else is in Huntington Beach.
Drinks: Offering only organic coffees and teas, Coffee Tale stocks a wide range of international fresh roasted beans and grinds them right in front of you for the freshest cup possible. In keeping on trend, they pour cold brew, but they've elevated the process. Using the Japanese drip tower method, they make only one-third of a pot at a time, given that it takes six whole hours to do so. An impressive 16 loose leaf teas from Art of Tea await in their respective jars, and mixing flavors is encouraged. Do yourself a favor and try the White Coconut Creme tea (you're welcome). The drink menu is more contained than most cafes, but it contains everything you need for that needed jolt, and at a classier level. 
Eats: Sweets include housemade baklava, other locally baked goods and chocolates, and vegan treats.
Vibe: Cozy with chill acoustic music setting the mood. A Turkey native, owner Hilmi Katirci opted to honor his homeland by mirroring half of the cafe after the city of Istanbul. His walls are lined with bold patterned wallpaper, and furnishings are authentic Turkish imports. The other half exhibits a modern rustic feel.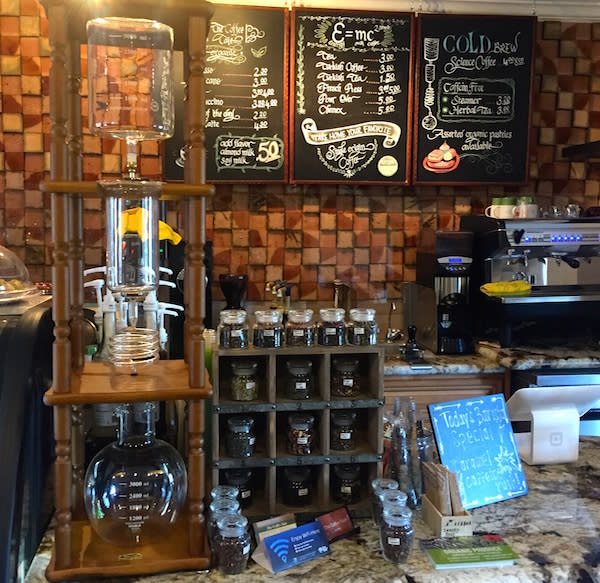 Extra Perks: The shop welcomes Meetups, boasts an outdoor patio, recycles its coffee sleeves, and uses sustainable materials. All wins in our book.
Address: 7561 Center Avenue, Huntington Beach, CA 92647
Phone: 714-925-8253
Hours: Monday-Thursday, 8 a.m.-9 p.m.; Friday & Saturday, 8 a.m.-10 p.m.; Sunday, 8 a.m.- 8 p.m.
Huntington Beach's countless strip malls house some of the city's best kept secrets, and Caffe Caldo is no exception. Located in the same row as SeaLegs Wine Bar and Mama's on 39 off Beach Boulevard and Atlanta Avenue, the gourmet espresso bar serves up a "caldo" or "hot" slice of Italy, complete with a mural of a charming Italian "strada" and a "ciao" as you enter and exit.
Drinks: They had us at "filthy chai." Brewing Santa Ana-based Old Town Roasting beans, Caldo designed the space so that counter patrons have a front row seat to watch their nectar brew. The complete caffeine lineup pours everything from drip to cold brew to specialty lattes, like the Turkish Latte with cardamom and honey, as well as loose leaf teas.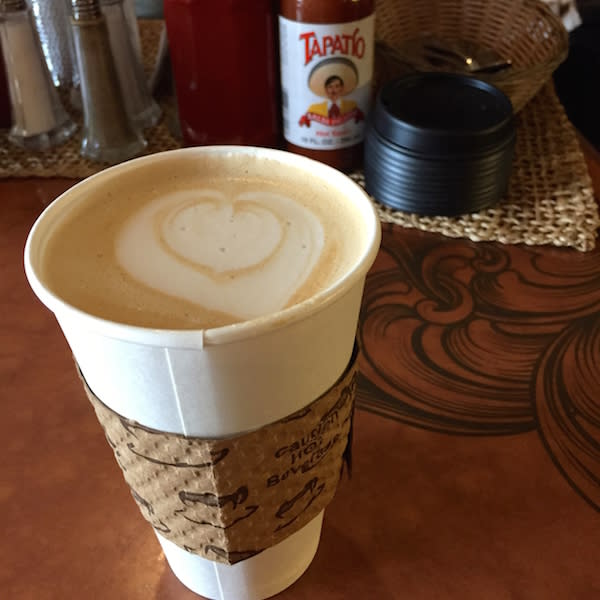 Eats: A delicious spot to refuel after a surf session as an alternative to Main Street, Caldo offers a fully-loaded breakfast menu, featuring scrambles, bagels, French toast, oatmeal, and our favorite, the breakfast burrito. They hit the sweet spot with housemade cannoli, tiramisu, and assorted croissants.
Vibe: Warm Euro-style cafe with strung Edison lights and an eclectic playlist. Friendly baristas are known to groove behind the counter.
Extra Perks: Take note of the chalkboard art along the walls offering life advice, as well as the unique unicycle-inspired seats. Check the "Caldo Activities" board for in-house events, like Movie Monday Night, and community happenings.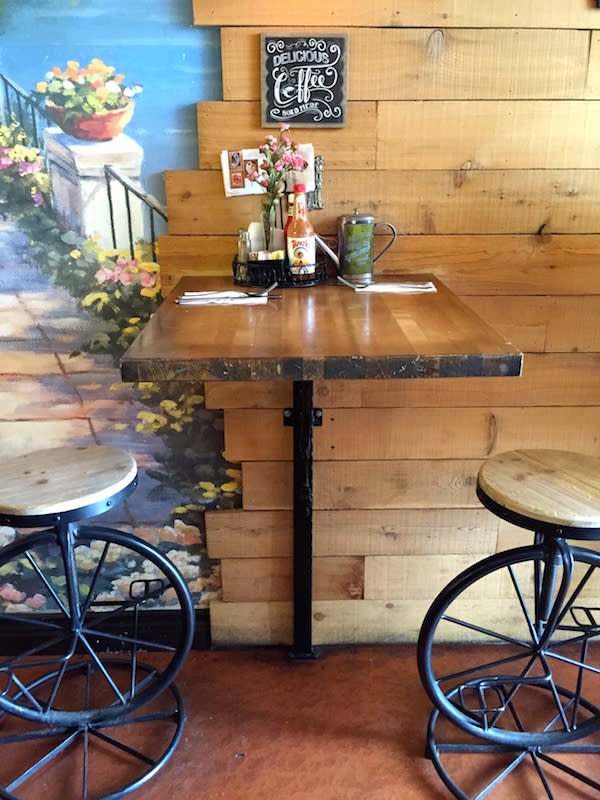 Address: 21070 Beach Boulevard, Huntington Beach, CA 92648
Phone: 714-960-5900
Hours: Monday-Sunday, 7 a.m.-3p.m.
Its location in a strip mall along Warner Avenue puts the cafe right across the street from Ocean View High School. Lucky for students and locals alike, the cafe offers one of the most extensive menus of its kind in town.
Drinks: Pouring organic Stumptown Coffee and Cold Brew, Sweet Elle's full caffeine menu is accompanied by a variety of nondairy milks for the lactose-intolerant, hot chocolate, frappes, "sunkissed" tea coolers, and smoothies.
Eats: To start, breakfast is served until 2 p.m. Diners have their choice of sandwiches, wraps, panini, melts, scrambles, bagels, acai bowls, baked goods from Cafe Monkey Bakery in Hollywood, oatmeals, croissants, and parfaits.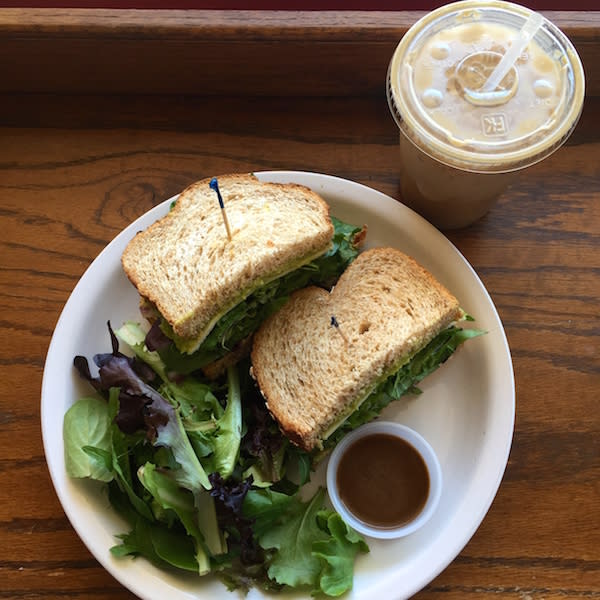 Vibe: Mixed furniture sets, vintage lamps, bookshelves, classical music, natural light, and a "home is where the heart is" sign combine to create a relaxed homey feel.
Extra Perks: We love the veggie-friendly menu, board games, and outside seating.
Address: 7251 Warner Avenue, Suite L, Huntington Beach, CA 92647
Phone: 714-841-1270
Hours: Monday-Thursday, 6:30 a.m.-7 p.m.; Friday, 6:30 a.m.-6 p.m.; Saturday, 7 a.m.-6 p.m.; Sunday, 8 a.m.-4 p.m.
*Headline photo courtesy of Instagram user @daaelove. Photo taken at Caffe Caldo.