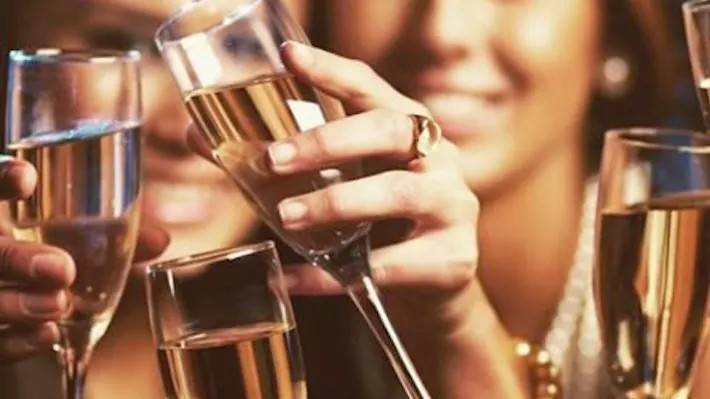 It is going to be an epic New Year's Eve here in Surf City USA. As visitors and local residents begin to plan how to best ring in the New Year, we have uncovered some of the special events and party happenings right here in Huntington Beach.  December 31st falls on a Saturday this year, so let the planning begin right here!
Hyatt Regency Hotel & Spa Huntington Beach
The elegant Watertable Restaurant will be featuring their dinner menu from 5:00-10:00pm and reservations are suggested. But then the fun starts at 9:00pm in the Vista Ballroom. There will be dancing, music, a photo booth, party favors, and a vibrant atmosphere to welcome in the New Year. The cost for the "After Party" is $30 per person (or $20 per person if guests had dined in the restaurant). Contact the Hyatt Regency Huntington Beach for more information about #WatertableEnBlanc at (714) 698-1234.
The Waterfront Beach Resort, a Hilton Hotel
The hotel's Shades Restaurant will be serving "Drunch" from 6:00-10:00pm. This will be a combo lunch and dinner buffet. The price will be $49 for adults and $30 for children 6-9 years of age. The Shades Lounge is a perfect spot for pre-dinner cocktails and views of the ocean.  However,  the fun begins at 8:00pm in the West Coast Room. There is no cover charge and guests can enjoy a cash bar, DJ and dancing, light snacks, flat screen featuring count downs and of course a big cheers to the midnight turn to 2017! The party will continue until 1:00am. (714) 845-8000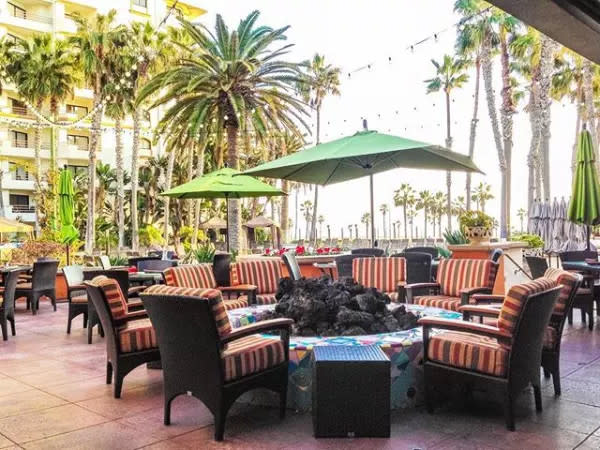 PHOTO BY @WATERFRONTBEACHRESORT
This elegant new hotel is planning a unique evening for revelers wanting to celebrate.  Guests can enjoy dinner at Tanner's Restaurant, which features both indoor and patio dining. They specialize in SoCal cuisine cooked over an open fire on cherry and citrus wood. However the party will be upstairs just above Tanner's in the Tree House Bar.  A beautiful canopy creates a playful scene that screams outdoor party! There will be a ginormous 20' by 50' screen displaying the digital countdown on the west wall (that begins at 11:00 pm). As the countdown ends, the evening will culminate with a fireworks show. This will be the only one in Huntington Beach! Guests must be 21 and over, and tickets will be $40 at the door, or $20 for hotel guests. The hotel also has an amazing special offer for Friday and/or Saturday night stays. Why not be safe and stay right here? Please visit the website www.paseahotel.com and use this code when booking (PaseaNYE).  And New Year's Day, brunch will feature $20 bottomless mimosas.  Cheers to that! (714) 698-6100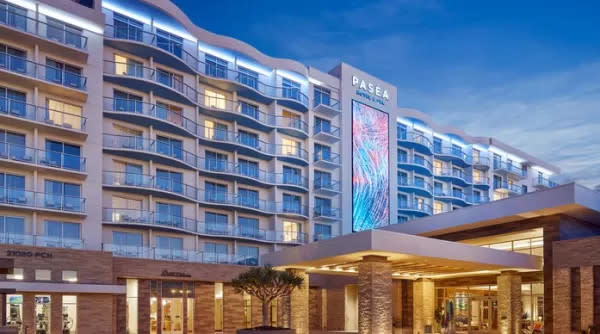 Kimpton Shorebreak Hotel
At the Zimzala Restaurant & Bar, Chef JT Walker has a four-course dinner planned for New Year's Eve. Dinner will be served from 6:00-11:00 pm for $75 per person and reservations are suggested. The menu will feature crisped scallop, braised veal cheek ravioli, carved Chateaubriand or Game Hen Coq Au Vin, as well as other choices and two desserts from which to choose!  Chef also just revealed that come mid-January, they will be launching a brand new restaurant concept called Pacific Hideaway. This will replace Zimzala so stay tuned for more details on that news. (714) 861-4470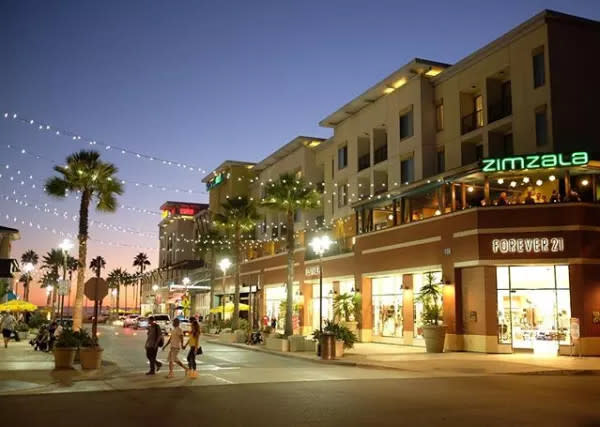 PHOTO BY @TRAVELING_NEWLYWEDS
New Year's Eve "All The Way Up Party" will be a swanky evening of non-stop "party central" fun. According to Co-Owner Alicia Whitney, "This is going to be the beginning of anything you want!"  The furniture is moved out, and the casino tables are set up. Sexy chandeliers illuminate the bar, and festive décor abounds. Las Vegas renowned DJ Dig Dug will be setting the tone with the best of tunes. Heavy hors d'oeuvres will be passed and a classy Champagne menu will be on-hand. Tickets are $100 per person, and only 250 will be sold. This is predicted to sell-out--- just like last year.
Special Offer:  Guests attending this event will receive a complimentary Bloody Mary at SeaSalt Woodfire Grill on New Year's Day!  (714) 536-5700. Click here to purchase tickets.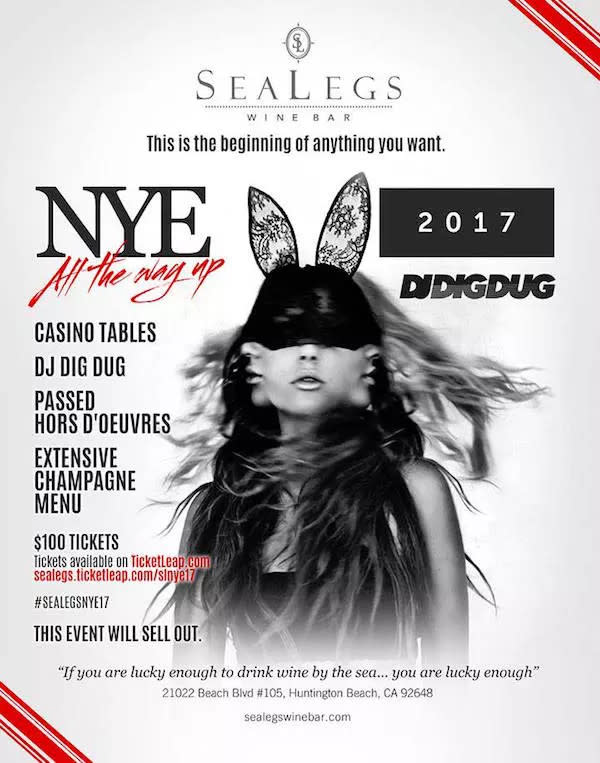 The Bungalow at Pacific City
Surfing Magazine invites guests to celebrate in a special New Year's Eve party. From 8:00pm to 2:00am adults will be dancing all night, with a Premium Open Bar for $125 per person. Note: Champagne not included. The dress code will be cocktail attire for this party. (714) 374-0399. Click here to purchase tickets.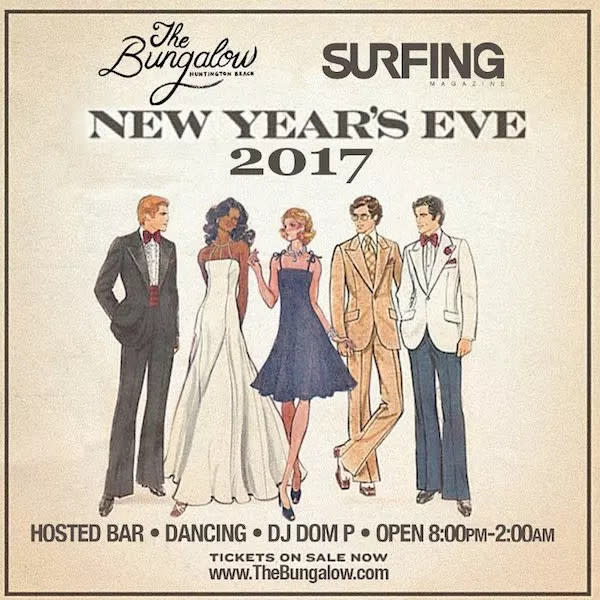 PHOTO BY @THEBUNGALOWHB
Both Main Street and nearby Pacific City will be in rare form with many bars and restaurants offering various live music and dining options. These are the perfect venues for more  impromptu  New Year's Eve meet-ups.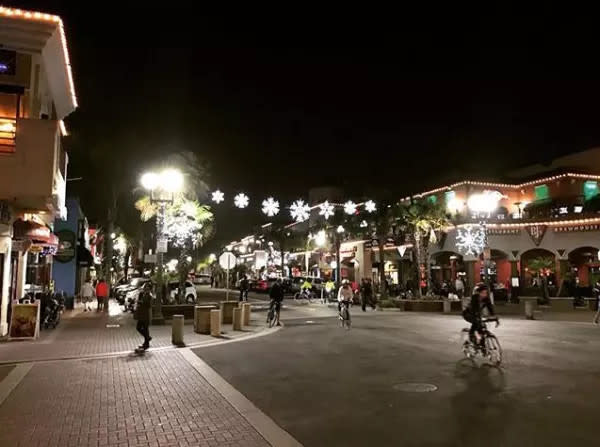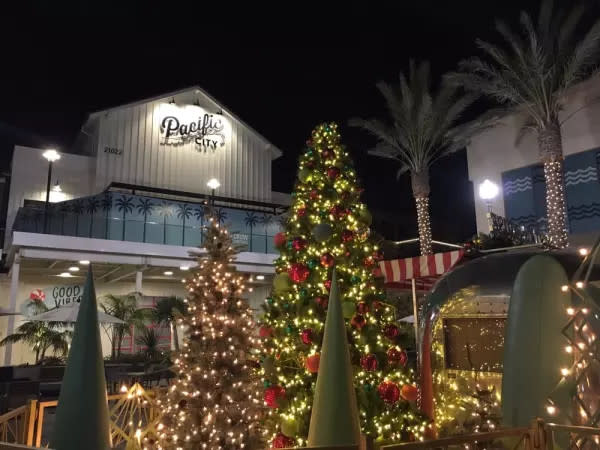 This Main Street spot will be having a New Year's Eve "Par-Tay" hosted by Tuesday's Girls with DJ's Siller and Impact. Tickets required and for $20 cover, this will include party favors and appetizers. Cash bar will of course be available.  For Tickets contact them via email at:  hurricanesbar@hotmail.com or call them  (714) 374-0500  www.HurricanesBarGrill.com 200 Main Street- Huntington Beach, CA
New Year's Day "Surf City Splash"
And for those who just can't get enough in the "celebration" category, join the brave ones at Main Beach on New Year's Day for the  "Surf City Splash" event.  The fun begins at 8:00am with a pancake breakfast (served until 11:00am). There will also be a costume contest next to Zack's Pier Plaza at 11:30am. The prize categories include: funniest, best celebrity, most sparkly, best animal themed and group costume. Join those donning bathing suits at 12:00 noontime, the brave ones will be taking a dip in the chilly Pacific Ocean. (Wet suits are considered cheating.) There will be an arts & crafts fair, with various vendor booths (those will be open until 4:00pm). Registration of $20 included the breakfast and benefits the Huntington Beach Intl. Surfing Museum.  Click here for all the details: http://www.hbsurfcitysplash.com/