The AVP (Association of Volleyball Professionals) is the premier U.S. pro beach volleyball league and features the very best in elite pro beach players. Since 2000, Huntington Beach has hosted more AVP events than any other location. The 2017 season tips off in Surf City USA, May 4-7 ensuring an 18th straight year that a pro beach volleyball tournament has been played here. For both the men and women athletes, the field has been wide open, as six different teams have won in the last seven years for each gender.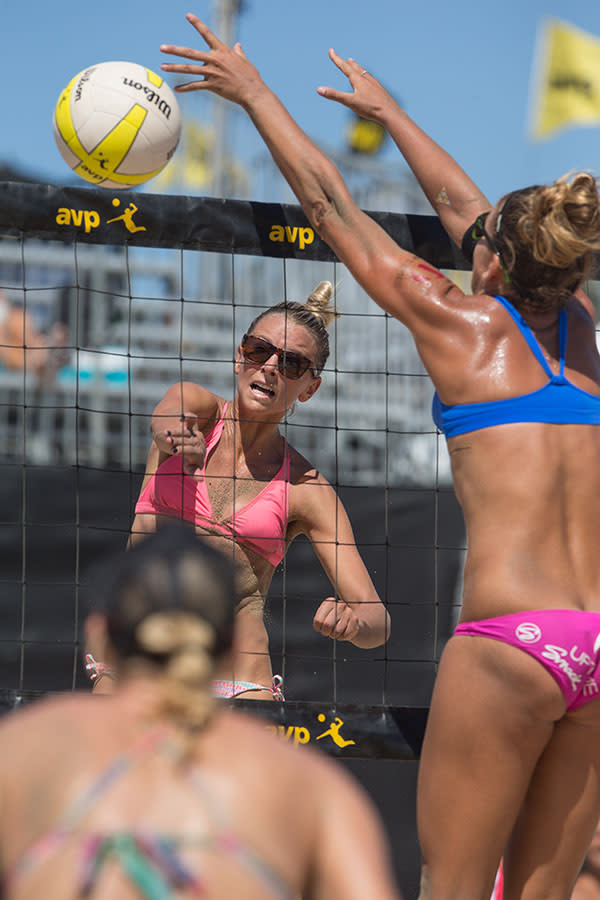 Perhaps it's the sand, sunshine and lifestyle, but the number of AVP athletes from Huntington Beach and the surrounding communities in Orange County is noteworthy. How many titles and accolades did they achieve to reach the pinnacle of their sport? What are their lives like outside their sport? Their stories on and off the court are extraordinary.

HUNTINGTON BEACH HOMETOWN HEROES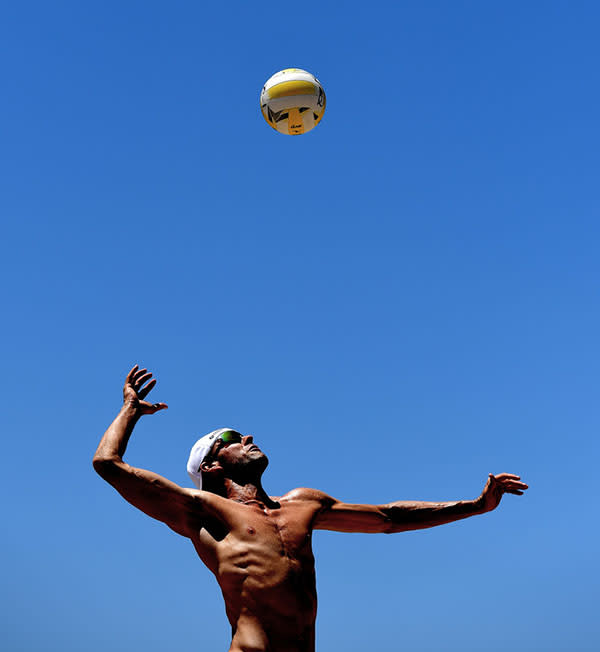 Photo by Robert Beck

Jake Gibb is an AVP veteran, three-time Olympian, two-time cancer survivor (skin and testicular), father of two and has a twin brother. His middle name really is Spiker, and he lives up to his name. Gibb and Casey Patterson won 27 consecutive AVP matches from August 2014 through August 2015, claiming five straight titles in that span. Gibb moved to Huntington in 2002.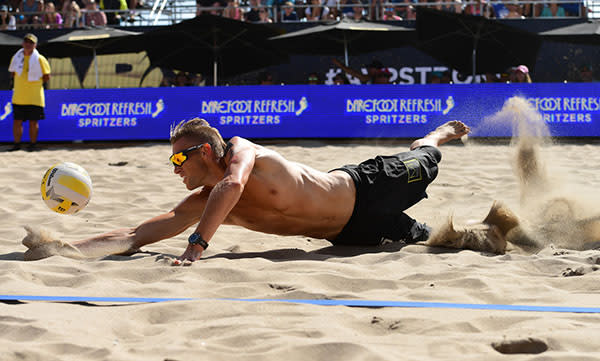 Photo by Robert Beck

Casey Patterson was an 11-year resident of Huntington Beach who just moved out of the area but still stays involved with the city. As one of the top beach volleyball players, Patterson represented the U.S. in Rio last year with Gibb. He is known for being in amazing shape, his matching faux-hawk that he shares with his son, his "pop and lock" dance moves on the volleyball court and his "boom" of a spike (hence his nickname Casey "Boom" Patterson). At age 36, he is the father of three, with a fourth child on the way. He was recently diagnosed with Hashimoto's thyroiditis, an autoimmune disease where the immune system attacks the thyroid. Patterson has been battling this condition since he was a teenager but was only diagnosed two months before Rio. Since then, he's eliminated dairy, gluten, eggs and whey protein out of his diet. In his words, "It was a game changer for me. Completely changed my life."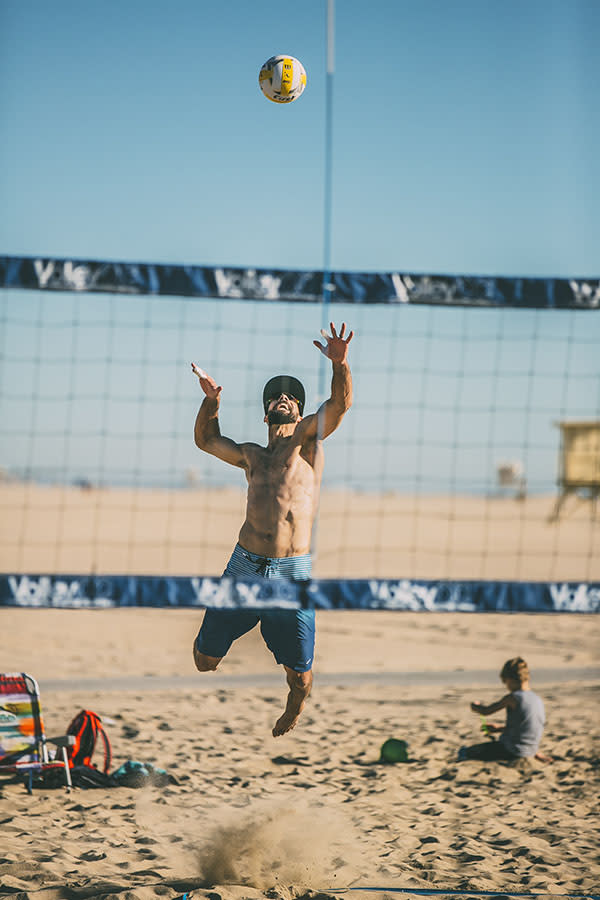 Photo by Josh Glazebrook/AVP​

Reid Priddy is a Huntington Beach resident and will be making his beach volleyball debut this year. Reid Priddy is a four-time Olympian with one gold and two bronze medals in indoor volleyball. Over the past 16 years, he has competed at the highest level in indoor volleyball worldwide. Priddy played both on the U.S. National team as well as on foreign pro teams in domestic leagues all across the globe. In 2014, Reid suffered a torn ACL during competition, which required double knee surgery. In his late 30s, he defied the odds and worked his way back to the top and helped the U.S. Olympic Team win a bronze medal in Rio last year. Having competed in four Olympic Games on the hard court, Priddy is looking to defy the odds once more by adding beach volleyball to his repertoire with one goal in mind…GOLD. Priddy is working towards representing the U.S. in the 2020 Olympics in Tokyo on the sand. The father of two was a three-time All-American at Loyola Marymount where he received a degree in communication studies.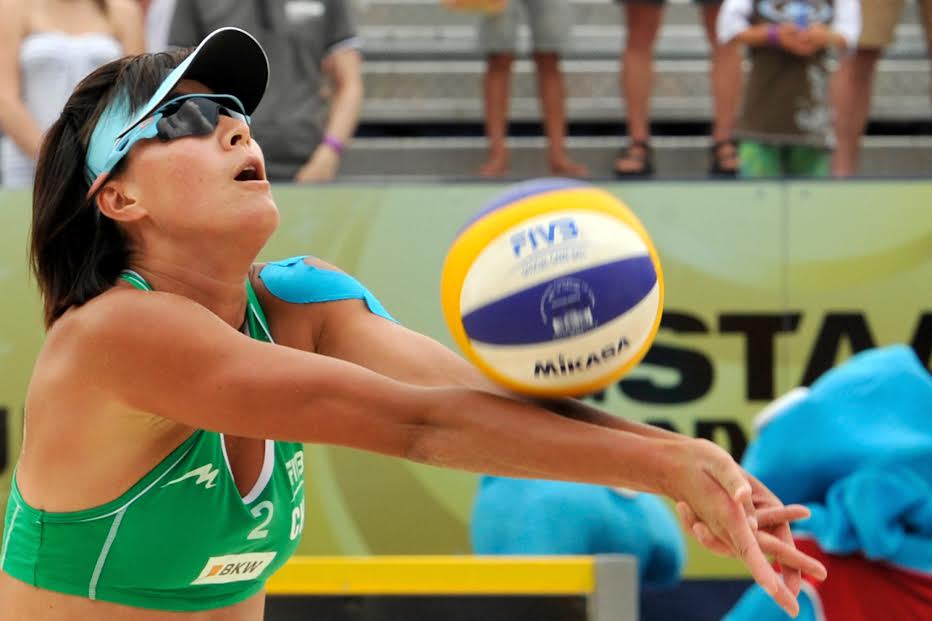 Photo courtesy of FIVB

Xi "Cici" Zhang is a 2008 Bejing Olympic bronze medalist from China and top AVP athlete who currently lives in Huntington Beach. She trains in Manhattan Beach while taking intensive English language classes.

SHOUT OUT TO MORE AVP PROS FROM ORANGE COUNTY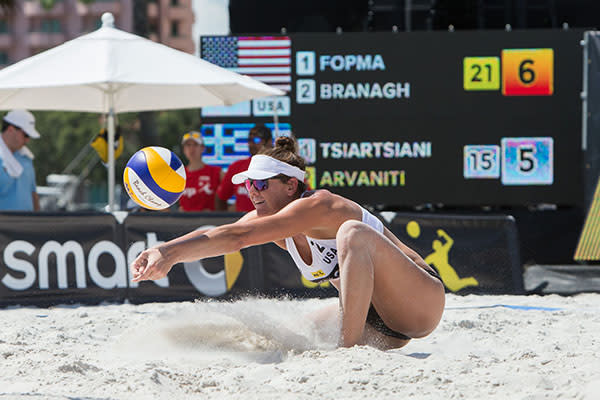 Photo by FIVB from Jennifer Fopma Facebook

Jen Fopma (Irvine) has been a staple on the AVP tour since 2005 winning three times. She ranked in the top 11 on the AVP tour in blocks per game for four straight years (2006-2009) and notched her first AVP win in 2013 in Huntington Beach with Brooke Sweat.  Fopma was born in the Netherlands and moved when she was one year old after her father completed his career playing professional basketball. She grew up in Bellflower, California and attended Pepperdine University before graduating college from California State University, Northridge.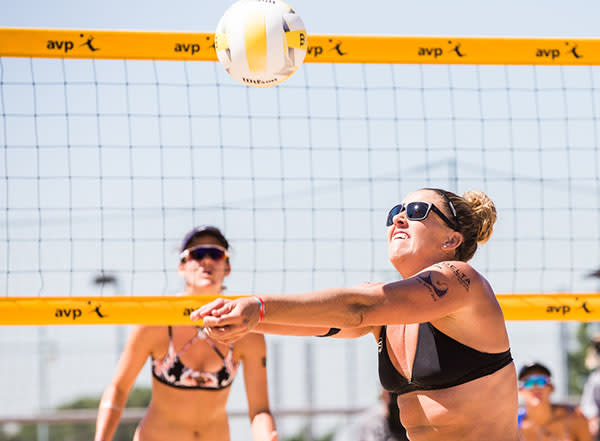 Photo by Rob Tringali

Whitney Pavlik (Laguna Beach) was born and raised in Laguna Beach. She earned three Manhattan Beach Open titles from 2011-2013 (two with Jenny Kropp and one with Kerri Walsh-Jennings). A Mater Dei and UC Irvine alumni, Pavlik and April Ross did a lot of snowboarding together over the last several months, and you can find several photos of the two hanging out on Instagram.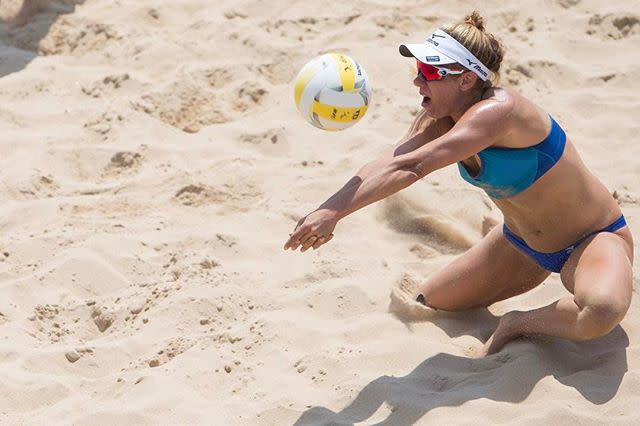 Photo by @aprilrossbeach

April Ross (Costa Mesa) attended Newport Harbor High and USC. This two-time Olympian (1 silver in 2012 and 1 bronze in 2016) has also won 27 AVP championships. In 2006 she was awarded AVP Rookie of the Year, AVP 2007 Most Improved Player and 2007 FIVB (Federation Internationale de Volleyball) Top Rookie.

Photo from Geena Urango Facebook

Geena Urango (Los Alamitos) is one of the top AVP athletes, lover of the outdoors and a fitness model. She was born and raised in Los Alamitos and attended USC. Urango has been a finalist three times in the AVP and won AVP Most Improved Player in 2016.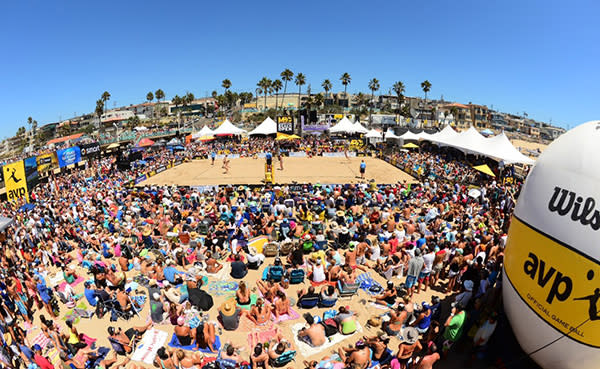 Photo by AVP

DID YOU KNOW?
The 2017 eight-stop tour features is in its fourth year under owner/managing partner, volleyball fanatic, Orange County-raised and current resident Donald Sun. Sun attended and played volleyball at University High School in Irvine, attended UCLA and lives in Newport Beach with his wife and three daughters.
The AVP has a 30+ year legacy. It is a household brand famous for its signature yellow and white Wilson volleyball and responsible for providing a stage and developing the careers of the biggest names in recent beach volleyball history (Phil Dalhausser, Todd Rogers, Jake Gibb, Kerri Walsh-Jennings, Misty May-Treanor, etc.).
The 2017 tour is followed by stops in Austin, New York, Seattle, San Francisco, Hermosa Beach, Manhattan Beach and Chicago.

GET THE STATS FOR THE AVP PRO BEACH VOLLEYBALL TOUR IN HUNTINGTON BEACH
When: May 4-7
Where: 
Huntington Beach Pier (courts on the beach at the intersection of Pacific Coast Highway and Main Street)
Admission:
General admission - free, VIP premium seating - available for purchase
Schedule:
May 4 from 8 a.m. – 6 p.m. (qualification)
May 5 from 9 a.m. – 6 p.m. (opening rounds)
May 6 from 9 a.m. – 6 p.m. (elimination rounds)
May 7 from 9 a.m. – 5 p.m. (semi-finals and finals)
Off the Court: Festival Village area on the beach with sponsored activities, giveaways, local food, drinks plus a beer and wine garden
Full schedule and VIP tickets:
http://avp.com/event/huntington-beach-open/