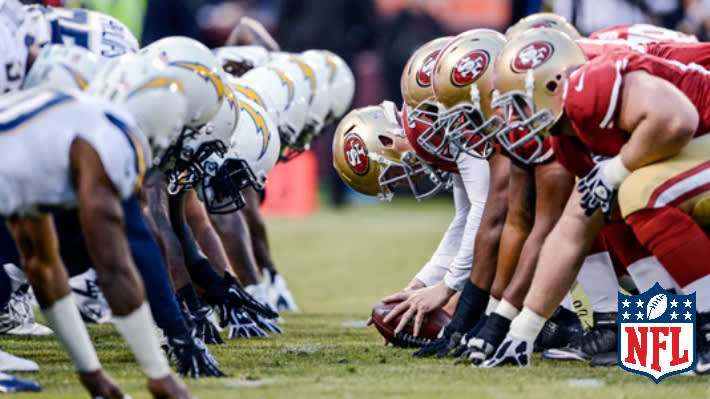 8082 Adams Avenue Huntington Beach, CA 92646
714.594.5730
San Diego Chargers fan territory!
Slater's 50/50 has created the world's first 50/50 burger - 50 percent ground bacon and 50 percent ground beef - taking the Southern California restaurant scene by storm. Since opening, Slater's 50/50 has won a number of awards and accolades including "Best Burger" by The Orange County Register, OC Weekly and FOX 5 San Diego as well as Best New Restaurant by San Diego Magazine. Slater's 50/50 has also been featured on national television shows including the Travel Channel's Bacon Paradise and Discovery Channel's United States of Bacon. They serve over 80 craft and local beers on tap and offer a variety of Tailgate packages for football fans. For $155 you can get a round trip bus ride to San Diego from Huntington Beach, ticket to the Chargers game, and access to the exclusive Slaters 50/50 pre-game tailgate including burgers and beer.
Taco de Ojo
7811 Edinger Ave Suite 100, Huntington Beach, CA 92647
714.892.3852
Taco de Ojo sports cantina and restaurant was voted best margaritas in area. This is the local hangout because of their sports entertainment, cocktails, friendly servers, and ambiance. Come watch your favorite game on one of their HDTVs while enjoying the complimentary chips and salsa bar and a beer. They offer food and drink specials every night of the week and feature a NFL Sunday Brunch from 9am-1pm with a build your own Bloody Mary bar and happy hour all day.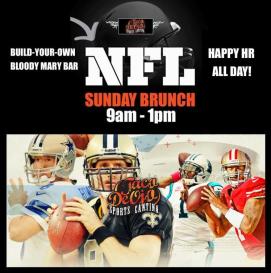 217 Main St, Huntington Beach, CA 92648
714.960.1896
The Longboard Restaurant & Pub features indoor and outdoor dining in a casual, beach atmosphere. Located in the oldest building in downtown Huntington Beach, Longboard features 17 brews on tap and killer Jamaican-style jerk chicken wings. Orange County Register food writer, Jeff Overly, cited both Longboard's jerk- and Buffalo-style wings when he honored the restaurant's hot wings as the county's best. Watch the game on one of their 18 HDTV's and enter for a chance to win a trip to Hawaii for the Pro Bowl! Happy hour is served all night on Sunday and Mondays and features deals on your favorite drinks and football appetizers.
16903 Algonquin St, Huntington Beach, CA 92647
714.377.3893
An ideal place to meet friends, watch the game, or enjoy an evening out. House of Brews has an indulgent variation of food selections from appetizers to full-course meals. As well as an impressive selection of draft beers, wine, cocktails, margaritas, and much more. Voted best place to play pool in Orange County in the OC Weekly, House of Brews has new flat screen televisions and offers specials to football fans all day Sunday.
300 Pacific Coast Hwy Suite 113, Huntington Beach, CA 92648
714.536.2422
Chicago Bears fan territory!
Keeping in the true spirit of an Irish pub, Gallagher's transports you to downtown Dublin, where the atmosphere is warm, laid back and friendly. Enjoy the Bears game and even purchase one of their exclusive Bears Den t-shirts!
8901 Warner Ave, Huntington Beach, CA 92647
714.847.2337
Tap House is a 10,000 Sq ft Sports Themed Restaurant and Bar with 94 Draft Beers and Live Entertainment! It is a fun family oriented atmosphere that has friendly service and great food. With over 50 TV's it is the best place around to catch your favorite game. Their main floor features a huge open bar area with 60 beers on Tap, a separate beer wall with 12 self-pouring beer taps, and an elevated dining room. The downstairs basement also has a large bar with 12 beers on tap. Happy hour is weekly from 2pm-7pm and features $4 off all appetizers and micro brews.
211 Main St, Huntington Beach, CA 92648
714.606.4093
Baja Sharkeez reinvents the sports bar by combining the atmosphere and style of a south-of-the-border beach cantina with the latest in high-def and surround-sound technology. Head to Baja Sharkeez for lunch to enjoy specials from its mesquite-Mex broiler menu, including the popular Taco Tuesday special. Or join the nightlife on Main Street and take in a game on one of over 40 high-definition TVs both inside and out on the patio. Baja Sharkeez raffles NFL tickets and cash on game days and offers game time happy hour and VIP fan packages including appetizers, beer and more.
300 Pacific Coast Hwy Suite 201, Huntington Beach, CA 92648
714.374.8226
San Francisco 49ers fan territory!
Fred's Mexican Café has captured the charisma of downtown Huntington Beach with a relaxing atmosphere and amazing ocean view. Blenders are always overflowing with the best Margaritas north of Tijuana served on Fred's huge patio bar. Open at 10am every Sunday, they offer $5 specials all day and a special tailgate menu. If your team wins, let your server know for a special treat.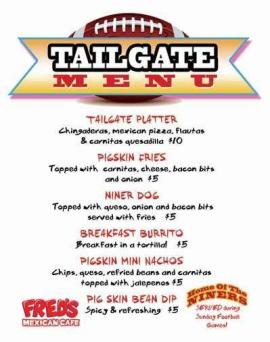 221 Main St Suite F, Huntington Beach, CA 92648
714.374.4427
Located on Huntington Beach's Main Street, this hot spot is a favorite for visitors and locals alike. Aloha Grill's casual Polynesian atmosphere and friendly Hawaiian-style service make it the perfect way to end a day at the beach - either inside the restaurant or out on our second story patio. They offer weekly tailgater menu food specials as well as discounts on beer and drinks. Wear your team colors and receive a $6 frozen Rainbow cocktail.
200 Main St Suite 201, Huntington Beach, CA 92648
714.374.0500
From great food to outrageous drinks, Hurricanes is a Main Street happening seven days a week. Live local and regional sporting events are featured on the 30 big-screen televisions and 110 inch screen inside and on the patio. On Sunday, they offer endless Bloody Marys until noon and $5 off any pitcher. Other discounts on alcohol and appetizers are offered throughout the week during games.