Welcome to Surf City USA's blog. Each blog features countless recommendations and inside tips on how you can truly experience Huntington Beach fully. Take the knowledge you've read and ride your own wave in Surf City USA.
Featured Posts
Ready to veg out? Plant-based cuisine is abundant here in Surf City USA, served up with a side of
Read More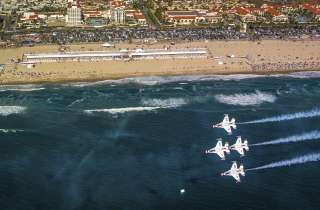 PACIFIC AIRSHOW CANCELLED OCTOBER 3, 2021 Due to an oil leak off of our coast,...
Read More
Be Inspired - Plan Your Trip
Huntington Beach is home to 10 miles/16 kilometers wide open sandy beaches, as well as the Bolsa Chica Ecological Reserve, Huntington Harbour, four oceanfront resorts, and historic sites.
Here are some blogs to get you inspired about Surf City USA.
Sun, surf, and sand. Beach vibes and a laid-back lifestyle. If you want to put a pin in a city that best represents iconic California, all signs point to Huntington Beach — which rightfully touts itself as Surf City USA.
Read More
Be Active - Things to do
Huntington Beach California has 10 miles of uninterrupted coastline, endless summer weather, and various things to enjoy and experience throughout the city.
Here, discover things to do in Huntington Beach.
Searching for things to do on your next getaway? Huntington Beach is the ultimate vacation destination packed with fun for all ages. Surf City USA is the perfect place to enjoy outdoor activities during any season, thanks to the average 300 sun-kissed days per year.
Read More